Who: Natasha Elinor Grace Balwit
When: Summer 2014
Where: La Villa Real de la Santa Fe de San Francisco de Asís, more commonly known as Santa Fe, New Mexico
What:
Working at Surroundings and Architecture 2030.
Writing about street art, coyotes, and trees.
Reading Joan Didion, James Baldwin, Tupac Shakur, and Carson McCullers.
Also, Ta-Nehisi's spark-making June cover story, The Case for Reparations, and Roxane Gay's Tumblr.
Lifting weights, riding bikes, making things out of clay.
Learning to drive stick-shift in a car that once belonged to my favorite scientist.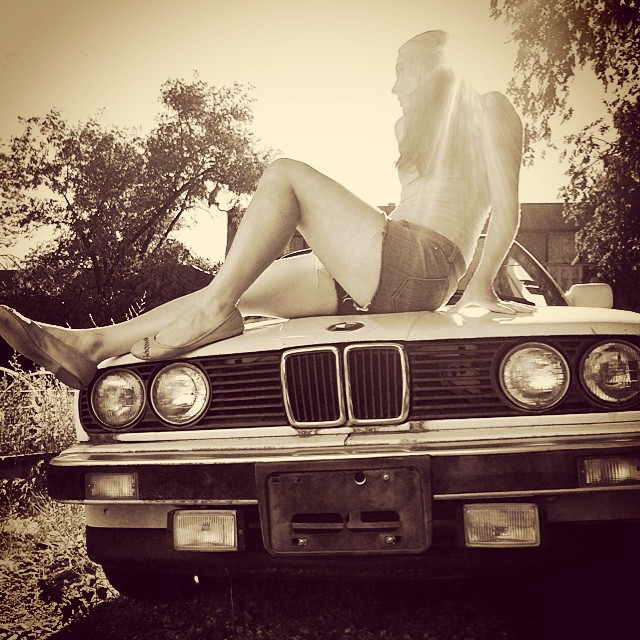 Photo Credit: Robert Mesa
I haven't learned much yet. My teacher is Rob, a photographer I met in a coffee shop. Yesterday, as we made circles in an empty school parking lot, the sky stormed pink and purple, and cracked open with lightning. That is how lightning looks to me: like the sky is a shield, cracking open momentarily to reveal a limitless light behind it. I kept stalling out. "Chill OUT," Rob ordered me, over and over. It's the same thing David Carr said to me a year ago, when I went up to him humming with nervous energy (a mix of eagerness, desperation, and pride, because he'd given my work high praise) and asked him, please, to tell me how to be a writer, the good kind, a serious one, now. "You already are," he said as he shook my hand. "Chill out. You're young."
Rob says the same thing. Also: "Commit to it." I've heard that before, too. "Commit to it," he urges when I step on the gas. I do too many things gingerly. Too much hesitation, too much trepidation. A million too many thoughts and intentions. I need to chill out, commit, trust myself. These are learned behaviors, intrinsically rewarded and rewarded by the world, and I haven't learned them yet. I'll learn to drive stick-shift. Once I do, it will be second nature, it'll be instinct. I'll rely on my practice instead of my head. But now, in so many ways, I'm a beginner.