There's a lot that happens after 5PM.
1 // Sunday
I visited home last week over Thanksgiving Break. Boston is amazing, but there are some things that New York just does better. I had forgotten how impressive the New York skyline was until I was looking at it again. The pizza I once took for granted tasted like a Michelin star meal.
On Sunday evening, I left New York on an Amtrak to back to Boston. After getting off the train, I took an Uber back to campus⁠01 I could have taken the T (Boston's subway system) but I was carrying a lot of luggage full of winter clothes. Fun fact: MIT student ID cards double as 'Charlie Cards' – the pass Bostonians use to ride the T. .
I was surprised when I finally got back to my dorm. My friends who stayed at MIT over the break had redecorated our main lounge!
2 // Monday
I went to a meeting for Chroma, MIT's science and humanities magazine. Editor-in-Chief Michelle X. '20 presented the final version of the magazine we worked on this semester! It took several weeks and dozens of writers, artists, and designers to put together.
After celebrating, we also planned for an upcoming fundraiser in Lobby 10. This is a popular space for student organizations to advertise events, recruit volunteers, and raise money. At our fundraiser, we'll be selling boba and giving out free Chroma laptop stickers.

3 // Tuesday
I spent Tuesday evening with the Vietnamese Student Association (VSA), where I ate delicious food and worked on mastering the basics of Vietnamese. Through bingo, charades, and tongue twister competitions, I learned quite a lot and met a lot of great people!
I came from a high school with just one other Viet student. I'm really excited to keep exploring my Viet heritage with the VSA – it's great to have a place where I can eat familiar food and hear familiar words.
Whatever your background or interests, MIT likely has a student organization for it.
4 // Wednesday
I swung by a cookie-decorating event run by Women in Electrical Engineering and Computer Science (WiEECS). WiEECS has been an excellent opportunity for me to befriend upperclassmen who are excited to share their experiences as Course 6 (EECS) students. There are events every couple of weeks for WiEECS members, usually involving food and puppies.
After WiEECS, I went to my dorm (MacGregor House) for a GRT dinner with my entry. MacG splits its 313 residents into nine "entries" labelled A through J⁠02 Note that there is no 'I' entry, since<em> i</em> is imaginary. . Each entry has one or two "GRTs" (Graduate Resident Tutors) –  graduate students who live with and mentor the undergraduate residents.
MacG is a cook-for-yourself dorm. There is a kitchen in every suite (and each suite has a maximum of just 8 people). Some MacG residents cook all their meals, some enroll in a dining hall meal plan, and some (like me) do a bit of both.
At least once a week, my GRTs invite our entry to go one of MIT's five dining halls for dinner. They use a special GRT dining card to swipe all of us into the dining hall. I look forward to these dinners each week – the people in my suite and entry have become some of my best friends.
5 // Thursday
I went to the Student Center for Tech Twinkles, an event run by the the MIT Undergraduate Association (UA) to celebrate the tree lightings around campus. Off campus, the streets of Boston are literally pulsing with brightness and festivity.
My friends and I then went to the Compton Lounge – colloquially known as the "Banana Lounge" – to do some psetting. The lounge has several tables (each with a basket of bananas), legos, nap space, and a station for making coffee and tea. After psetting, we walked back to MacG together and took pictures of the lights.
6 // Friday
I went to Thanksgiving II, a show by Roadkill Buffet (MIT's improv comedy troupe) and Asymptones (one of MIT's many acapella groups). I really enjoyed their alternating performances – RKB was hilarious and the Asymptones sounded beautiful!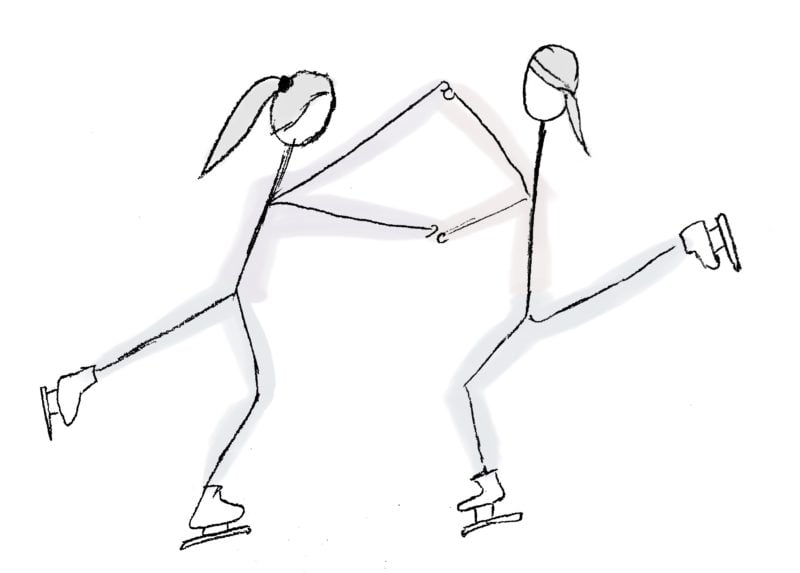 I ended the night at Johnson Ice Rink with my neighbor, Isabella K. '21. We both skated competitively when we were younger, and after arriving to MIT, we both found ourselves being drawn back to the ice. Isabella and I are both amazed by how our muscles magically remember spins, jumps, and footwork that we haven't attempted in years.
MIT is one of a few universities with its own ice rink. Best of all, the rink is open to all students nearly every day. It's located right inside the Z (MIT's fitness center), about a five minute walk from our dorm!
7 // Saturday
My evening started out messy, with a Bob Ross paint-along I did with my entry. Supplied with canvases, oil paints, brushes, and a lot of paper towels, we hit play on the video and scrambled to replicate Bob's art⁠03 Did we succeed? Well, we tried. .
I then went to another acapella concert. This time, it was Crazy Rich Syncopasians, performed by the Syncopasians. Throughout the show, they performed skits inspired by the movie Crazy Rich Asians, but adapted to a romance between MIT students. There was free boba afterwards!
Upon returning to my dorm, I stayed up until about 2AM frying beignets, baking Christmas cookies, and discussing poetry with my friends. Josiah W. '22 directed the baking. He did a fantastic job – we didn't set off the fire alarm!
I could have taken the T (Boston's subway system) but I was carrying a lot of luggage full of winter clothes. Fun fact: MIT student ID cards double as 'Charlie Cards' – the pass Bostonians use to ride the T.⁠

back to text

↑
Note that there is no 'I' entry, since i is imaginary.⁠

back to text

↑
Did we succeed? Well, we tried.⁠

back to text

↑