Freshman fall I decided to join a sport. I had never played sports in my life. My family wasn't at all "sportsy or outdoorsy".
But on a whim, I emailed the women's ultimate frisbee team and showed up to practice one day.
It was such a struggle. I could not throw a single disc. I could barely catch a single disc. I was exhausted halfway through a point.
Two weeks later, I was at my first ever ultimate frisbee tournament.
I played quite terribly. If I just remembered which way the field was going and which way we were forcing the other team to throw, that was enough of an accomplishment.
But! I learned so much on the sidelines from the veteran players! How to play defense by being on the open side of my player. How to cheer very loudly on the sidelines. I remember the only time I caught a disc was in the end zone, scoring my first point ever.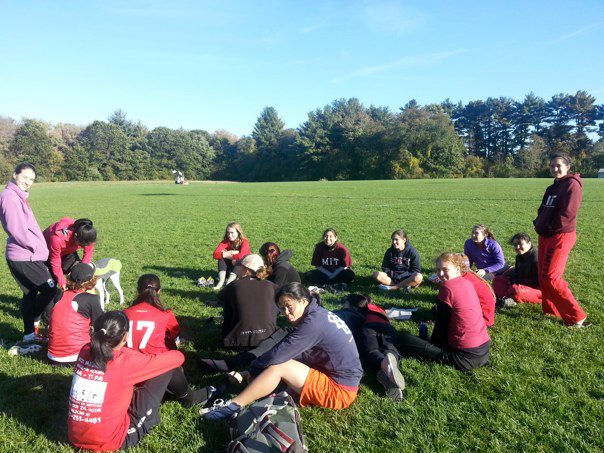 Memories from Stonehill's Tournament – Fall 2012
Slowly through the season I began understanding the game more and more. But I still needed to work on: throwing, catching, offense, defense, speed…pretty much everything.
Then by IAP, throwing myself into all this sprinting caught up with me in the form of shin splints. I asked around for advice and got plenty:
Stretch, strengthen, ice. But I never diligently followed it.
I just played through and did fine more or less…We even flew to Texas for a spring break tournament!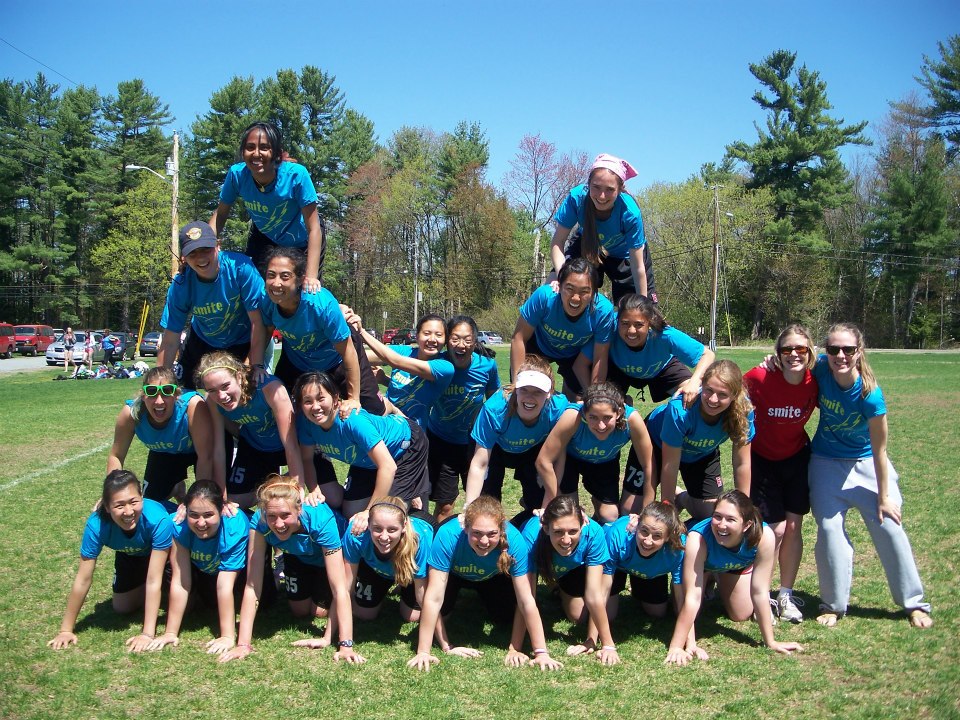 sMITe Spring 2013
My shin splints evolved into stress fractures just in time for the freshman spring season to finish. End of freshmen year I also had to make a decision: theatre or ultimate? It had become extremely difficult to do both. I chose theatre.
But then the summer after freshmen year, I dreamt at night about catching discs. I missed exercise and how accomplished it made me feel. Sophomore year, I came back ready and committed. Yet even then, I had to take a break from the women's ultimate team whenever other commitments swallowed too much time. But I was always welcomed back with open arms.
Sophomore spring season, I ran into the same problem. And then, playing on a club team all last summer meant I could barely run without shooting pain by the time this fall semester started.
Clearly something needed to change.
This summer, being away from MIT gave me distance from which to reflect. I realized that more than just getting an education here, it was equally important to build good habits that will help me in the long run even if there's no immediate incentive. One of GEL's capabilities of effective leadership is self-awareness and self-improvement.
And so, another goal for this semester is to work on three good habits essential to my happiness:
1. Sleep at least 7 hours a night.
2. Eat breakfast every day.
3. Exercise at least 7 hours every week.
4. Take at least one day off every week.
Being caught up in the whirlwind of MIT makes the most mundane tasks into mountains to conquer.
The first one: I love sleeping. And dreaming. I can't function with less than 6 hours.
The second: I exist in the mornings for breakfast. I stocked up at Costco.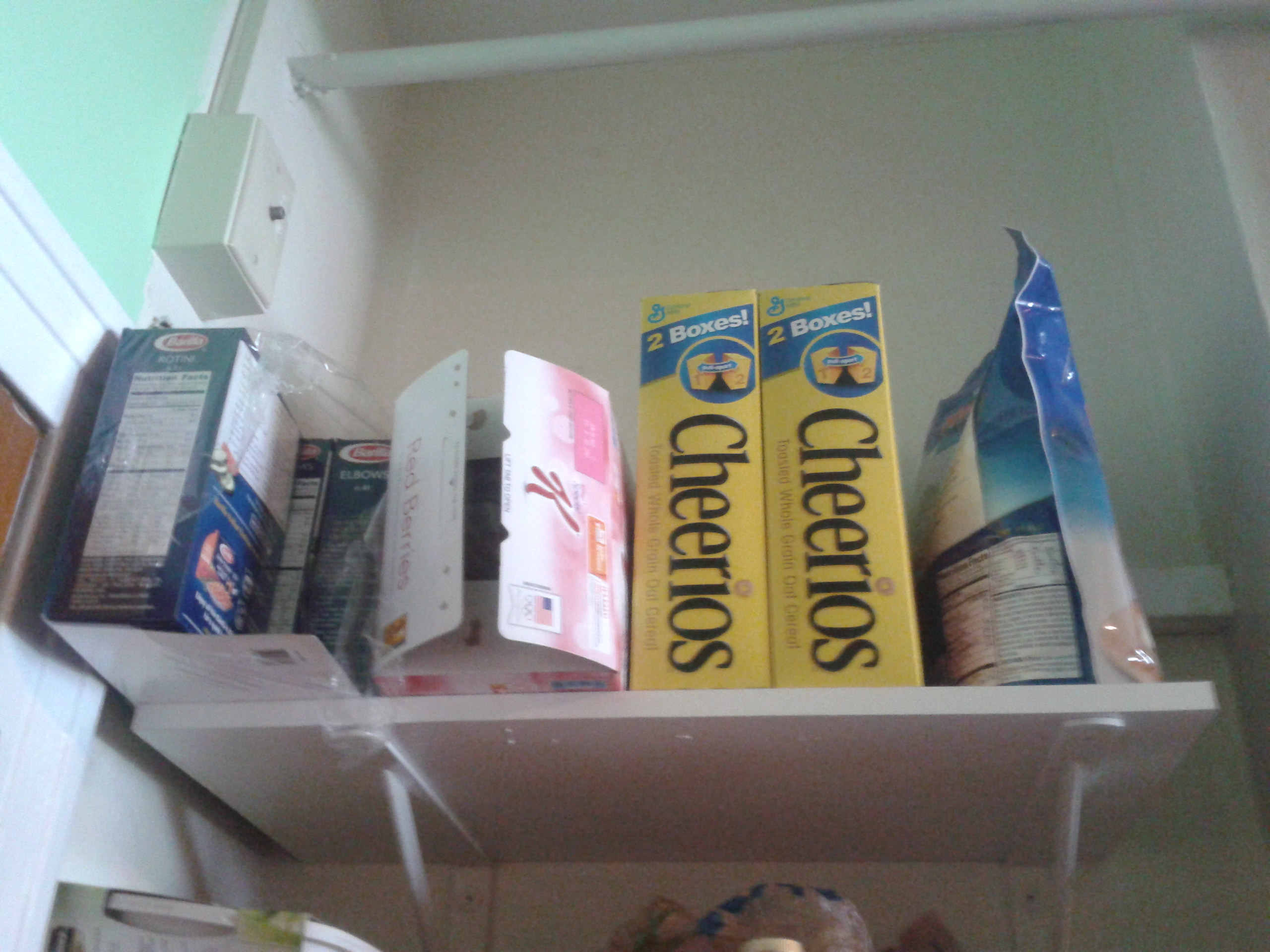 The third: I met with our strength and conditioning coach to come up with a strengthening plan. It includes lifting, endurance workouts, and stretching/foam rolling. Now I have to stick to it. Trying to build a habit of exercising everyday has been difficult. It can be so easy to be swamped by work. But I realize that exercising, being outside, releasing endorphins, makes me happy. Happy Neerja > work.
And so, the last rule helps break out of that stress. Every weekend, I take at least one day off. Yesterday, I went on a bike ride and ended up at Boston College about 30 minutes away.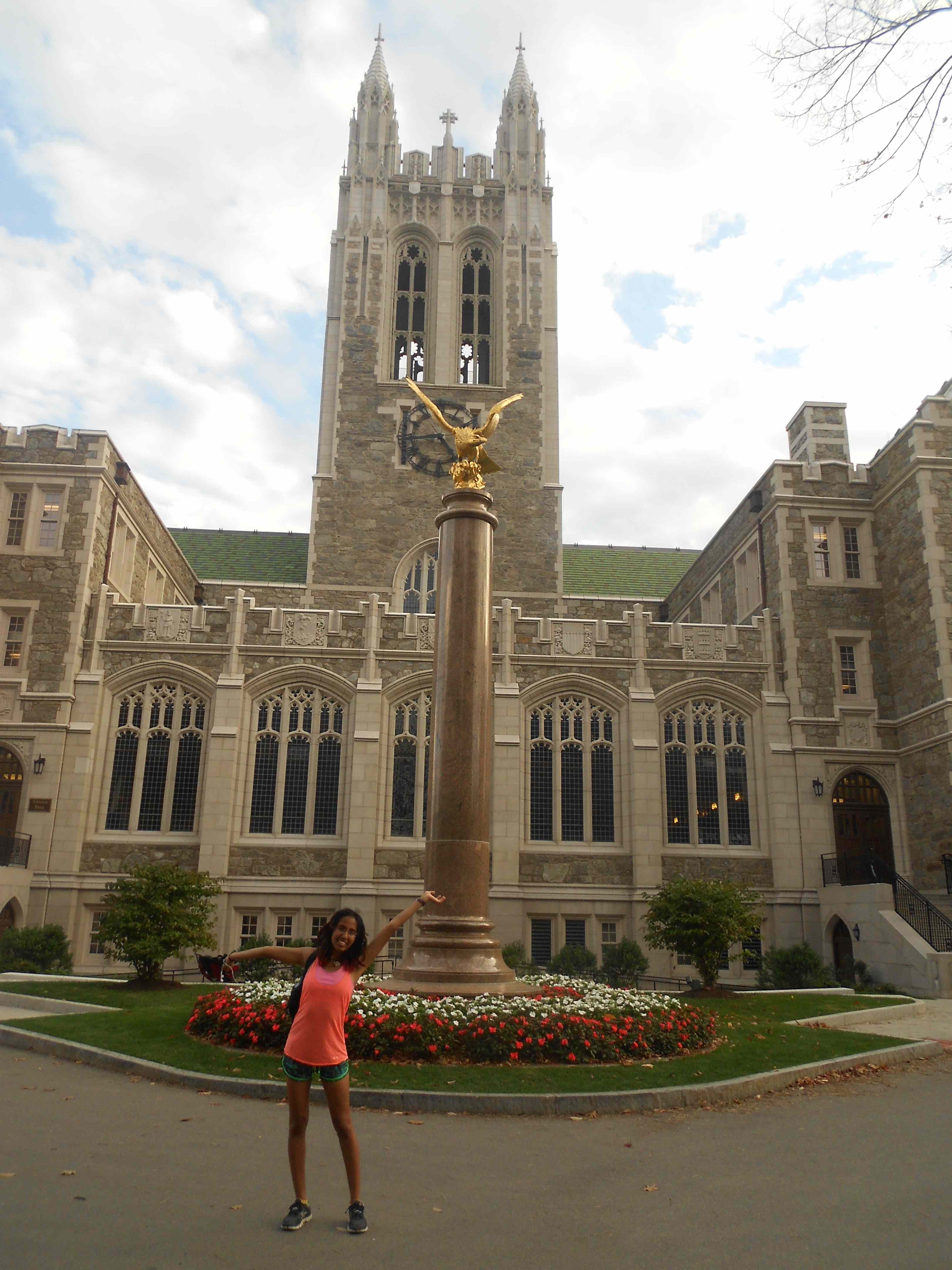 (On another note, my bike lock got stuck. I had to ask the police for help, and then barely made it back to MIT in time for rehearsals. Yay adventure!)
I love playing with sMITe, the women's club ultimate team at MIT.

I love yelling and cheering on the sidelines just as much as playing a point.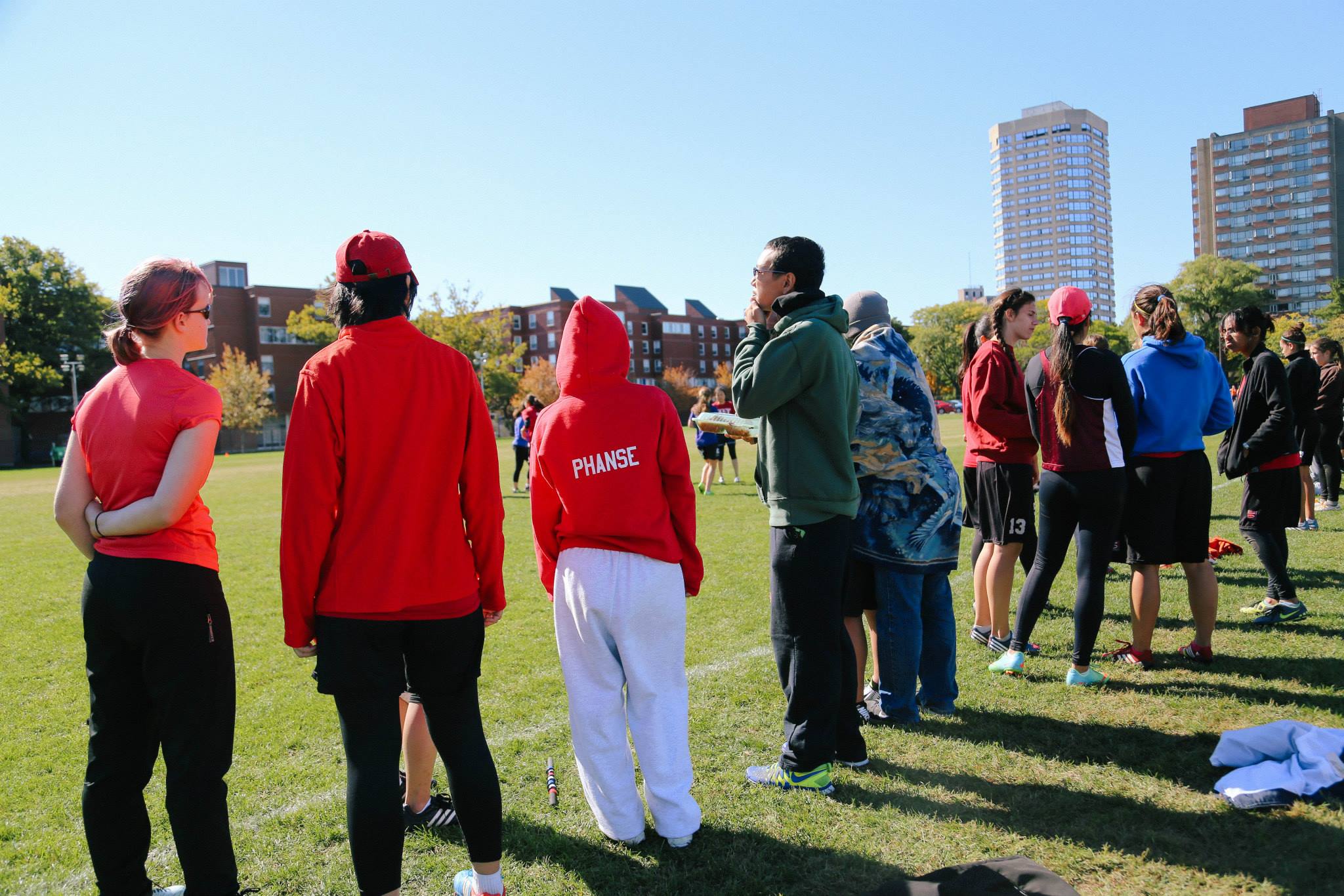 I feel vested in my team members' amazing plays and scores as if I was on the field.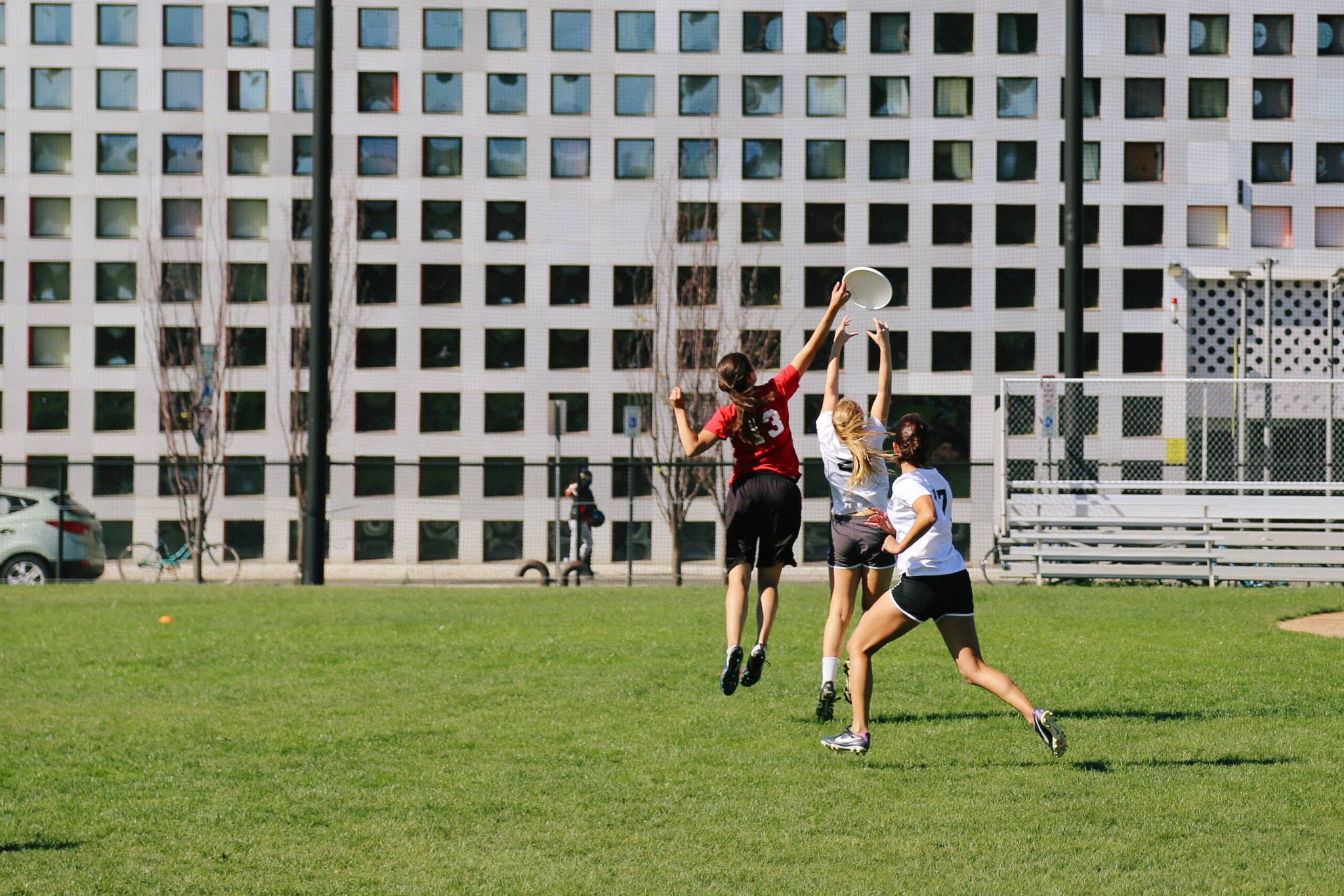 *Sigh!* <3 Kristen's breathtaking skies.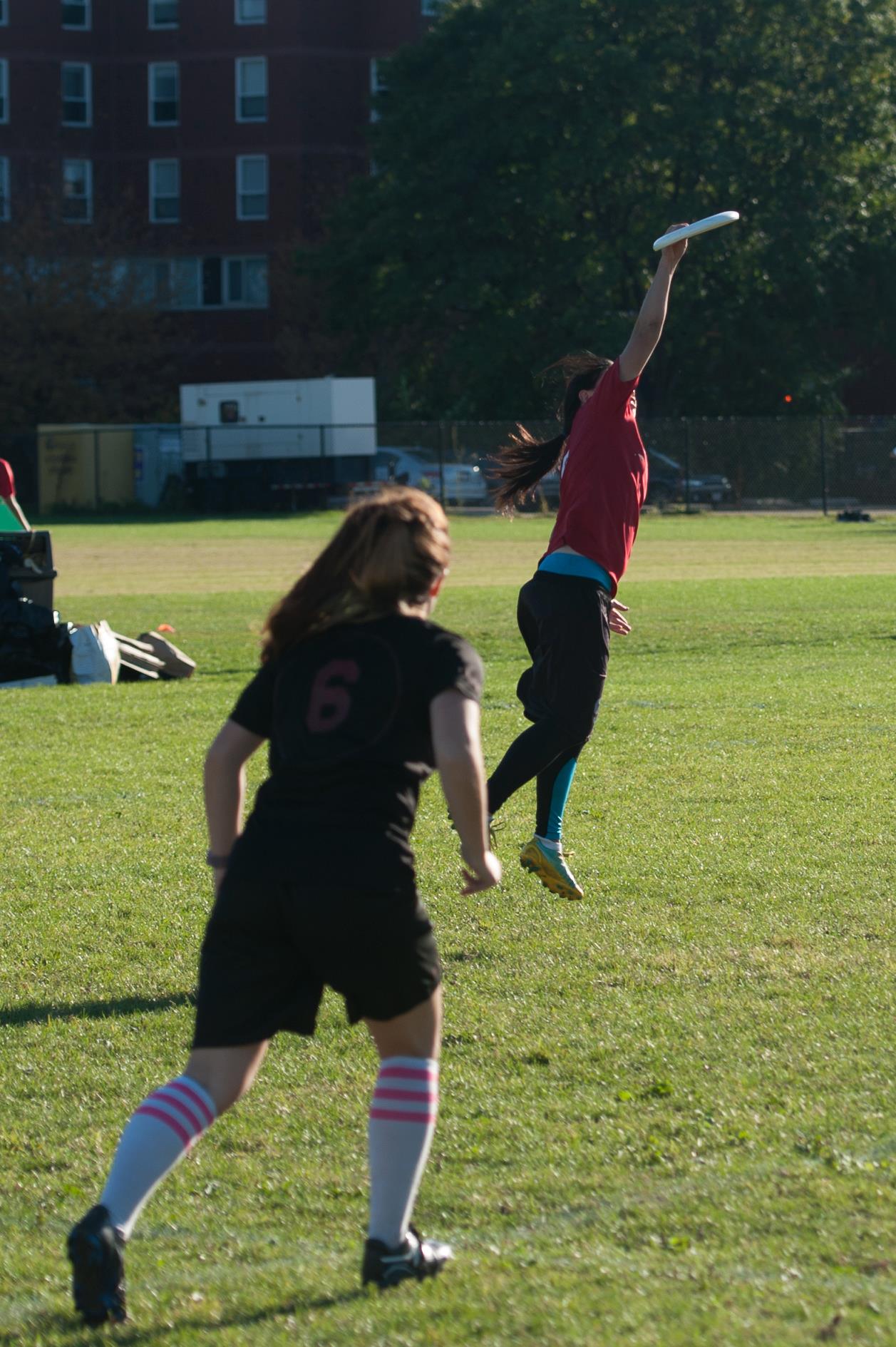 Lisa Liu is my ultimate inspiration. She even promised to bake me a cookie for every time I work on strengthening my shins.
I love the positivity on our team.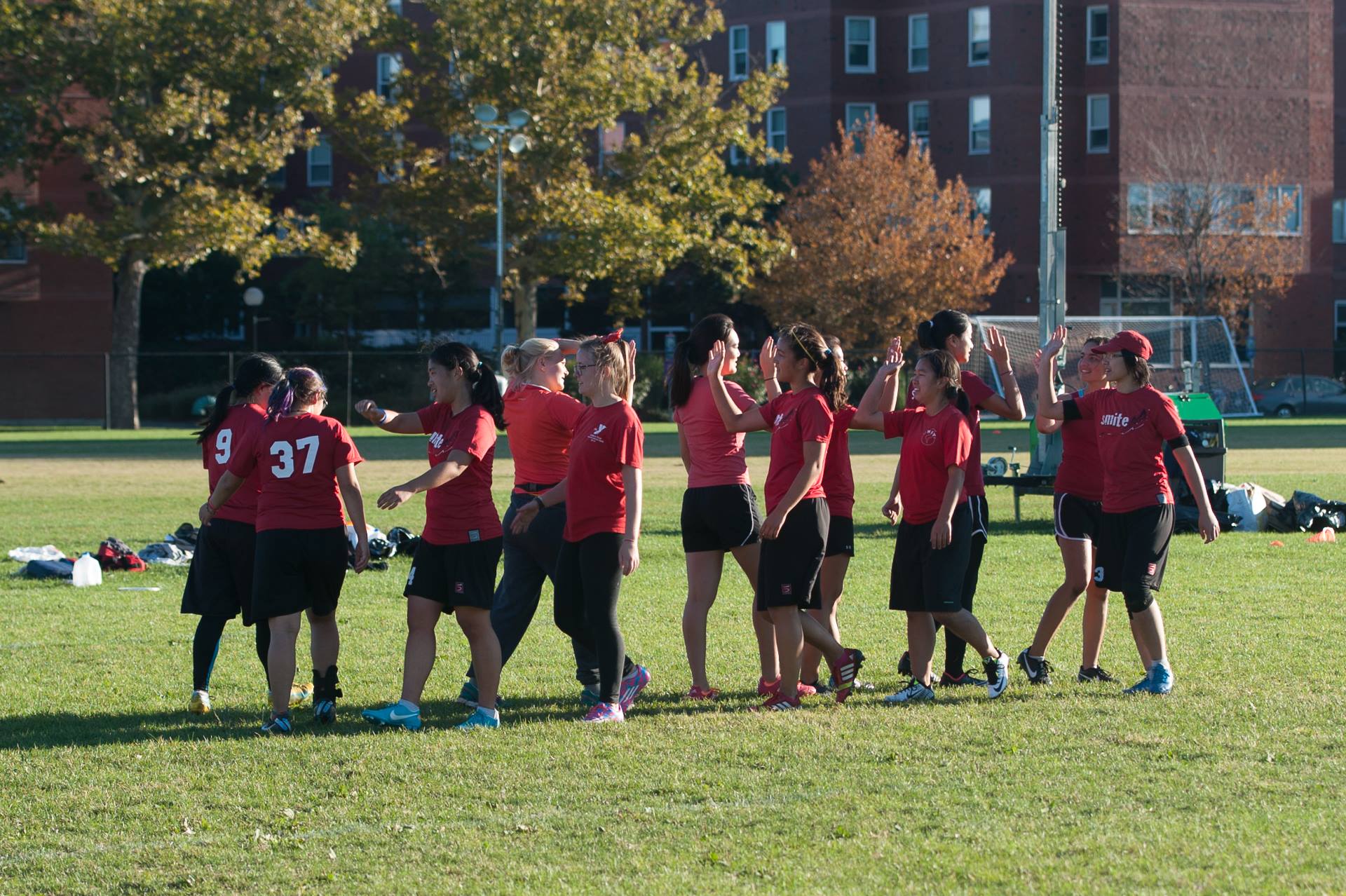 If someone screws up a play or drops a disc, we all understand and encourage them to shake it off. If someone new wants to join, we're all supportive and willing to teach. I especially appreciate the time and guidance our coaches offer. Having feedback makes it so much easier to improve.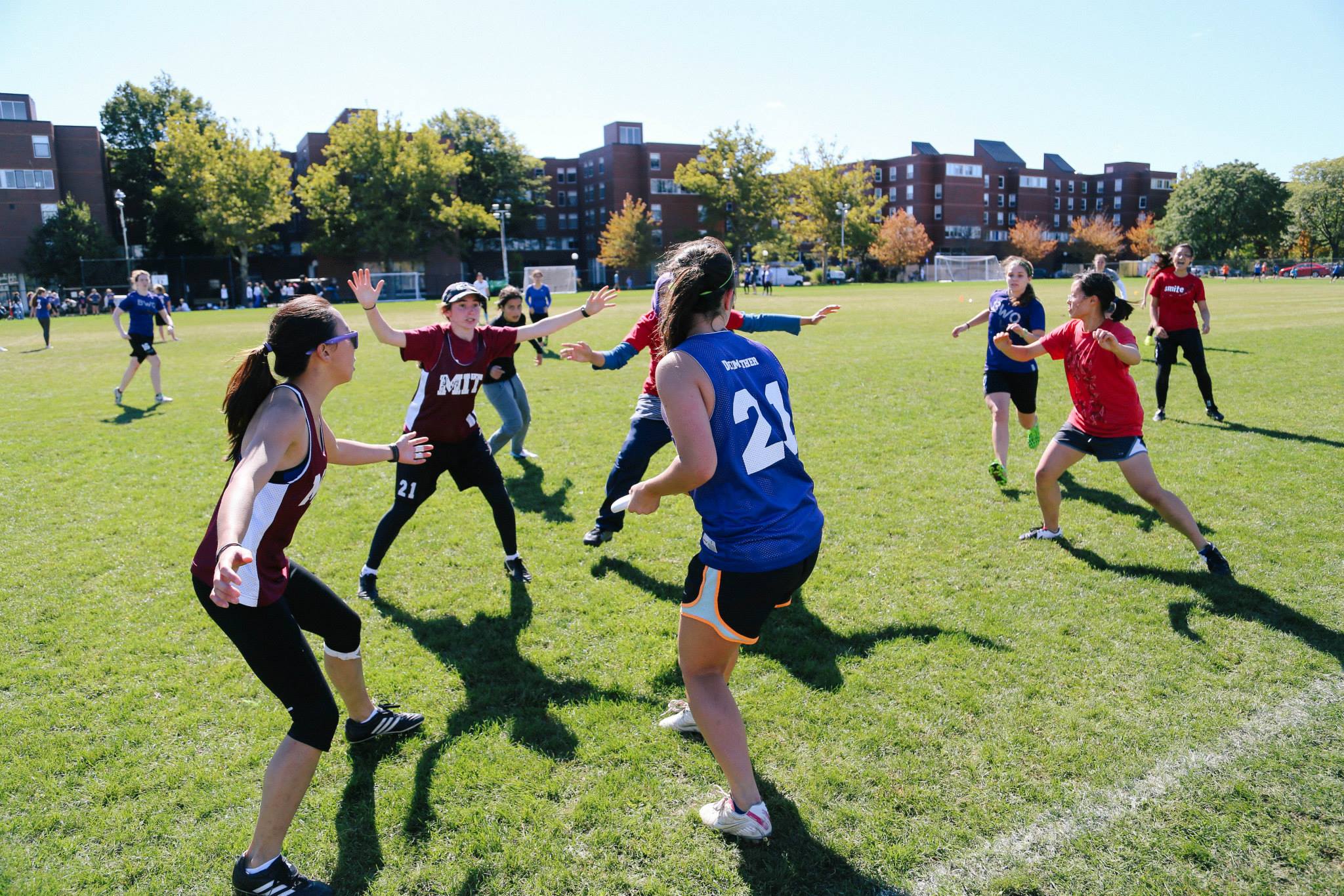 Our rookies are terrifying in the cup!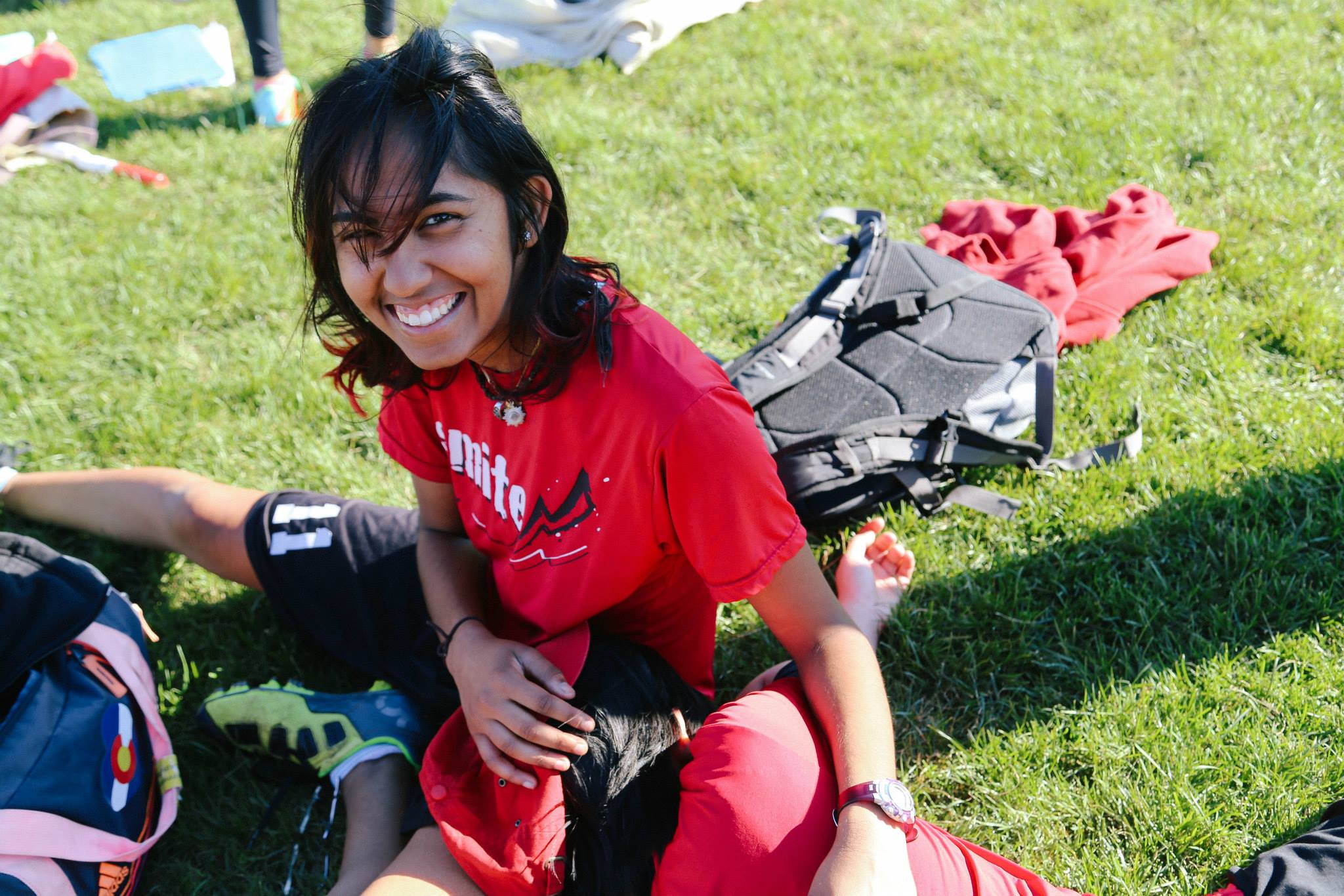 I'm the happiest when I'm playing outside – away from school, psets, long to-do lists.
I've realized – better late than never – how important sports are.
My favorite part of playing ultimate is incremental improvement. I could definitely see the difference at our last tournament. I remember my first ever successful layout during the first point. I could stay on point after point without needing a break. I felt faster and much better at offense and defense. When I asked what can I improve on, my coach said now it was really just skill-building: catching, throwing, strength, speed. I'm determined to become a better player.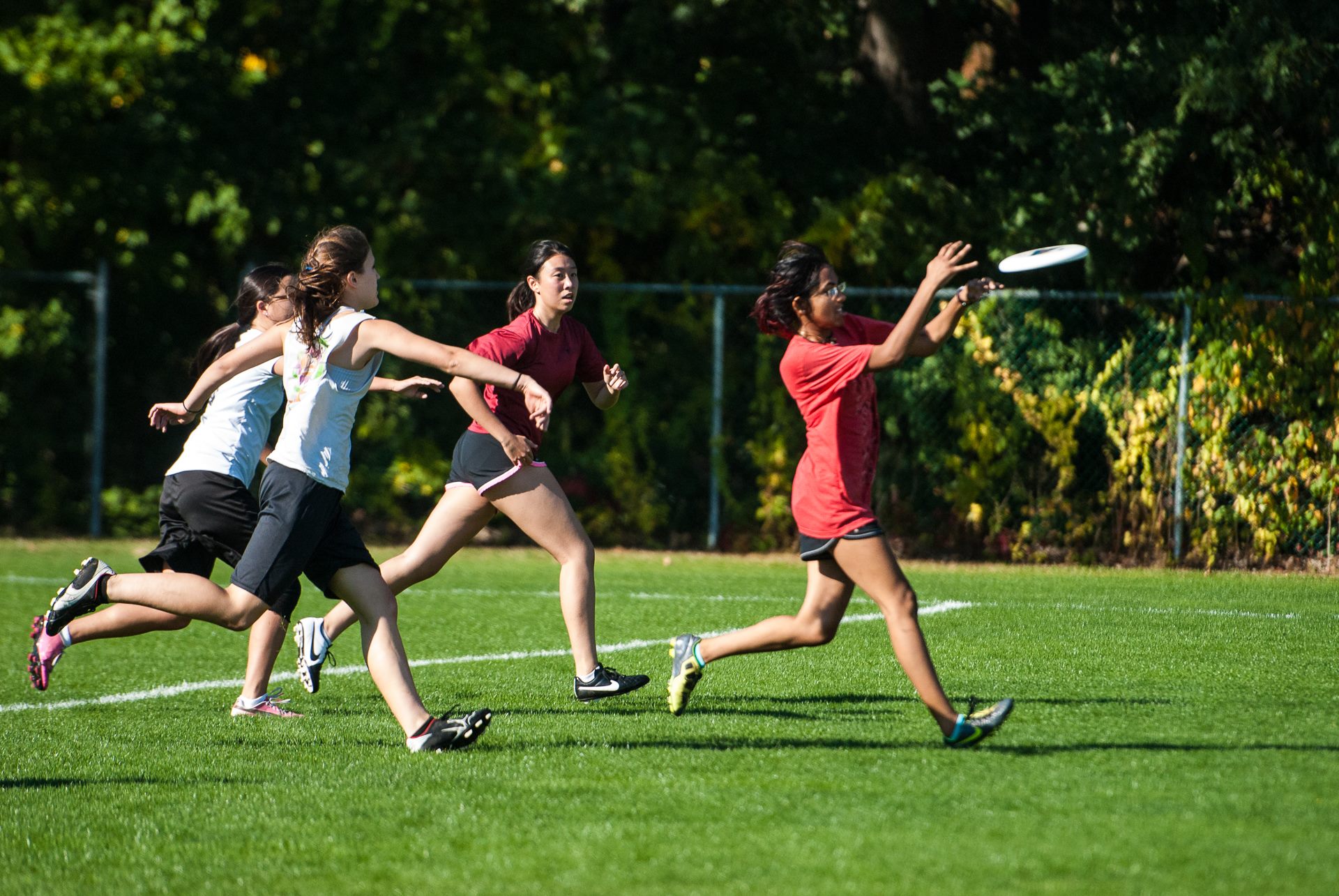 I'm excited to level up.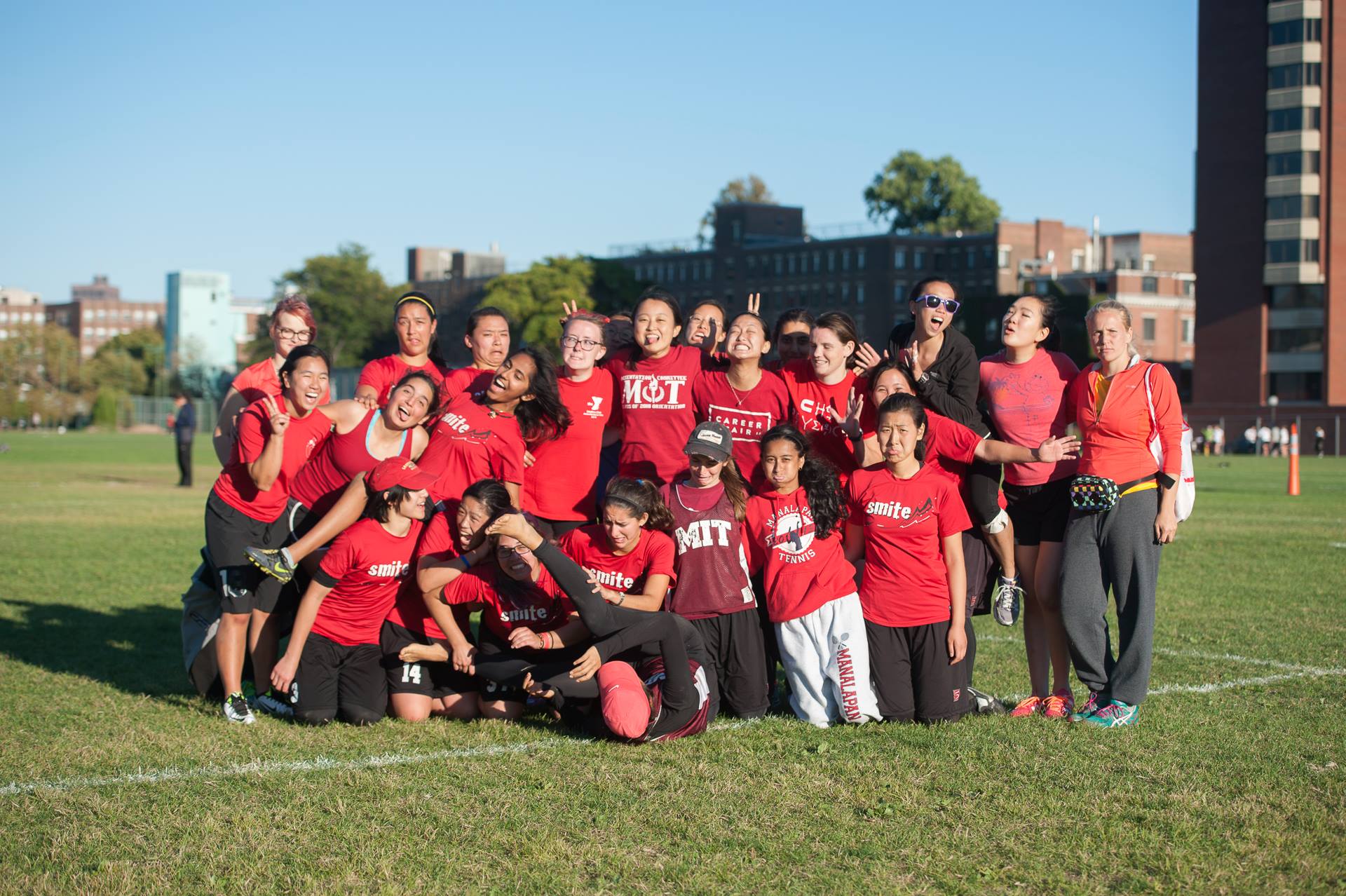 <3 sMITe Fall 2014
Photo credits: Julia Huang & Wen Zeng