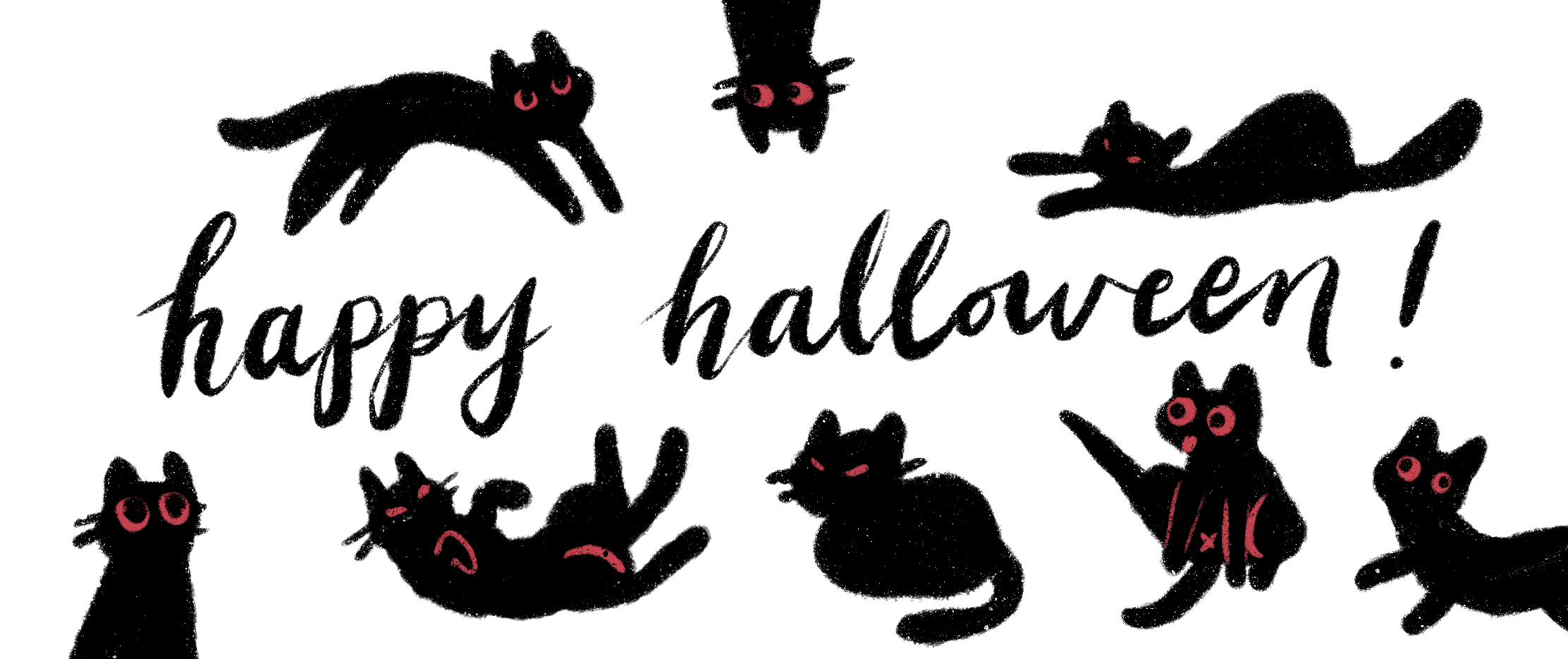 One warm night last summer, my roommate Penny '24 and I were walking back to our apartment from our friend Jess's dinner party. Trees cast sharp shadows across the road, cutting gashes of total darkness. Bushes extended branches onto the sidewalk like long, skinny fingers about to grab our ankles without warning. 
Naturally, Penny thought it would be a brilliant idea to make up some ghost stories to pass time. Here are some of them. All based on true stories, of course. 
For those of you who are applying to MIT EA, the deadline tomorrow is probably one of the spookiest things about Halloween. Take a deep breath; you totally got this. No matter what happens, I'm so proud of you already for getting this far. In the meantime, hope you enjoy these silly spooky stories!
Disclaimer: Some stories may feature unhealthily overworked MIT students. While it's true that many people here tend to overcommit themselves, this isn't the full picture. MIT students do work hard, but also know how to relax and have fun! 
The Infinite Infinite
The first major letdown that one experiences when they visit MIT for the first time is that the Infinite corridor isn't quite … infinite. Disappointing, isn't it? 
The truth is that the Infinite isn't infinite … most of the time. Not when your mindnumbingly long lecture finally ends so that you can run past the slow walkers down the Infinite and out lobby 7 to grab a bite to eat from the Stud⁠01 the student center before you must scurry to your UROP⁠02 Undergraduate Research Opportunity Program meeting where all you have to say is that you haven't done anything this past week. 
But say you're psetting under the dome in the Barker Reading Room.⁠03 A silent study space open 24 hours that is never empty during the school year It's 4:40am. You usually pset with friends in your dorm lounge or at Stud 5, but this week you make the regretful decision to put this pset off until it's too late. Your usual pset buddies are trying to fix their sleep schedules and have gone to bed, so you have to work alone this time. Your brain turns into spaghetti; you wonder why your pset problems can't just solve themselves. Whatever, you get one pset drop for this class, so you decide this week's is the one. 
You take the somewhat creaky elevator down back to the first floor of the Infinite. You glance at your phone, to see a 4am Slack notification from your UROP mentor. It's currently 4:44. You chuckle that your UROP mentor's sleep schedule is as bad as yours.⁠04 Not everyone's sleep schedules fall into utter disarray at MIT. While some of my friends never sleep before the sun rises, other friends hold their 12am bedtime to be sacred (this takes a fair amount of willpower though).  
Suddenly, a weird warping of space ripples down the Infinite corridor. You're just hallucinating because you're sleep deprived, you think. You continue walking down the Infinite and can't wait to get back to your dorm to catch a few hours of sleep before your 9am lecture. You're walking past bulletin board after bulletin board pinned full of flyers, but somehow still haven't gotten to lobby 7 yet. What the heck, lobby 7 still looks so far away. You continue walking, as the sinking feeling in your gut intensifies. No, this can't be happening… you try sprinting in the other direction, with blood pounding in your ears. No luck. The building 8⁠05 The Infinite runs from building 8 to building 7, which are not adjacent to each other (MIT's system of numbering buildings is weird). door looks as distant as it's ever been. NoooOoooOoOOOOO. 
At exactly 4:44am, the Infinite becomes infinite. If you're walking through the Infinite at that time, you're now trapped. For eternity. 
The Song of the Recruiter Siren
You're a passionate UROP for a lab in CSAIL.⁠06 Computer Science & Artificial Intelligence Lab Your group is trying to submit a paper to some fancy research conference, and it's the night of the submission deadline. You've already been furiously coding up last minute experiments for the past five hours with your butt glued to a random chair on the first floor of Stata. But your mentor keeps Slack messaging you with more and more new experiments to run. You're exhausted, but you're determined to keep going — you want nothing more than to have your work published, to show the broader research community what your team has discovered.
The world has become just you and your laptop screen. You don't hear the echoing squeaks of the floor when another tired student scurries past; you don't smell the coffee wafting from a mug on an adjacent table. You don't even feel the skin between your fingers starting to fuse… that is, until you notice that you're not typing at your usual blazing 160 wpm. You finally take your glazed eyes off the screen to look at what's going on with your fingers. Once your eyes finally focus, you see that your hands have turned into fins. 
You panic. Your first thought is, I CAN'T FINISH IMPLEMENTING THIS EXPERIMENT IF I CAN'T TYPE. Your nth thought is, wait a second… I'm becoming a fish. 
Your appendages are becoming more and more fishlike; your throat is starting to tighten as your lungs gradually transform into gills. Somehow, your brain hasn't changed much so you still comprehend human language. You hear a faint, inviting voice. Your semi-human ears perk up. 
"currently hiring summer interns!"
"help make a real impact !"
You're involuntarily drawn to this soothing voice, but you don't mind. Every fishbone in your increasingly fusiform body yearns to hear more. You forget about your deadline and flop onto the ground, propelling yourself in the direction of the voice. 
"as our rockstar intern, you'll get to wear many hats⁠07 red flag that probably means you'll be overworked and expected to fulfill too many duties !"
"quantum machine learning on the blockchain !⁠08 a bunch of buzzwords "
You launch yourself out the door of Stata, flop past North Court, past East Campus, past Memorial Drive (it's like 3am so you don't get run over). You're now on a dock jutting into the Charles River. The tantalizingly sweet voice is louder than ever.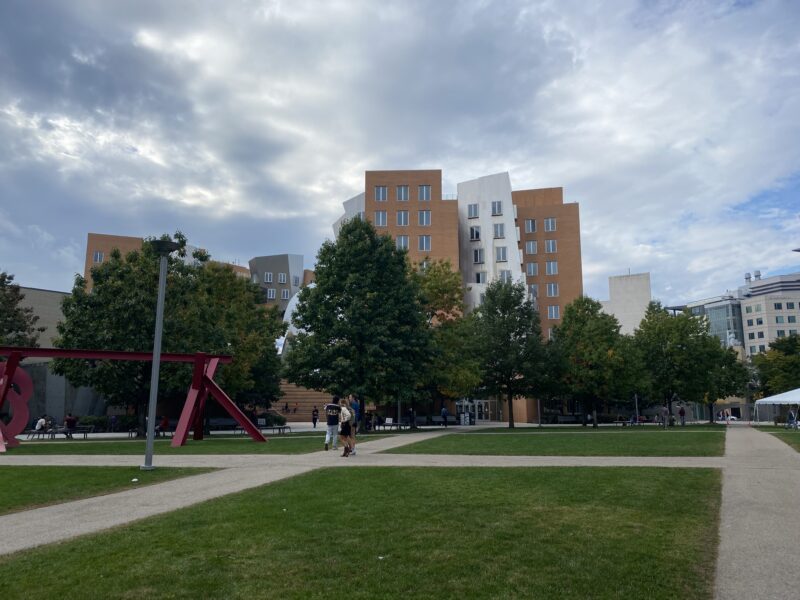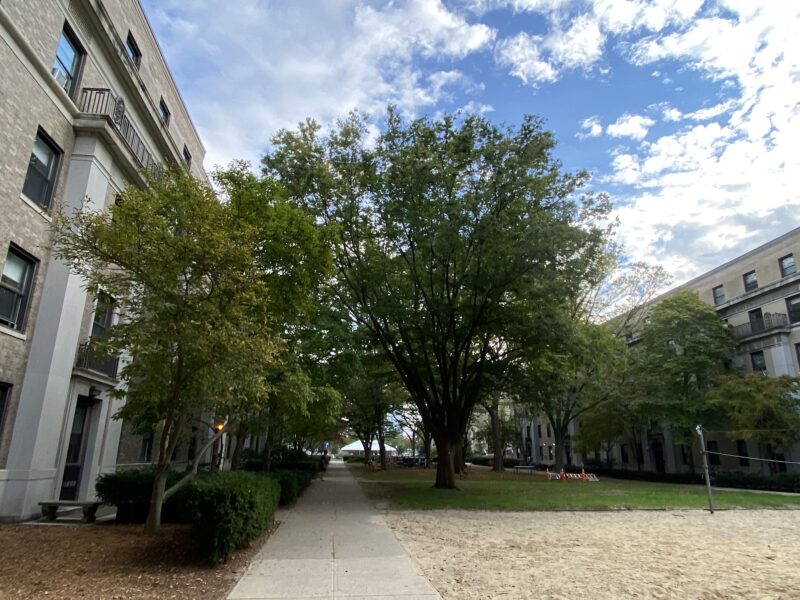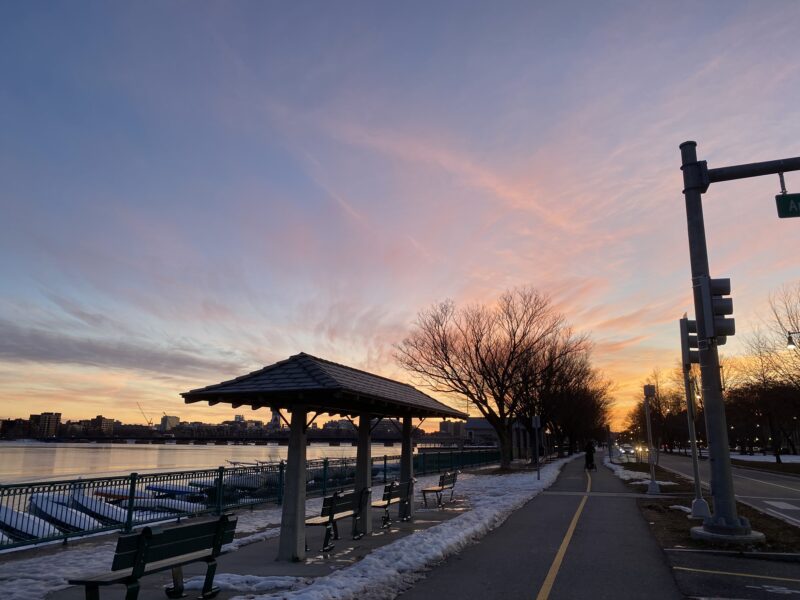 "FAST PACED EARLY-STAGE STARTUP ENVIRONMENT!"
You don't think twice before diving into the velvety depths of the Charles River. 
"LOOKING FOR TALENTED DEV INTERNS TO HELP MAKE OUR BRILLIANT WORLD CHANGING IDEAS⁠09 another red flag when this 'startup' doesn't even have its product implemented... A REALITY!"
The cold, semi-murky water streams past your gills. The voice embraces your brain, your soul, your very being. You feel … alive. 
" UNPAID⁠10 this is a HUGE red flag... using interns as unpaid labor is a huge nope. OPPORTUNITY BUT YOU'LL GAIN A LOT OF VALUABLE EXPERIENCE !!!!!"
A blurry, internship-recruiter-shaped mass appears in the distance. You activate every muscle fiber in your body, thrashing your fins wildly. As you near the recruiter-shaped mass, you see that they're surrounded by mountains of company swag. Having never experienced the joys of grabbing free swag by the armloads because your career fairs have only been virtual, your fish mouth starts foaming at the endless piles of t-shirts, water bottles, and fidget toys. 
"Take anything you want; I don't need to see your resume to know that you'd make a fine, talented intern!"
You're blubbering with excitement; bubbles streaming out from your mouth and towards the glittering surface of the water. You want these T shirts so badly, so that you can procrastinate on doing laundry for even longer. You want this internship so badly; everything about it sounds like the dream internship⁠11 this is satire . 
However, you don't notice that the recruiter-shaped mass is now looming over you. Before you can react, the recruiter-shaped mass opens their jaw to reveal rows of sharp, blood rusted teeth. 
chomp.⁠12 The startup featured in this silly story is definitely not representative of all startups!! I don't have much experience with startups/entrepreneurship, but I do know that they take an extreme amount of work and dedication to get off the ground.  
The Glass Walls
It's the spring of 2020. You're a first-year student. After a dreary fall semester spent in your childhood bedroom, you're finally excited to experience some semblance of in-person MIT. All of your classes are still on Zoom and you don't have tap access to a lot of campus, but you're just glad that you can finally interact with people in 3D. 
It's a Friday night, and you're happy to finally wind down from a tough week. You all wish that P/NR⁠13 Freshman take all classes on pass/no record in the fall. could apply to this spring in addition to fall because it's your first semester of in person MIT, but ABC/NR isn't too bad.⁠14 In the spring, frosh either earn an A, B, or C or don't have the class show up on their records. Because of covid restrictions, there aren't any fun events or parties you can go to, so you and one of your podmates⁠15 During the 2020-2021 covid year, MIT implemented a pod system where you and up to five other students can interact with each other without any restrictions, but had to socially distance and wear masks around everyone else. decide to wander around MIT's campus. You go up and down stairs, take the elevator to random floors, and walk through unfamiliar hallways. As you walk past empty classrooms, you wonder where you would've gone for your classes if it weren't for covid. 
After some wandering, you find yourselves in the lobby of the political science floor inside Building 53. You both plop on a slick looking couch — dang this lobby is pretty sliiick. Two glass walls frame the entrance to hallways leading to the rest of the polisci floor. You get up to take a closer look at the glass walls and see that they're covered in fancy academic keywords, probably all relevant to political science. Some are in all caps. 
"monetary policy"
"BIG DATA"
"ethnography"
"TERRITORIAL DISPUTES"
"oligarchy"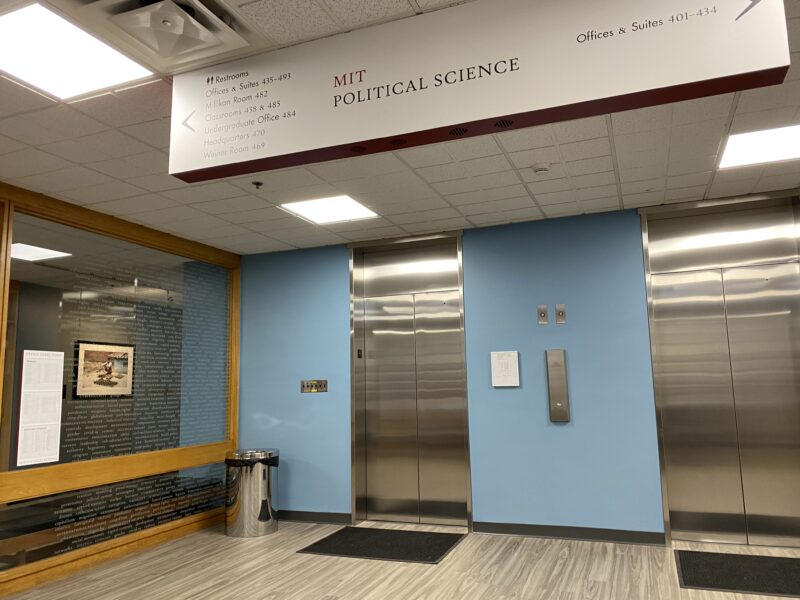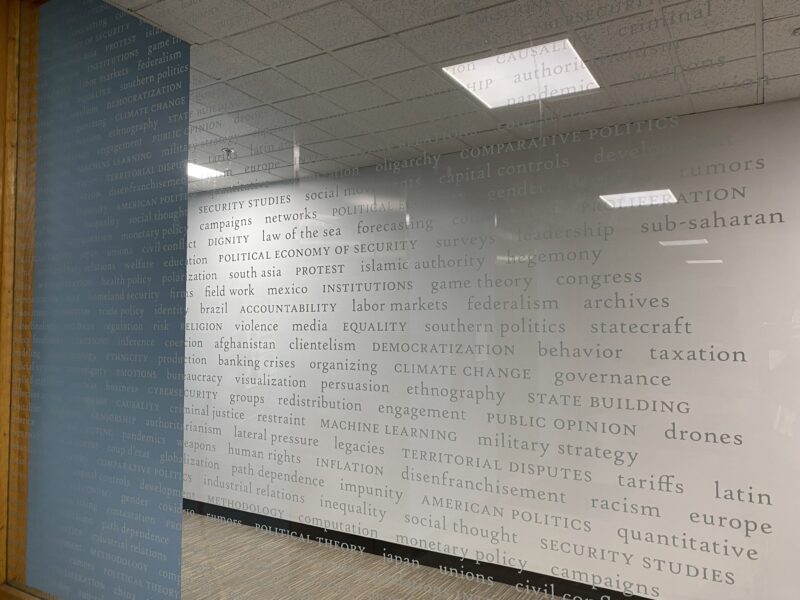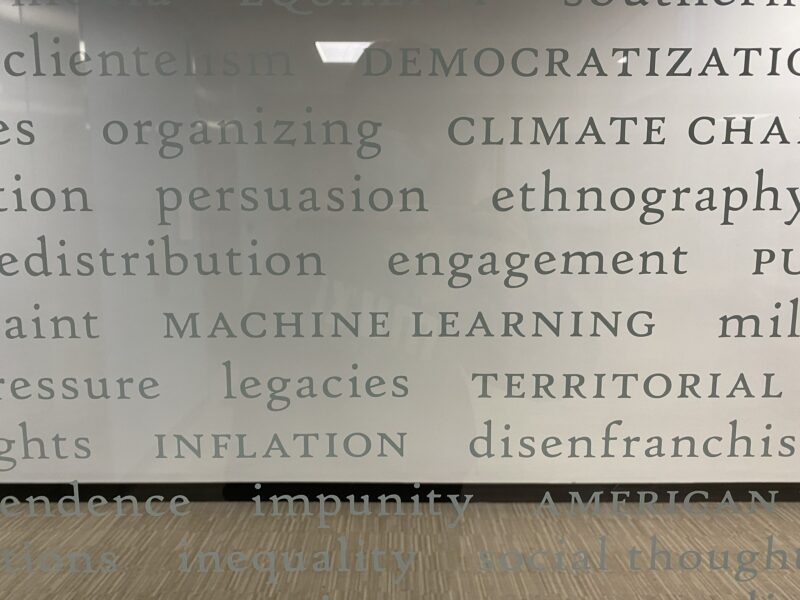 You laugh that this wall of keywords reminds you of overused tech buzzwords, like quantum machine learning on the blockchain. 
"covid-19"
"pandemic"
whAt?! As frosh, you assume that these walls have been here for a while, but covid-19 hasn't been a thing until a year ago. You consider the possibility that maybe "covid-19" was added after the rest of the words, but leaving the right spacing in anticipation of new words would be impossible. You come to the conclusion that putting up these glass walls was probably one of MIT's oddly specific priorities during the height of the pandemic. MIT is just weird sometimes, you shrug. The rest of your pod is planning to watch Train to Busan,⁠16 </span>an amazing movie in my humble opinion a Korean zombie apocalypse movie, later tonight so you both head back to your toasty dorm rooms heated by overactive radiators. 
You wake up to the bright noontime sun streaming through your flimsy window shades. Upon realizing you've run out of clean underwear, you finally do your laundry. As you open the Washlava⁠17 app/system for paying for and starting laundry machines @ mit. it's got a pretty iffy reputation amongst students. app to start the washing machine, you get a text message from your podmate. 
"come to the polisci lobby. now."
Well, the washing cycle takes 36 minutes, so you might as well take a quick excursion to the polisci lobby during that time. 
You arrive at the lobby, but your podmate is nowhere in sight. That's okay, they might just be using the restroom. Upon first glance, there's nothing unusual about the lobby. You walk over to one of the glass walls. 
"world war III"
"TOTAL NUCLEAR MELTDOWN"
"covid-23"
"CENOZOIC ZOMBIE APOCALYPSE"
You swear these appeared overnight, although they are perfectly spaced with the rest of the words. Your blood pressure instantly skyrockets. You break out in cold sweat. Nevermind covid-23 implying that you'll probably never get to experience a year of Real MIT… Your first instinct is to escape, as nothing is more effective than just running away from your problems. You skirt into the elevator and punch the button for the first floor. 
It's kinda funny that the button panel says "Elevator does not stop on 2nd floor by design. Please use stairs located in library,"⁠18 Dewey Library of Management and Social Sciences yet there's a button for the second floor. You're too busy praying for the elevator to go faster to laugh though. The elevator bell dings for the third floor, then dings for the second floor. 
Suddenly, the elevator comes to a screeching halt, and the doors swing wide open. Before you can react, you hear gurgling and catch a glimpse of your podmate. 
"aslkdfjskfd thank goodness it's just you I have no idea why this stopped at the secon—"
On your podmate's neck there's a huge bloody bITEMARK??!!!
It dawns on you. 
CENOZOIC ZOMBIE APOCALYPSE.
The REX Roommate
You're a bright eyed, bushy tailed frosh moving in for the first time. You're a little apprehensive about having to cook for yourself, but you're confident that free bananas⁠19 making Banana Lounge bananas your sole source of sustenance is not recommended. my friend's doctor told them to not eat more than 2 a day. from the Banana Lounge and your signature dish of fried eggs on bread will carry you through the semester.  
A fellow frosh runs up to you. 
"Hey!! Omg are you catlover123 from the frosh discord channel? I'm spicynoodles. And you're also temped⁠20 Frosh first move into a temporary dorm so that they have a place to sleep during Residence Exploration (REX), four days when they'll get to explore all the different dorms. After REX, frosh will rank dorms and be put in the room/dorm they'll live in for the rest of the year. in MacGregor?"
"Yea to both!" 
"I'm SO hoping that I get to stay in MacGregor because I hear you're basically guaranteed a single. I'm in the A entry, how about you?" 
You reply that you're in the C entry. Huh that's odd, you were assigned a double. After asking around a bit, you learn that MacGregor has 300 or so singles and 3 doubles. Guess you were one of the lucky few. 
You and spicynoodles both live in the highrise section of MacGregor, so you board the elevator. You both notice that the elevator only stops at select floors. 
"That's… an oddly specific sequence of floors to stop at. Did MIT run out of budget to have the elevator stop at each floor or something?"
As the aspiring course 18 in spicynoodles tries to find some pattern in the sequence of elevator stops, you vaguely remember the story of the polisci elevator that an upperclassman had told you. You shudder a bit, but that story can't be real right?
Thank goodness your room is on the 8th floor, one of the few floors that the elevator stops at. You haul your luggage into your shiny new room. You were told that because of REX, this might not be your permanent room for the year, so you don't put up your LED strip lights yet. Your roommate hasn't arrived yet, so you sit on your bed for a bit and wonder how they might be like.
~~~
It's been a few days, and you're very much enjoying the fun and chaos that is REX. Just today, you got your hair dyed at East Campus, helped Simmons build their Trojan Duck, summoned felines on Random, and tried Tosci's⁠21 local ice cream place that slaps HARD. totally recommend its earl gray ice cream; 10/10 for the first time in McCormick. On your way out of McCormick, you feel the ominous stare of the lady in this portrait sear into your skin. You can swear she narrowed her eyes at you, but It's just a dumb portrait. 
You feel bad that your roommate is missing out on so much of REX, as they still haven't arrived. Hopefully they'll come soon, because REX is almost over. 
You and spicynoodles decide to spend the evening wandering around campus, which eventually takes you inside the Stata Center. This place really is quirky both inside and out. Spicynoodles finds Stata obscenely ugly, but you kinda love the chaos of its architecture.

"I heard Stata went so over budget that they had to freeze faculty pay⁠22 this is true according to my freshman year advisor. as a result he has strong feelings about Stata. apparently the architecture firm behind Stata was also sued. for two years to pay for it."
"Oof."
You walk over to a large interactive panel; it's Flow by Karl Sims. The panel augments your figure and movement with various computer simulated effects. This one looks like some variation of particle flow. 
The particles of light are concentrated on you and spicynoodle's figures. You wave, introducing some turbulence. That is so darn cool, you say. Out of the corner of your eye, you see the particles trace around what looks like a third figure. You turn your head, but there's no one there. 
"Hey spicynoodles, does it look like the screen is augmenting stuff for a third person?"
"Huh no? I only see yours and mine." 
You swear you're just seeing things. Whatever. 
Another new friend of yours texts you, "hey wanna come over to the McCormick penthouse? The view over the Charles River and Boston is sooo prettyyyyyy!!!" It's kind of a walk from Stata to McCormick, but McCormick is on the way back to MacGregor so you agree to go. Your friend is right, the view is breathtaking. 
On your way out, you pass by that eerie portrait again. You swear she glares at you again; maybe today's just the day where you keep seeing things. Maybe you should actually sleep instead of staying up all night hanging out with your new friends. But wait, this time the boy holding the dog in the portrait is gone… 
You ask a random person who happens to be walking down the hallway, "uhhh didn't this portrait also have a boy holding a dog?"
"uh no?"
You're confused, but you swear there was a boy holding a dog. Okay, it's definitely time to sleep. You stumble back into the MacGregor, ready to crash.
"Hey, I'm your new roommate! Oh gosh, I accidentally got off on the 7th floor and was soo confused, but I finally made it here." 
You look up and break into a wide grin. YES! He's finally here! You two excitedly introduce yourselves. 
"Shhh don't tell anyone but I sneaked my doggo in here." He pulls out and opens a dog carrier to reveal a slobbering tan and white puppy. 
"Wonderful 'cat'⁠23 Residents are allowed to keep cats in Random and East Campus, but sometimes they keep loose interpretations of 'cats' ;)  you got there ahahhaa"
You suddenly stop laughing. That dog looks familiar. Your roommate, with his ruffled brown hair and black trench coat, also looks familiar. The painting! The boy in the painting! Did he just… leave the painting??? It takes you a hot second to also realize that the elevator doesn't stop at the seventh floor?!
You're too tired to think about it, so you say goodnight to your roommate and go to bed. 
The next day, you wake up to see that your roommate is gone. Probably just out enjoying REX events, you suppose. But you also notice that his bed is gone, along with his dog carrier and luggage. Oh no, did something happen to him?

You find your GRA⁠24 graduate resident advisor to ask if your roommate is okay. 
"Are you sure you have a roommate? There are only singles in the C entry. The only doubles are in the F entry."
WHAT??? You're just confused at this point. You try to explain that you did indeed have a roommate, but no one is able to help you because your roommate isn't on any records. You end up going through the rest of your year (which was amazing by the way) without ever finding out what happened to your REX roommate⁠25 This spooky story happens to feature MacGregor, which a great place to live! Thank you to my friends Winnie '24 and Mindren '22 for their consulting on how MacG works .