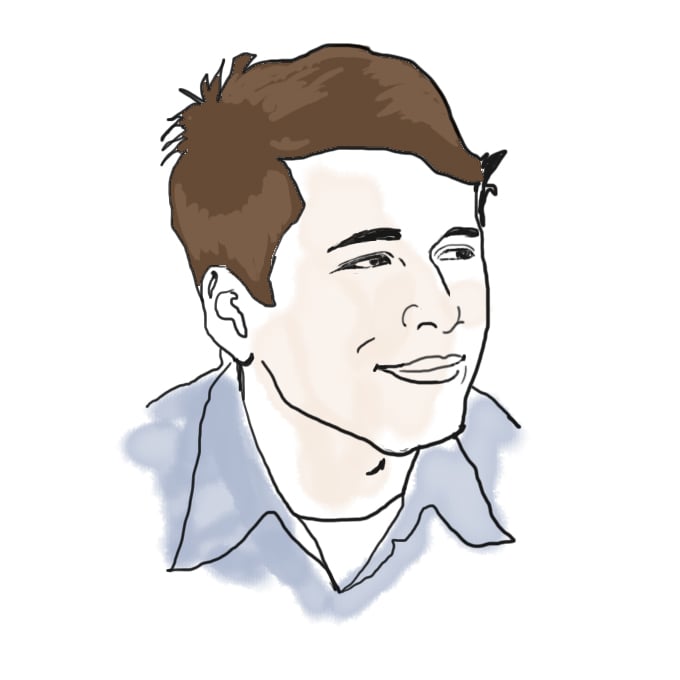 Yesterday, new father Ben and I did a presentation on blogging for the annual conference of the New England Association for College Admission Counseling (NEACAC), hosted by Boston's Northeastern University.
Yesterday, new father Ben and I did a presentation on blogging for the annual conference of the New England Association for College Admission Counseling (NEACAC), hosted by Boston's Northeastern University.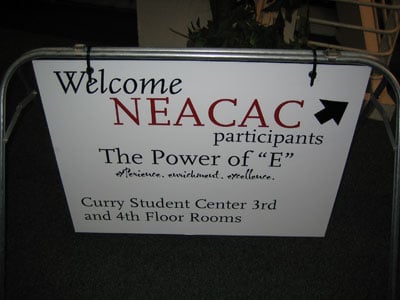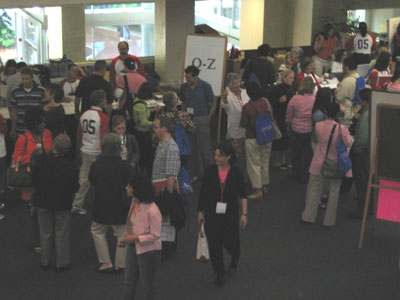 Hundreds of guidance counselors and admissions officers from across the northeast arrive for the NEACAC conference.
In the first session of the conference, Ben, Marilee & I attended a talk entitled "Lowering the Flame on Admissions," presented by Amherst College Dean of Admissions Tom Parker and Milton Academy Director of College Counseling Rod Skinner. I've seen both of them present before on other topics, so I knew to expect good things. The topic of this session was stress and the college admissions process.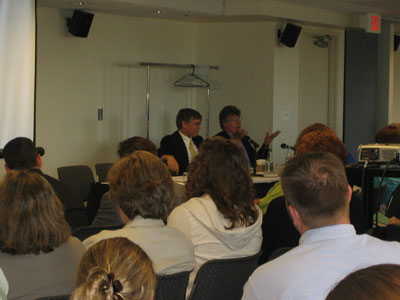 Rod Skinner (left) and Tom Parker (right) discuss stress and college admissions.
Parker did a nice rundown of developments over the past few decades that have produced the current admissions frenzy. They included:
The advent of need blind admissions. While most of the highly selective universities are now need blind, that wasn't always the case. Need blind admissions have allowed more students to have a chance of admission at top colleges.
The emergence of the "national student." There are currently more students from California at MIT than from any other state, and more students from India than from Vermont, but in the past, most colleges drew from a mostly regional pool of students. Now students from across the country and across the world routinely apply to the best colleges, regardless of distance from home.
Search. The Student Search Service allows colleges to purchase the names of thousands of high school students based on academic and demographic criteria. This allowed colleges to reach out to students in larger numbers, in some cases bordering on marketing.
The lessening of cozy relationships between admissions officers and private school counselors. While relationships between colleges and private high schools still exist, the admissions arrangements of yesteryear are long gone, allowing more fair play in the overall admissions process.
Rankings. US News & World Report published its first set of college rankings in 1983, and the rest, as they say, is history.
Commercialization. There's now an entire industry around college admissions: absurdly well paid counselors-for-hire, books, magazines, test prep…
Skinner's half of the presentation was a little less structured but more emotional. He talked about seeing the stress in high school, both related to and not related to college admissions. He also discussed how the quest for perfection (in an attempt to please college admissions offices) has led to competition and anguish. While some students believe that if they do all the "right" things to get into the "right" colleges, they will be happy, in the process neglecting their own happiness and sanity. Then, Skinner provided a nice quotation from the Dali Lama: "There is no way to happiness; happinessis the way."
At this point, Ben and I headed off to get ready for our presentation. We had a nicely sized crowd, largely admissions officers with a handful of other interested parties. We were happy to see that the crowd was lively and engaged.
Our hope in presenting our experiences with blogging is to get more admissions officers and admissions offices involved with the blog movement, in an effort to demystify and (hopefully) de-stress the college admissions process.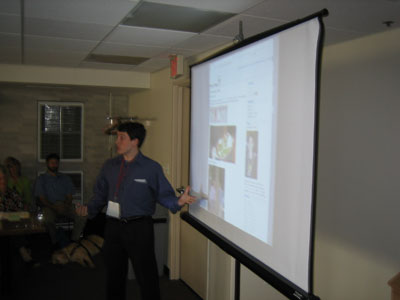 An action shot: me talking about Mitra's blog.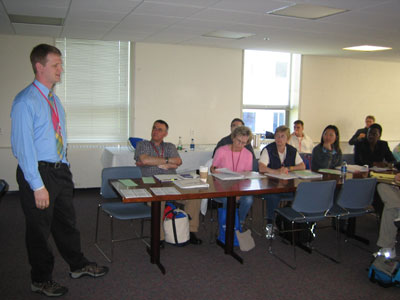 Ben talks about the history and evolution of blogs.
To hammer home the point of how blogs can be used to build a community, we talked at length about you, our readers (hi!), and closed the presentation with the group photo from the CPW Blog Party:

Thanks to you for contributiing the the community that these blogs have formed.
After the presentation, Ben & I got some good feedback. It sounds like more colleges will be launching blogs over the next year, and I'm looking forward to that! Also, earlier today, another admissions officer left a nice comment in Ben's blog:
…I just want to compliment you and Matt for the exceptional session about "blogging" at the NEACAC conference yesterday. I didn't get a chance to thank you in person so here it is, "thank you". My colleague and I were in awe at how exceptionally knowledgeable you and Matt are on this particular aspect of admission. I have been keeping an online journal for many years as well, but never thought that the idea could be applicable to admission. You guys are pioneers!
Thanks to all who attended; you were a great audience. We will be presenting again at the conference of the National Association for College Admission Counseling (NACAC) this September in Tampa. See you there!