Ben Bell
Sophomore
MIT-Israel Program
Internship: Ben Gurion University, Prof. Ilana Natan
This post was first published on Ben Bell in Israel: http://benbellinisrael.wordpress.com/
I was trying to think of a clever title for my daily activities and was reminded of the musical, Fiddler on the Roof. If you've never seen it, then REMEDY THAT. ;) And while I'm not going to be in a Jewish wedding anytime soon, so far all I can say about the summer is, "swiftly fly the years".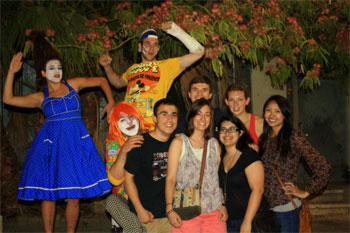 Be'er Sheva is a quiet, humble city. When I first arrived, it didn't take but a morning and early afternoon to see the sights. There are a few attractions to the town that make it pretty homey. Every Wednesday there is a street festival in the old city with musicians, artists, and sellers of trinkets galore. It's a nice change of pace from the school year, which is practically non-stop from reg day to the last final. However, the Sabbath (institutionalized here in Israel) is something that forces you to stop. It can be frustrating if you want to go do, but it's a nice excuse to just be.
Ben-Gurion University makes this place a college town. Students are in the midst of finals right now and soon, I'm told, things will be even more laid-back (!) when they all evacuate. There are about 20,000 students from all over Israel studying for their bachelor's, master's, or PhD. The vast majority of the students complete their army service (2 years for women, 3 for men) and even a gap year before they start college, so most know exactly what they want to do when they get out. It means that the MISTI kids are precisely that–kids. When I first met my adviser, she must have mentioned how young I was at least three times.
I live in the university dorms which are right by the campus. They're pretty standard–laundry, vending machines, over-priced mini-mart, etc. They are all suites of four singles that share a kitchenette, common area, and bathroom. My roommates are all PhD students/post-docs so I'm again the youngin'. I've been able to get to know a couple of them better because I actually see them, but one of them remains elusive.
I work in a lab in the Soroka Medical Center, which is across the street from BGU's main campus. The lab studies cell death: apoptosis, necrosis, and autophagy. My project looks at a protein, humanin, that demonstrates anti-necrotic properties in neurons from brains of Alzheimer's patients. Humanin is thought to work synergistically with other anti-necrotic compounds that are widely used in drugs today. The hope is that studying these interactions could lead to the development of better treatments for ischemic injuries from heart attack, strokes, and liver damage.
TL;DR: I am doing a screen among known drugs for necrosis against a potential drug to see if they work together against cell death.
The timeline of an ideal Sunday-Thursday:
7:30–Wake up, roll over and fall asleep
7:50–Wake up again, play a song on my kindle to wake me up (This morning was Rodrigo y Gabriela's "Savitri")
8:00–Shower/Get Ready
8:20–Breakfast: Chocolate Branflakes + Cornflakes, or Honey Bunches of Oats (expensive, definitely a treat)
8:45–Walk to Work
9:00–Arrive in Lab! Switch media for cells
10:00–Start treatment of cells
10:45–Induce necrosis with KCN
11:00–During the 5 hour incubation time, I meet with my grad student and professor who advise me on the overall direction. I have lunch with people in my lab and attend talks or lectures. I prepare plates for tomorrow's experiments, feed, and take care of my cells. It's nice to not be juggling classes and lab and everything else during the regular semester.
4:00–Waiting is done! Close up the experiment
5:30–All done. Time to leaveeeee
The evenings are always pretty variable. I got connected with a student Bible study that meets biweekly, the MISTI kids are trying out a lot of the restaurants in the city and starting a weekly film club, and of course, there's so much Facebook to keep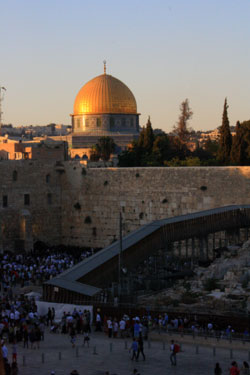 up with (only half-joking unfortunately). I am honestly trying to use the free time I have well. I don't necessarily mean squeezing every last drop out of my time either. The summer is a great opportunity to rest and I want to do that. It's also a time to finish up projects, work out, and complete things that I would love to do during the year but simply get squeezed out of my Google Calendar.
The weekends are an incredible opportunity to travel. Having grown up in a Christian home, I've heard about Israel forever. It's really neat now to have a mental image for many of the places in the Bible. I feel like a master of the train system in the country, which isn't saying much as Israel is only the size of New Jersey! Because there are MISTI students spread throughout, there are plenty of couches on which I can crash, whether I'm visiting Haifa or Tel Aviv or Jerusalem. Couches are sometimes overrated, like when my friends and I went camping on the shore of the Sea of Galilee!
The past few days, all of the MISTI MIT-Israel students came together for a 5 day seminar learning about the culture, technology, and society in Israel. It was incredibly meaningful visiting the Yad VaShem Holocaust Museum, or hearing from parents who have lost children in the Arab-Israeli conflict and are working toward reconciliation. We visited companies that reflect the unique way Israel succeeds in business despite its size and learned about the turbulent political climate from retired Gen. Danny Yatom, former director of the Mossad (Israeli CIA). Beyond that, we had what seemed to be an unlawful amount of fun playing on the beach, going to an Israeli concert, and rafting on the Jordan River.
Basically, this summer is unbelievable–I continue to be amazed that a program like MISTI even exists. I've been well prepared (and well-funded I might add) to have to time of my life seeing how research science is done in a very different society. The only thing that could be more rockin' is the fact that it's only half-way done! :)