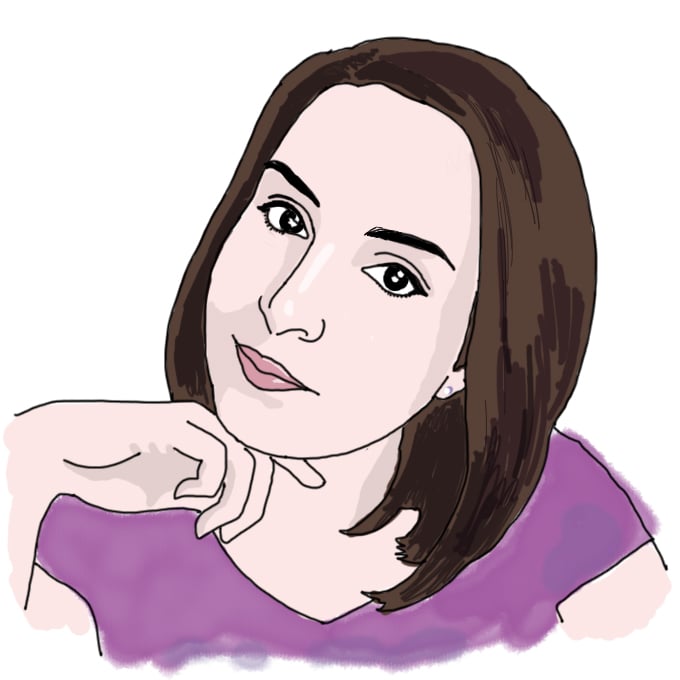 The Adventures of Comic Artist Girl (+ Doodles!)

by Chelsea R. '15
In which comics class gets a talk from an award-winning cartoonist
This week was a four-day week, which made it extremely weird. It seemed to be a consensus among a bunch of people I talked to that this was a bummer week, and my days were punctuated with a lot of downs. But something really, really rad also happened this week, and I want to tell you about that instead.
To introduce the rad thing, I present to you Exhibit A: the sweet flyer that lured me into taking one of my current classes.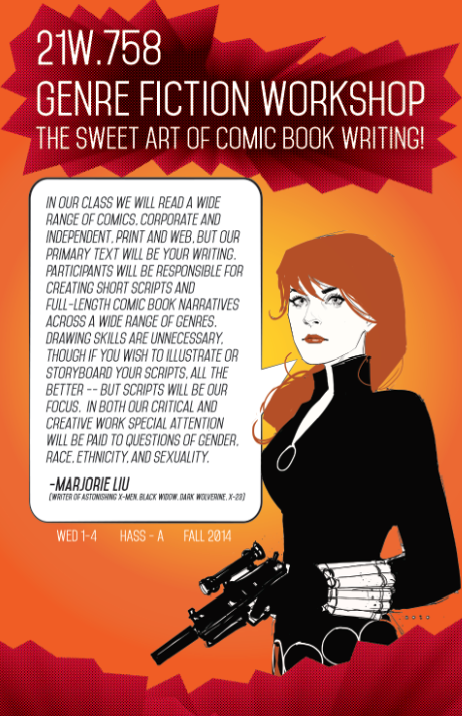 Yes, this semester MIT has a class specifically on comic writing! (And thankfully the flyer does a great job of answering the most common question I get about the class: no, you do not have to draw your comics. Can you imagine how much time that would take?) As far as I know, this is the first time comics class has been offered; up until this semester 21W.758 was a class that covered a multitude of genres but stuck to the realm of prose.
As it exists now, 21W.758 (or MIT.616, as our mailing list is named—spot the reference?) is a cozy nine-person comics writing workshop, which is the perfect size. Funnily enough, I'm actually taking the class with Ceri R. '16, two people who live on my floor in Simmons, and one person from my a cappella group. Sometimes the world is strange and small.
Comics class is taught by Marjorie Liu, a prolific (New York Times bestselling!) novelist who's also written comics for Marvel (Dark Wolverine, Astonishing X-Men, Black Widow) and is slowly and gently acclimating us to the world of comic writing. She spent the first part of the class getting us comfortable with writing comic scripts, which are a new medium for pretty much all of us. Most recently, we've been considering basic storytelling questions: characterization, plot, sources of conflict. Next week, we move on to worldbuilding.
As part of the storytelling/conflict unit, we read Friends With Boys, a graphic novel by (Eisner Award winning!) writer and artist Faith Erin Hicks about a girl who is making the transition from homeschool to high school while dealing with some family friction—and being haunted.
When we discussed Friends With Boys in comics class a few weeks ago, we focused mainly on how Faith Erin Hicks developed her characters, and how plot conflicts, large and small, grew from them (and not the other way around, shoehorning in plot to create conflict). She balances a number of characters with different personalities in a way that feels natural, and much about those characters is communicated in total silence, through art alone.
This week, Faith Erin Hicks came down from Halifax, Nova Scotia(, Canada) to talk to us about her process as a writer and artist. Internet, Faith Erin Hicks is so cool.

A self-portrait of Faith Erin Hicks, from her website.
Faith spoke to us for about an hour, and then we had another hour or so to ask her questions. She told us how to get good at drawing comics, which is: just start!! Just draw comics. Just draw lots of comics. She drew a webcomic (Demonology 101) for five years—700 pages—and showed us, for comparison, her first comics page and one of the pages she drew toward the end.

The first image is a redraw of her first first page, but it's still about three years older than the second image.
For those of you who think your college major locks you into a set career path: Faith studied animation and worked full time in animation. She transitioned to comics by deciding, after drawing Demonology 101, that was a thing she wanted to do more and then sort of throwing herself at it. She published her first book, Zombies Calling, in 2007, and then another, and eventually got connected with First Second, Macmillan's comics publishing division. And now she does comics for her job! How cool is that? Just the concept of devoting yourself to something you love and making a living doing it full time seems like the ultimate dream.
Anyway, Faith won her Eisner for her comic The Adventures of Superhero Girl, which was published by Dark Horse in 2013. She's done other projects, like a comic prequel to video game The Last of Us, and is now working on a fantasy trilogy, The Nameless City.
Faith talked to us about her process—writing, thumbnailing, sketching (she recently transitioned to digital sketching), inking (traditional). She cranks out a page per day, and works for twelve hours (with a break for dinner). Sometimes she writes her own story, and sometimes she illustrates other people's scripts. She tends to vary her style a little for each book depending on the genre and intended audience.
Comics class is not about drawing so much as writing, but Faith did also gave us a few artist tips. One of them was "use references," and since I'm a compulsive doodler who takes things too literally, I used her as a reference, and sketched her while she spoke.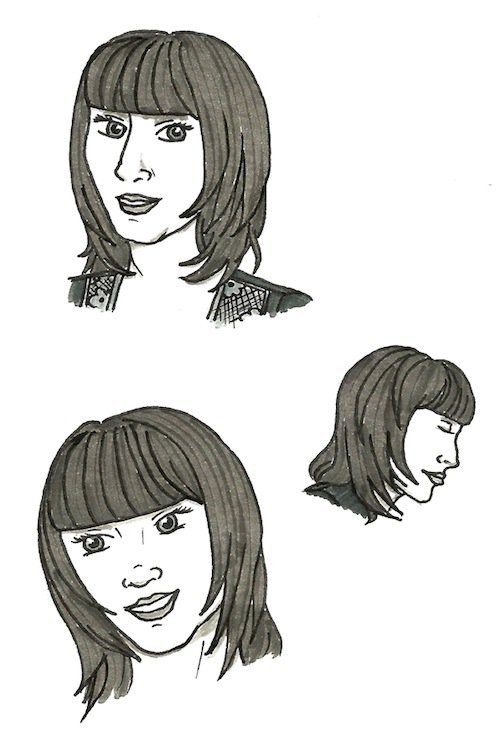 I inked the sketches later. I think they turned out okay. She had such neat hair!
After Faith fielded questions about her influences, the publishing process, what she likes in comic scripts, her drawing tools, and just about everything else, the class went on break, and she signed our copies of Friends With Boys.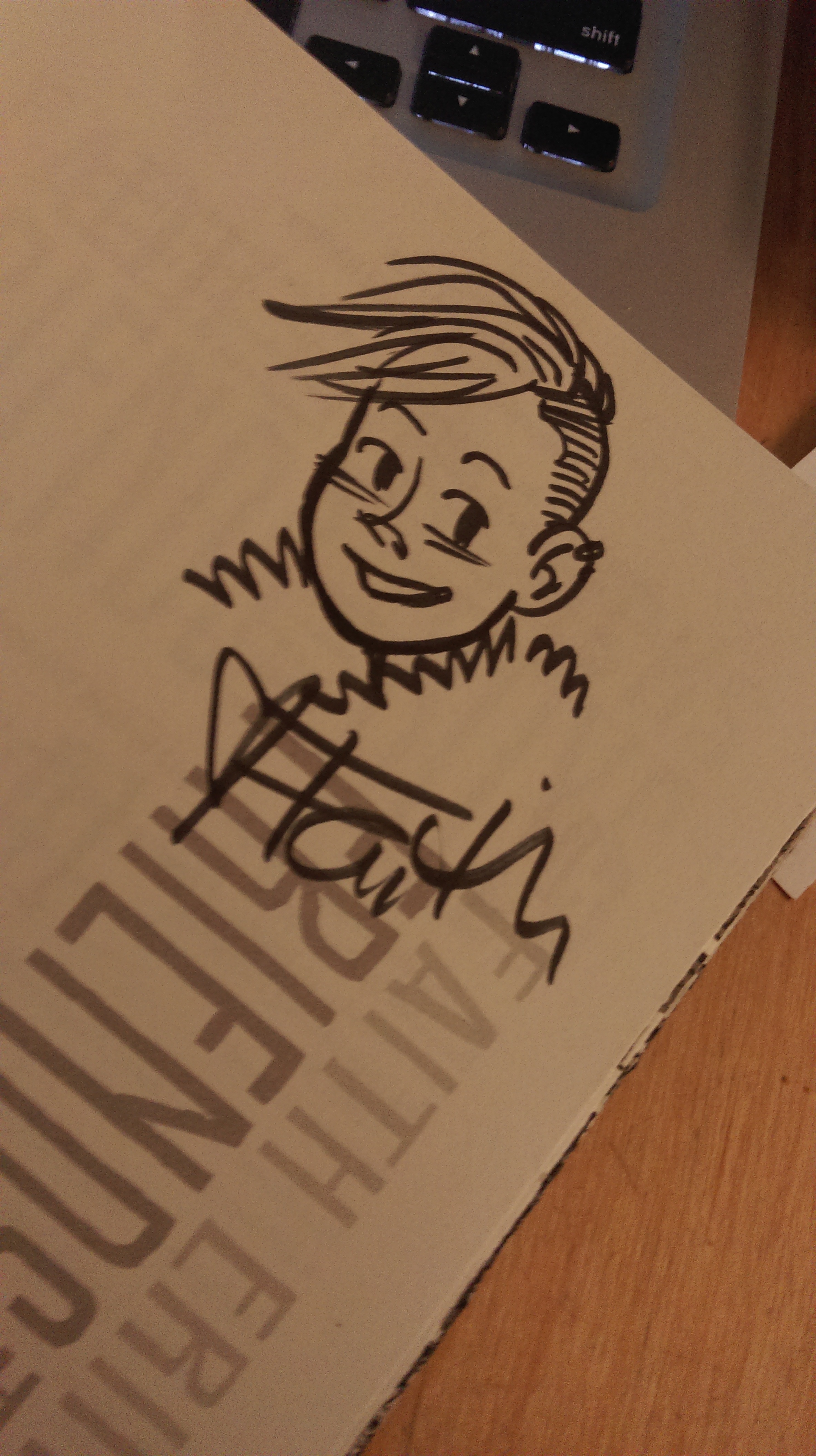 It's Lucy!
The main thing that Faith impressed upon me—and most of us, I think—was that if you want to do comics, just start doing comics. She said webcomics and Tumblr were good places to go, even though there are now so many stellar artists out there and that can be intimidating. Putting work online is an easy way to build up a portfolio, have work to reference later, and maybe even get a few people following you.
That piece of advice stuck with me, and I carried it around through the end of the week. When I was in high school, I almost started a webcomic. (It was about two high school girls with no special powers who try to be superheroes and find themselves in over their heads.) I drew about five pages before realizing that, between AP and IB classes and extracurriculars and looming college applications, I'd have no time to actually see it through. So I put that dream, and any really serious attempts at drawing, off to the side.
But with comics class happening and the encouragement we're getting from Marjorie and Faith, that old dream is nibbling away at me again. I realize that I do have a story I'd like to tell via webcomic—blossoming out from one of the scripts I wrote for the class, actually—and that I have IAP to start, if I want, since I'll be taking a break from ThesisNovel then. But I should start, sooner rather than later.
Saturday night was an extremely low night, but instead of wallowing in that extreme lowness or doing something I'd regret later (like eating an entire jar of Nutella in one sitting, which has been known to happen when I am sad), I remembered the advice to just go for it. Just draw. And that's what I did. I sketched, and I inked.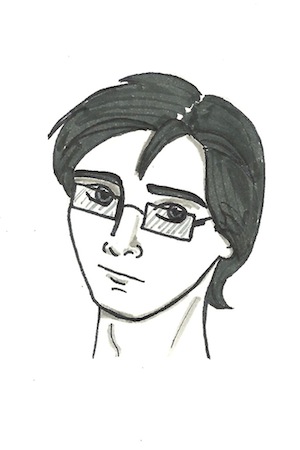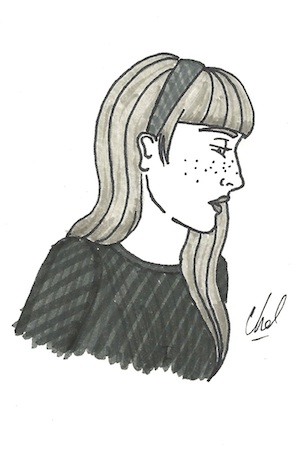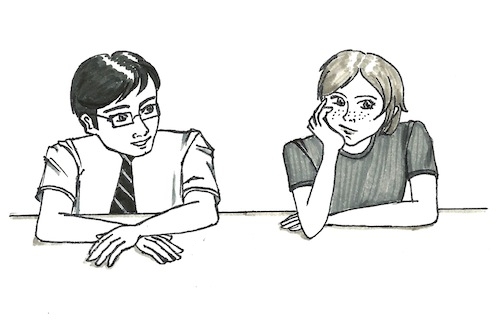 Potential characters from potential webcomic???
I'm not happy with my drawing skills yet (is anyone ever happy with their drawing skills?), but they're definitely better than they were just last year. I'll keep doodling, maybe even dust off the tablet I got a few years ago, and see what happens.
But the advice to just start drawing already helped me out in a neat little way, and I'm not the only one who was inspired. Just by talking to other people in the class, it's obvious that people are motivated to strike out into the strange new world of comics on the Internet. We all have ideas. Ada T. '16 and I are already planning on going halfsies on a pack of Col-Erase colored pencils (which Faith used when she sketched traditionally). At this rate, I wouldn't be surprised if Marjorie's class becomes a veritable webcomic factory.
And if it does? All the better. These days, there's plenty of room for all kinds of stories to be told.
---
Faith Erin Hicks has a website! Check it out, read her stuff. She's also followable on Twitter and Tumblr.
While you're at it, also check out Marjorie's website.
If you have any questions, comments, or concerns, I can be found on Twitter too. c: