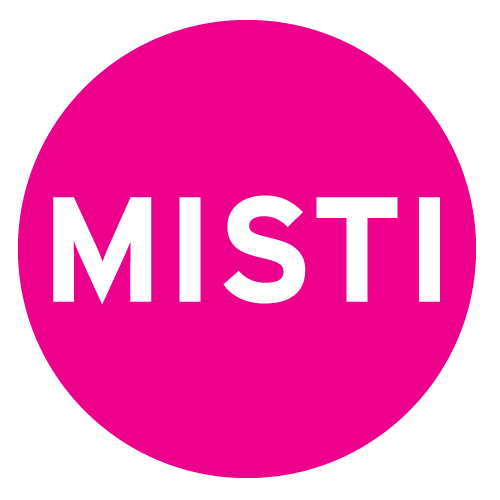 The Last Day at Gymnasium Untergriesbach

by MISTI Program
as part of the MIT-Germany Global Teaching Labs Program
Scott Stephens '14, Materials Science and Engineering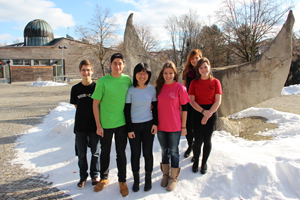 , MIT-Germany Global Teaching Labs Program
As I write this post, I am sitting in the teacher's lounge trying to hold onto the comfort that I have grasped to since my first day at Gymnasium Untergriesbach. Surrounded by excellent teachers, excellent students, and a beautiful school, I have been smiling for three weeks straight. This morning was filled with gathering contact information from my colleagues, teaching my last lesson with a group of delightful high schoolers, and interviewing with a reporter from the newspaper of Passau. But now I find myself alone with my thoughts, reminiscing like an old crow looks back on the time that has flown by. On my first day here, I was more nervous than a CEO about to tell his staff that he had sold the company for a box of oranges. Three weeks later I feel that I am being kicked from the nest without being able to fly. I sit on the brink of the end of my time here at the Gymnasium, and there are a number of things that I will miss dearly. I guess I will just have to list them as the following:
1. I will miss the barrage of wide eyed stares I receive from the students who think I am an alien.
2. I will miss the amazing coffee machine that does everything from hot chocolate to a damn good latte macchiato.
3. I will miss the stunning beauty of the sun creeping over the steeple of the church as I arrive at school.
4. I will miss the crystal flakes of snow that fall lightly to coat the streets and towns like a silken blanket.
5. I will miss the warm "Guten Morgen" of the teachers as they stroll into the lounge.
6. I will miss the 5 hour super lectures on the biology of DNA and chemistry of petroleum.
7. I will miss the puzzled looks of the students and, even better, the horrified looks the victims I call to the board.
8. I will miss bright smiles of Mr. Brunner and his yellow turtlenecks that match his car.
9. I will miss my distillation experiments and lighting stuff on fire.
10. I will miss stories of Ms. Schoenbrunner (she has quite a few brilliant ones about police officers in the States)
11. I will miss the exchanges with Hanz (the Foodmiester), seeing pictures of his fishing trips, and his hearty handshakes.
12. I will miss the sizzling schnitzel semmel and flavorful Bavarian lunches.
13. I will miss watching American football with a true fan, Mr. Vogel
14. I will miss teaching swimming for my wonderful group of athletes
15. I will miss the people…
This last one, number 15, is possibly the most important thing I will miss. It's the people that you meet that make the wealth of life. It's this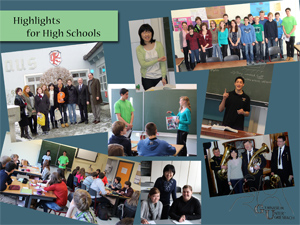 group of teachers and students that make Gymnasium Untergriesbach such an amazing place. Unmatched hospitality, charity, and understanding. Infinite patience and great humor. I will never be able to forget this community that has given me so much. The list from above goes on and on. I am just not able to remember it all and I don't really want to bore you (my readers) with the great things that will never be experienced the way I experienced them. I am so thankful to be in Gymnasium Untergriesbach, and this is the only day that I haven't been able to smile through every minute because it is the bitter end of a remarkable journey. Although this is not the end of my trip in Germany, it feels like the end of a wonderful chapter of my life. Gymnasium Untergriesbach, I have one last thing to say before I leave…In the words of the Governator Arnold Schwarzenegger, I'LL BE BACK.
And, of course, thanks to the MISTI Germany Program for making it all possible.