My parents tell me that when I was two years old, Tarzan was my favorite movie. If I saw or heard anything Tarzan-related, I'd beg them to let me watch it. Realizing my obsession wasn't going away, they hid the VHS tape on a high shelf and hoped I wouldn't see it. Jokes on them, because many, many years later, I still love Tarzan's vine-swinging scenes. Almost every summer, my sister and I tackle a new ropes course. Although I have never thought about it before while on a ropes course, I would guess my residual fascination with Tarzan contributes to how much I love the feeling of ziplining through the trees.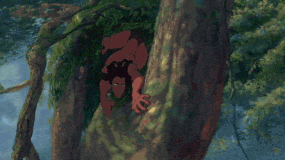 When we are very little, being clueless is normal. We are beginners in everything we do, from reading, to using Microsoft Paint,⁠01 This gives me a lot of nostalgia: https://jspaint.app/ to jumping off the swings! Being a beginner isn't scary. But, as we grow older, we learn how good it feels to be the best at something and how scary it can be to fail. Year upon year, as we build upon our successes, we forget what it feels like to be a beginner. Suddenly, being a beginner is scary.
For many students (myself included!) the subject area that they excelled in during high school was the subject they intended to major in here at MIT. 02 Of course, it makes sense that people choose a major they are already familiar with; if you're good at some subject, then you probably like it a lot, which is important in choosing a major. This made me kind of sad, because I felt like it was silly to limit what sorts of classes and activities I did in college by what I did or didn't succeed in during high school.
I recently spent a weekend with my friends at MakeMIT, a hardware hackathon hosted on campus. My friend Priscilla L. '20 and I wrote code for the software side of the project, while my friends Janice T. '22 and David L. '22 took care of the hardware side, designing and connecting all the 3D-printed parts and sensors. By Sunday, from a collection of 3D-printed plant parts, an Arduino, an ultrasonic sensor, some LEDs, and some servos, we produced "BloomBud" – a plant that can (sort-of) interact with you. BloomBud isn't quite functional yet, but it was an amazing weekend. I had no experience using microcontrollers or sensors before, but through the magic collaboration and hackathon resources, I learned so much!
Being clueless isn't so bad. Tarzan wasn't always a physics-defying gymnast. He starts off being pretty mediocre, actually. He falls off vines and slips off branches. By senior year of high school, many people have gotten too used to flying. In order to try your hand at completely new things, you need to be okay with falling sometimes. I want to encourage all of you readers – especially the newly accepted prefrosh! – to embrace the scary feels that come from being clueless.  At a place like MIT, it can be really hard to let yourself be below average when everyone around you seems so above-average. Don't let this limit you – every new field, audition, or competition where you feel overwhelmingly clueless is a huge chance to grow. There are three trillion trees out there for us to climb!
This gives me a lot of nostalgia: https://jspaint.app/⁠

back to text

↑
Of course, it makes sense that people choose a major they are already familiar with; if you're good at some subject, then you probably like it a lot, which is important in choosing a major.⁠

back to text

↑