Here's the long-awaited guest blog entry on the Cambridge-MIT Exchange (CME)! For background on the program, check out the CME website. CME is MIT's flagship junior year abroad program, allowing MIT students to matriculate as a full student for a year at Cambridge University in Cambridge, England. Read on for Amanda's experience…
---
A Year at Cambridge
A "guest blog" by Amanda Frye, MIT '06
Spending a year at Cambridge has been an incredibly wonderful
experience, although there have been a few difficult moments. I
remember a few years ago, when I was a freshman at MIT, I thought, "I
would never do a program like that. I would hate to leave MIT for a
year." There are things that I have missed about MIT. I've missed
friends, social opportunities, the Shakespeare Ensemble that I did many
theatrical productions with. However, I know now that next year I will
be just as 'homesick' for the friends I've made here and the team that
I've rowed with for our college crew. Seeing another academic system,
one where much more emphasis is placed on long-term retention of
learning, has been a good experience. I think in some ways I've been
able to develop a healthier lifestyle here at Cambridge, one where I go
to bed early and wake early to go out on the river and row. My friends
here constrain their work to 9-5 Monday through Friday, and they use
the evenings and the weekends to go out to pubs or formal halls (formal
dinners where students and professors dress up in evening clothes and
have a three course meal). In general, being at an academic
institution with over 800 years of tradition gives you a different sort
of feeling. I hope that I will be able to use some of these
experiences next year when I return to MIT to make my time there more
productive.
Of course, you are all trying to decide whether you should come to MIT
or not. I would say that the Cambridge-MIT exchange is a great reason
to go to MIT, whether or not you plan on studying abroad your junior
year (and of course I would encourage any of you to study abroad your
junior year!). Having classmates, and friends, that came from
Cambridge University was a really neat experience my sophomore year,
and I think that I was more likely to meet foreign students at MIT than
at other colleges. The reason? The exchange program is really
excellent because it integrates the foreign student (either from
Cambridge or MIT) completely into their new university. From what I've
seen, this is an unique experience on an exchange programs. Many
American universities send students on exchange for only a semester,
which would never really give you a good feeling for what Cambridge,
where everything is organized on a year-long schedule, is like. I
know other exchange students who were placed in housing completely made
up of exchange students, isolating them from meeting British students.
The MIT program put me in a college just like any other Cambridge
student, and the majority of my friends here are British. Finally, we
have had amazing support from MIT and from Cambridge, with staff at
both institutions asked to make sure we are happy and doing well.
Even if you don't go to MIT or go on the exchange program, do try to
get over to England sometime! I've really enjoyed going to London,
even just for the day, to see amazing theater, eat at really nice
restaurants, visit tourist sites like the London Eye, St. Paul's
Cathedral, and Samuel Johnson's house, and do some shopping in some of
the numerous markets. In Cambridge there are lots of fun things to do
as well, like punting down the Cam (the river here), seeing the Kings
College Choir sing, and visiting the various colleges, trying to find
the areas used in the Harry Potter film. If you do come, though, just
make sure not to wear anything referring to Oxford — there's a bit of a
rivalry here!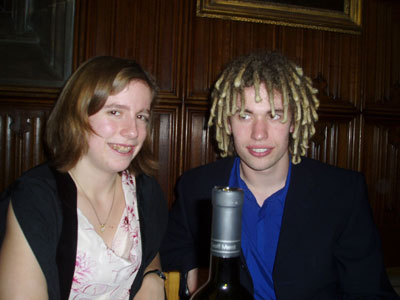 Formal Hall with Myself and a Friend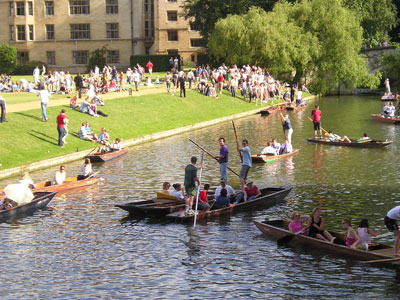 Tourists, and Students, Punting outside of Kings' College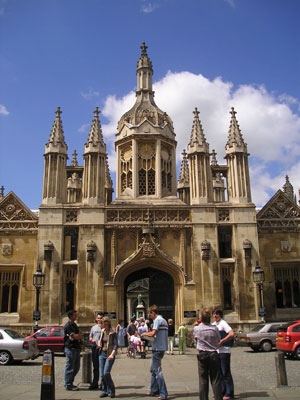 King's College Gate, a landmark in Cambridge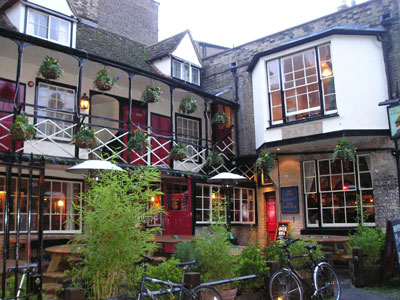 The view out of my window (the Eagle pub)