Last night after work and before the Red Sox game, I went out to dinner at one of Boston's yummy Russian-Armenian restaurants, Cafe Levonya. The borscht was very, very yummy, and the cherry vareniki (apparently one of their specialties) was even better than advertised.
Then the Red Sox party hopping started, beginning at the previously mentioned Jeff's house and ending at the previously mentioned Eric's house. Did any of you hear Scott Stapp sing "God Bless America" during the 7th inning stretch? Not my favorite version, I must say. The night was otherwise incredibly exciting, though, and Amrys (MIT Class of 2002 in Brain and Cognitive Sciences, a former admissions officer and current employee of OpenCourseWare) kept a minute-by-minute log of the excitement in Boston from her experiences. Also, check out the front pages of today's Boston dalies: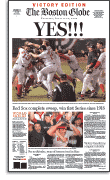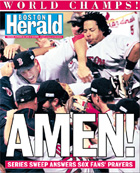 The excitement in Boston now is like nothing I've felt before anywhere else. Yet another advantage of living in this great city.
And what would a significant Boston event be without a hack at MIT. But this one was perpetrated by… a professor?!? Yes, Prof. Maria Zuber, a planetary geophysicist and department head of Earth, Atmospheric and Planetary Sciences organized a great Greenspeak, or illuminating of the lights of the Green Building (the tallest building in Cambridge) in a special pattern: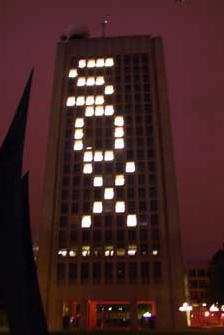 Photo credit to Mitra
Many of you have seen that the MyMIT portal is down. No, the problem isn't really with our flux capacitor (aren't you up on your movie references??). But I assure you we've got an incredible team working to bring the site back up as soon as we possibly can, and the deadline for EA will be extended to accommodate things.
Also, Grommit (where's Wallace?) commented after my last post about not being able to fit everything in the allotted spaces in the application. To answer your question, generally I'd stay away from smaller fonts (it really hurts our eyes reading all the applications we do), but combining several things onto one line (such as "Running: Cross Country/Track & Field" or "AMC 12 '01/'02/'03 = 88.5, 108, 132" or "Current AP classes: Physics C, Euro History") definitely works. Note that for some of these lists, we do only ask for your top N items, so for those you should make a judgment call about which are most important to you. If you want to list more than N, feel free to attach an extra listing or a resume.
Grommit also asked about awards that are announced after the deadline. At any time in the next few months you are welcome to send updates about anything you feel it is important we know about. Send it to the usual Admissions address and be sure to put your name, MIT ID, and date of birth on it.
Not the same few colleges: Carnegie Mellon University in Pittsburgh, PA. I have to admit, the Pittsburgh stereotype was one of the things that turned me off to CMU. It wasn't until a few years ago that I actually got to visit Pittsburgh and CMU, and I must say I was slack-jawed frequently during my trip there. The city, contrary to what you might think because of its steel industry heritage, is one of the prettiest places in the country. And Oakland, the neighborhood where you'll find CMU and the University of Pittsburgh, is actually pretty hip. Educationally, CMU has really terrific programs in the arts as well as engineering, and everything in between.