This summer, we saw (and observed for two hours!) a real live SEA TURTLE!!!! AHHHHHH
The summer before our freshman year, we were walking with our mom near the shore at night. We saw a dark moving spot in the distance, and as we approach, we realized it was a sea turtle! Because we weren't expecting it, and got spooked, we all irrationally ran away.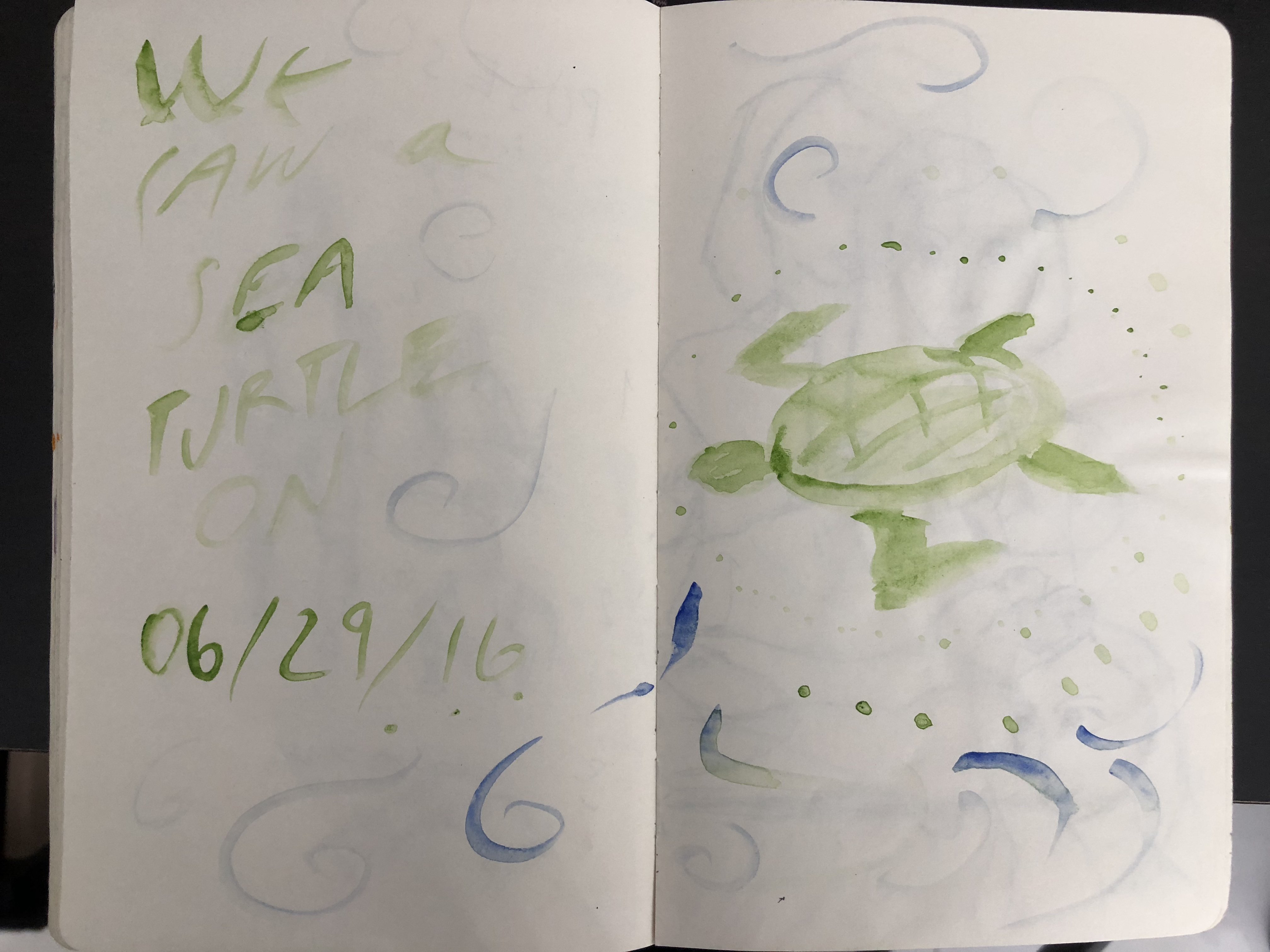 a sloppy sketch the night we ran away from a sea turtle (aahhh more than 2 years ago!)
This summer, one of our goals was to find another sea turtle on the shore and NOT run away. So, almost every night with our mom, we'd walk along the beach for a stroll, hoping to find one.
We did this for more than 2 months to no avail…
One of the nights we wrote a poem with our mom in Russian (followed by the transliteration and translation).
Песок к ногам клеится,
и ветер с океана веетса,
молния небо обвернуло,
И к нам навстречу потянуло!
Мы шли медленно не торопливо,
Вокруг было очень красиво!
Облака низко висели,
и мы тихонечко пели……
Pesok k nogam kleitsya,
i veter s okeana veyetsa,
molniya nebo obvernulo,
I k nam navstrechu potyanulo!
Mi shli medlenno ne toroplivo,
Vokrug bylo ochen' krasivo!
Oblaka nizko viseli,
i my tikhonechko peli……
Sand is sticking to our feet,
and from the ocean the wind waves,
Lightning wrapped around the sky,
and we were urged to meet someone!
We walked slowly not hastily,
Around us was very beautiful!
The clouds were very low,
and we sang quietly ……
And then on July 27th:
Even before we got on the sand, our mom, with her farsighted vision, noticed a dark spot on the sand. And as we approached, there it was!
A! REAL! LIVE! NO JOKE! FREAKING! SEA TURTLE!!!!
We knew that we had to be very quiet, not be disruptive and not use any flashes, because we read things in preparation. So, we all sat down on the sand, fairly far from her, whispering in excitement!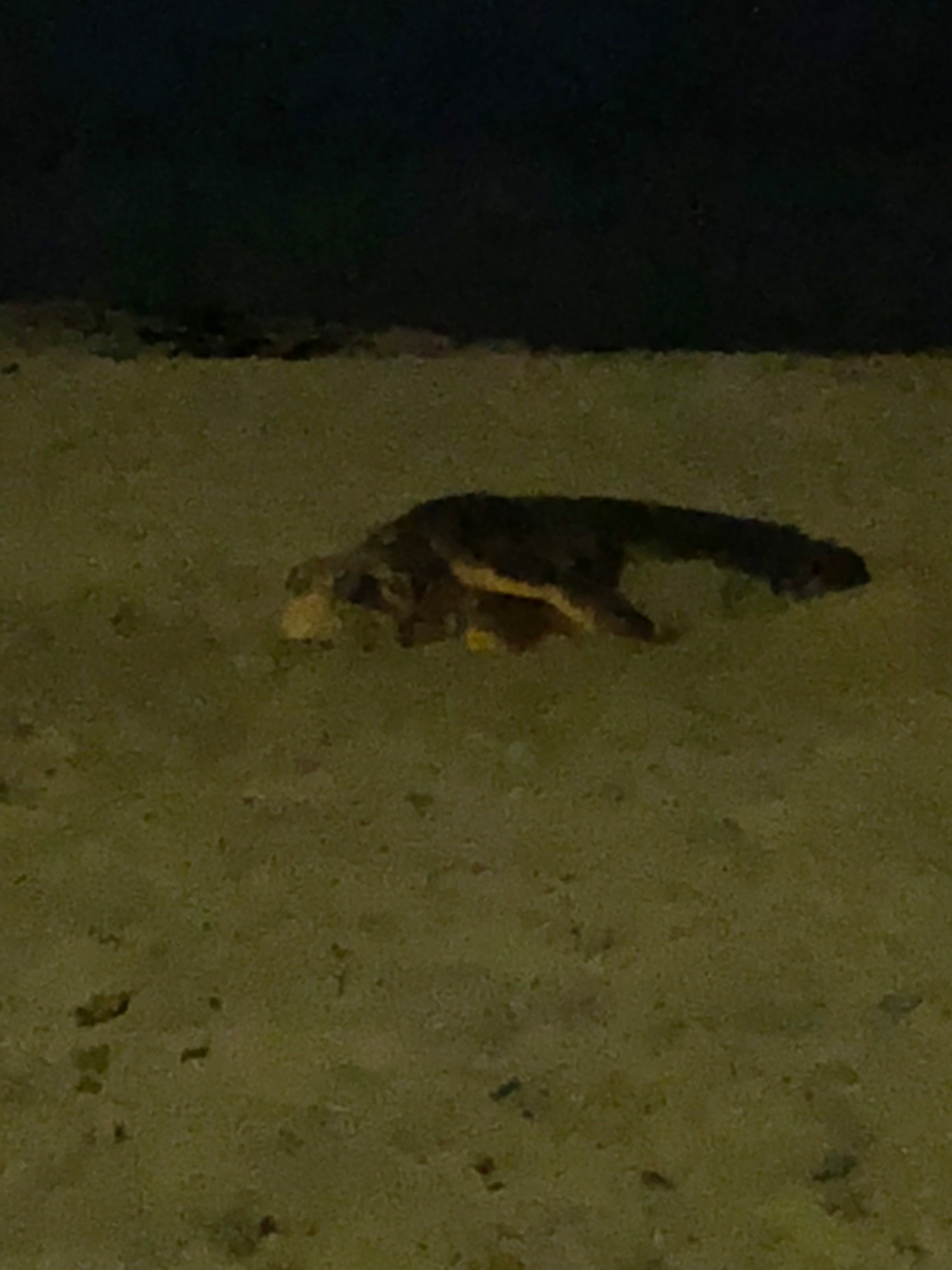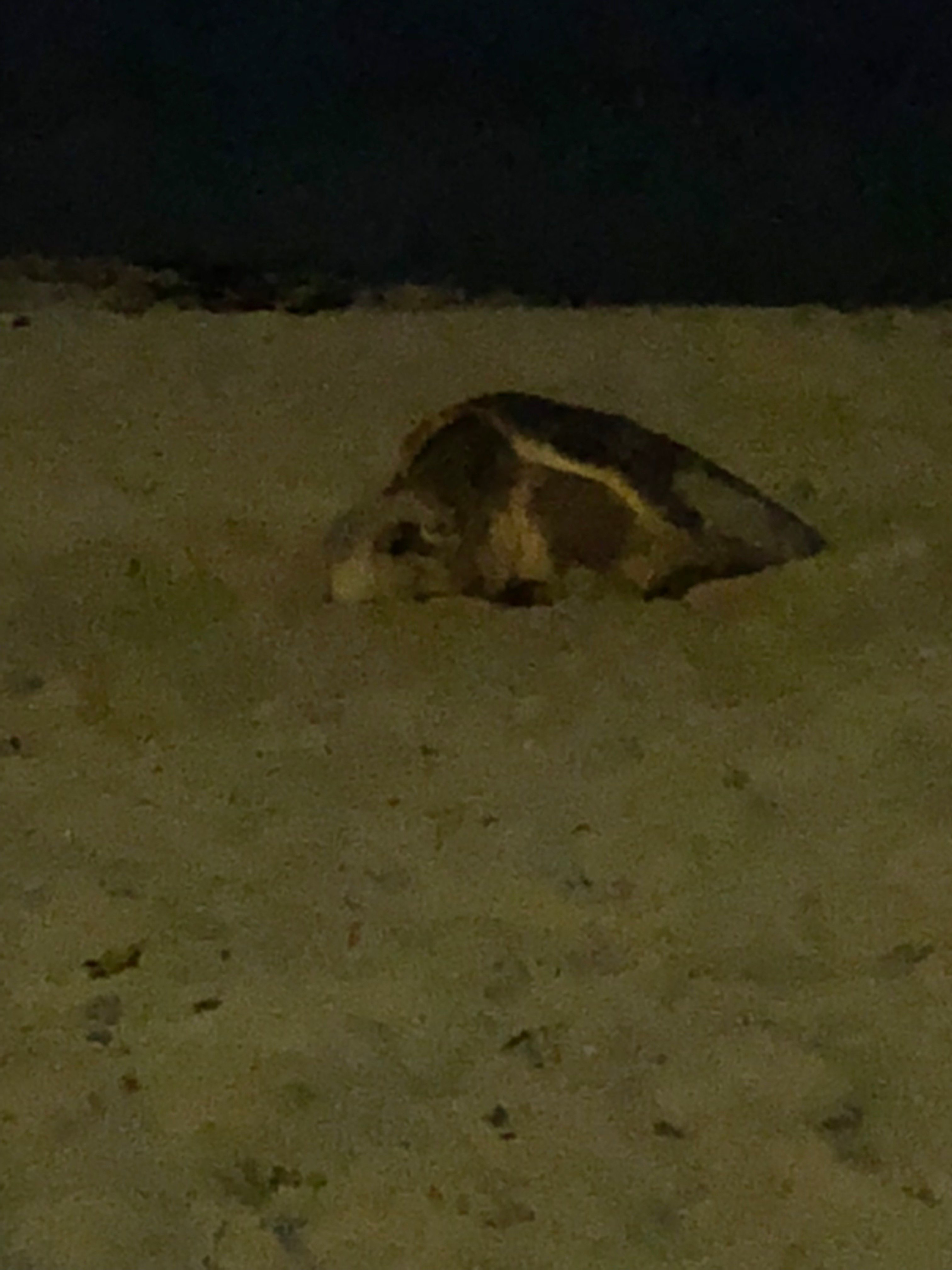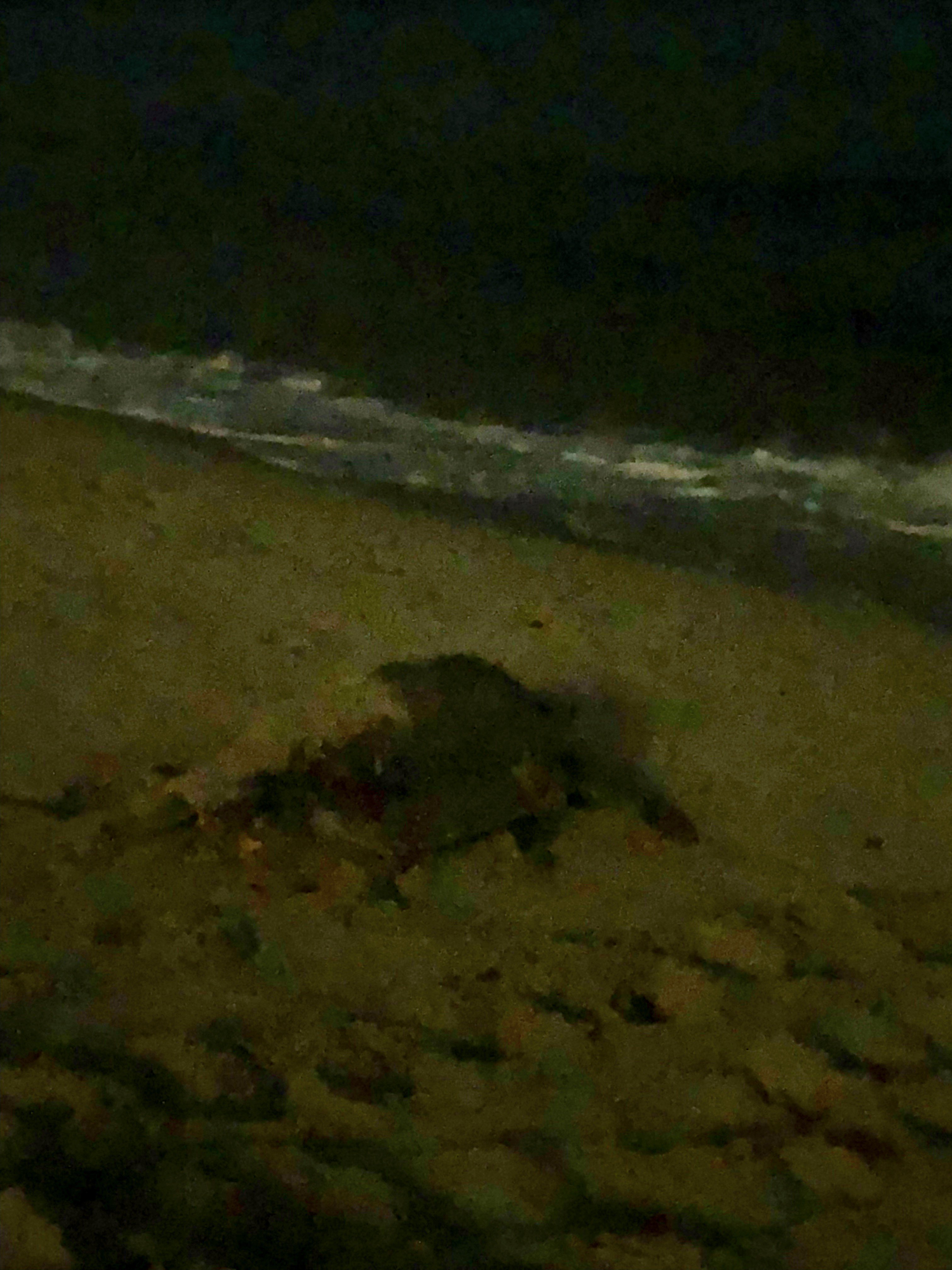 She first used her fins to push away the sand to create a nest. Then she moved forward and started laying her eggs. It was around an hour or so of her mainly staying in place, but still moving a little. Every now and then we would see her shell lift up and down. During this time, we tried to walk around (still maintaining our distance) to get a better sense of her size and maybe see the patterns on her shell. We could tell she was actually much larger than we initially thought, but we couldn't make out any patterns on her shell because it was covered in a lot of sand.
Then there was around a 20 minute period where she just totally stopped moving. We figured she was done laying her eggs and decided to rest up a bit before making what we're imagine to be a difficult journey back home to the sea.
Then, all of sudden, we noticed she started kicking her back flippers. We soon realized she was burying her nest. After around 15 minutes of that, she moved forward a bit and we saw the small cavity she made in the sand to drop her eggs was totally covered. For the next 20 minutes, we patiently waited as she made a complete 180 degree turn to face the shore. And as soon as she did, she began to very quickly shuffle her way back to the ocean. It took her probably less than five minutes, and as suddenly as she came into view when we first stepped on the beach was as suddenly as she disappeared into the dark sea. It was truly magical.
What remained were the two paths she left to go from shore to the spot she choose to make her nest and vice-versa, and a roughly circularly shaped shallow dent in the sand that marked her nest.
Here is a video of the event! We tried our best to edit the brightness in post, but it's still pretty hard to see because we couldn't use flash to record.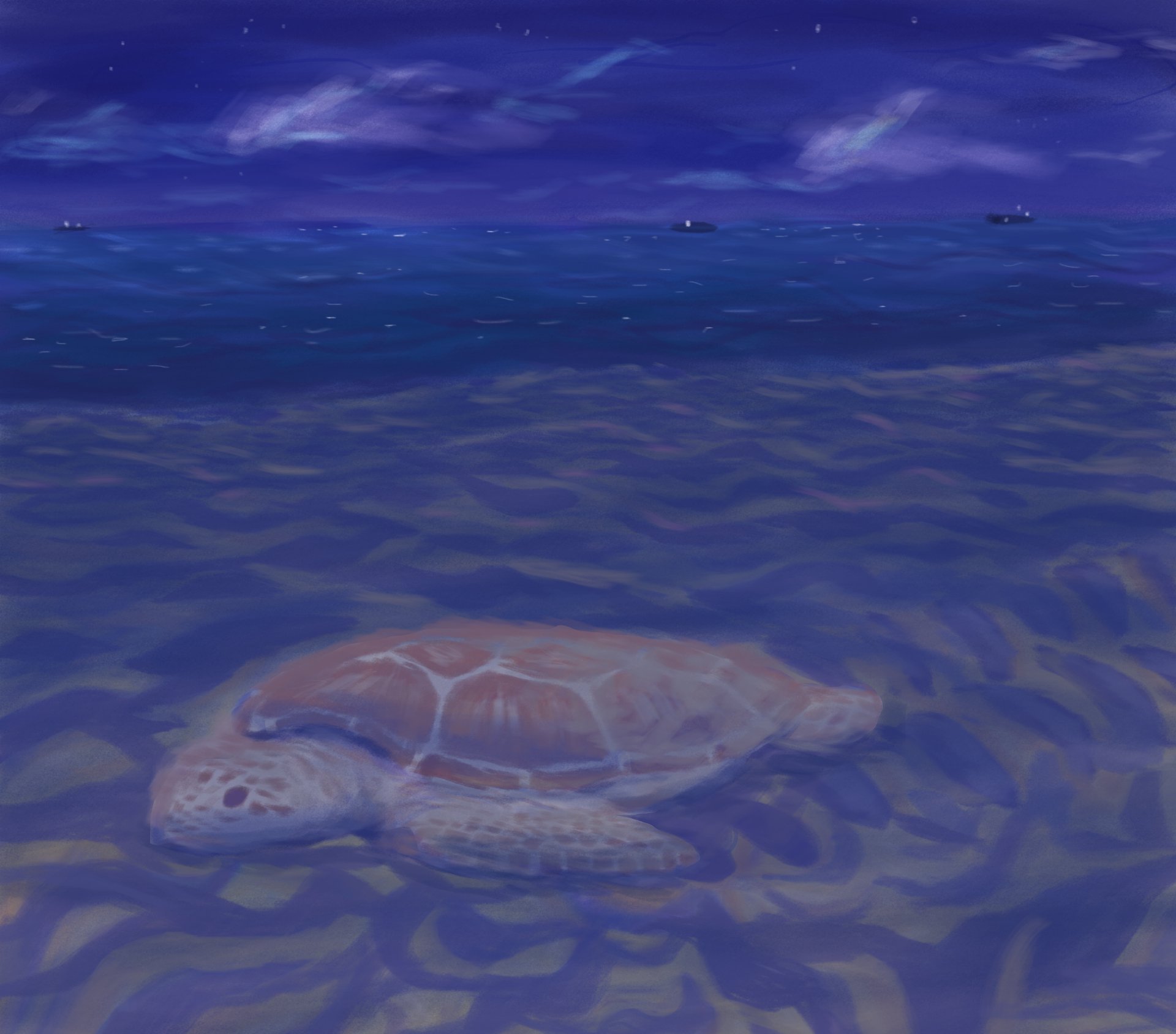 a painting made the day after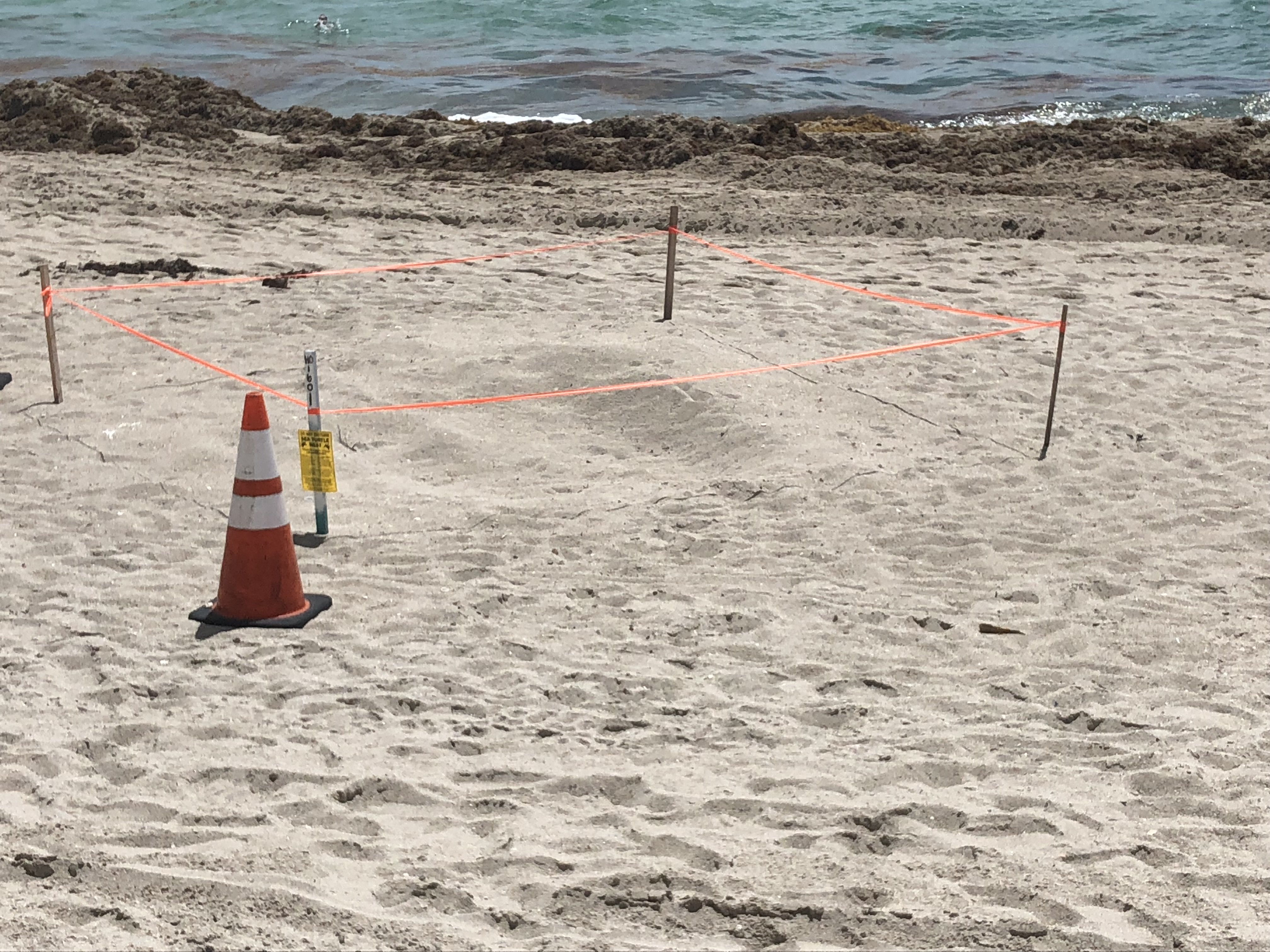 a picture taken of the nest the day after