I just took a break from reading to watch some of the webcast of World Summit on the Information Society, where UN Secretary-General Kofi Annan (MIT SM '72) and MIT Media Lab Chairman Nicholas Negroponte '66 unveiled the first working prototype of the $100 Laptop. [news story]
This is one of the most inspirational projects I've ever seen. It makes me so proud to be at MIT.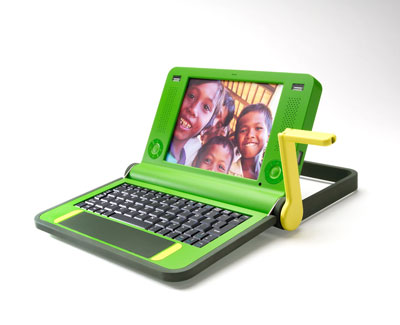 According to the project website, the "machine will be a Linux-based, full-color, full-screen laptop that will use innovative power (including wind-up) and will be able to do most everything except store huge amounts of data. This rugged laptop will be WiFi-enabled and have USB ports galore. Its current specifications are: 500MHz, 1GB, 1 Megapixel."
The plan is to initially roll out the computers in a little over a year to six large nations. Negroponte has identified China, Thailand, Brazil, Egypt, and possibly Nigeria and Argentina as those first nations. Each country would agree to buy at least 1,000,000 machines. Later, other countries would be added.
Today's press conference included enthusiastic representatives from many nations, as well as a healthy number of skeptics. People peppered Negroponte with questions in both English and French, and he fielded both with ease.
Negroponte was later joined by Alan Kay, known as the inventor (!) of laptops (back in the late 1960s) and a partner in the project. He started answering one question with something like, "Back when a bunch of us were inventing the Internet…" He went on to describe the Internet as the greatest open-source gift to the world. This was one cool press conference.
I should note that the MIT Media Lab, the sponsor of this project, is the largest employer of UROP students on campus, so you can also be involved in incredible projects like this.
23 responses to "$100 Laptop Unveiled"