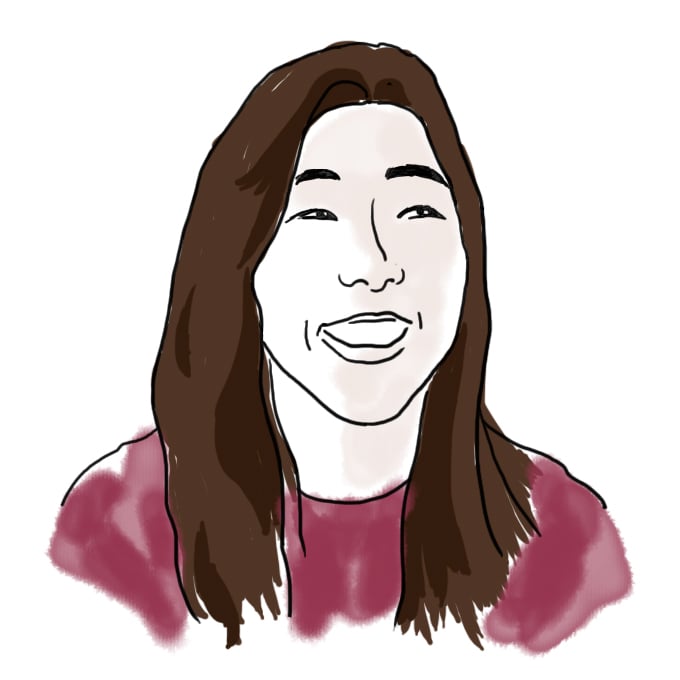 The Class of 2010 Ring Premiere

by Jess K. '10
I bring you the 2010 Ring Premiere, in full living color!
The Brass Rat is a long-standing MIT tradition that has given rise to MIT Admissions' own, relatively young tradition: blogging Ring Premiere! And so, after three beautiful years of Ring Premiere blog entries, I'm proud to be blogging the debut of this year's Brass Rat to the rest of the world. (I kind of do feel like this is sort of a blogging rite of passage, actually. I remember reading Melis's ring premiere entry as a prefrosh and wanting one like Sam wants Ina Garten.)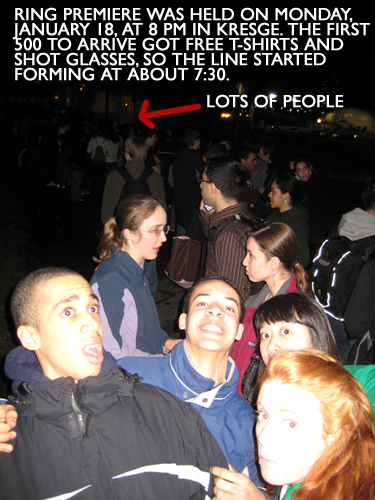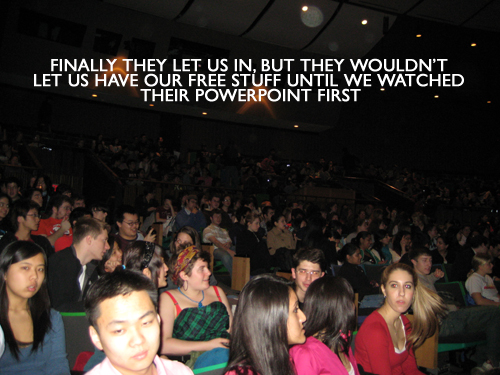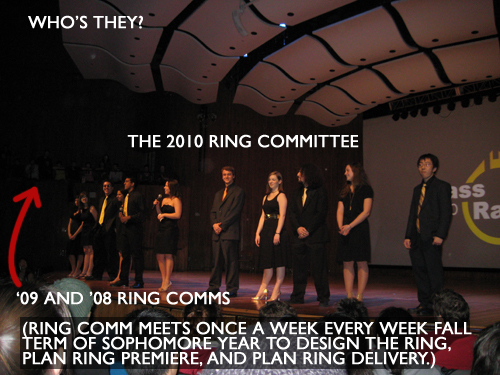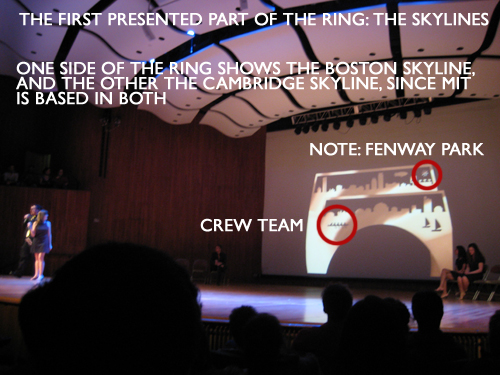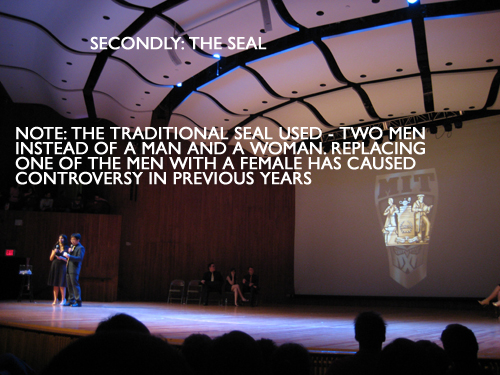 This was the only thing that really disappointed me about the ring – its complete lack of controversy. I would've loved to see a woman on the seal. It seems illogical that people would complain about defying tradition in previous years, when the point of having all these quirky symbols is to defy tradition and create an identity that represents your class as a whole, so why not, in an era in which we have a female president and a female running as a major Democratic candidate, represent us with a woman? (Melis and Laura wrote similarly about the subject, especially since Melis's class was right after the class of 2007's Brass Rat had decided to try using a woman once again. It was changed for the first time in 2002).
Anyway. Continuing on..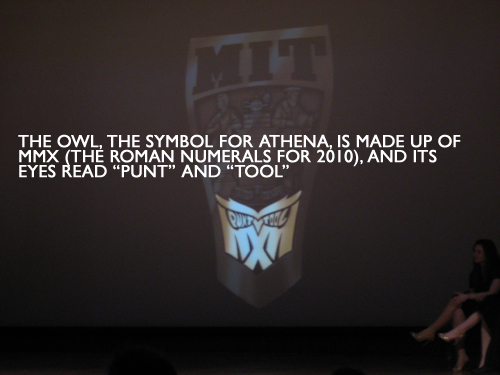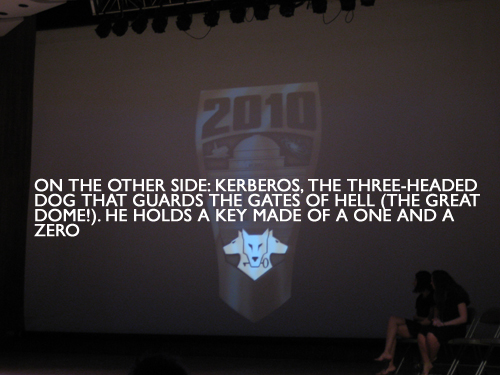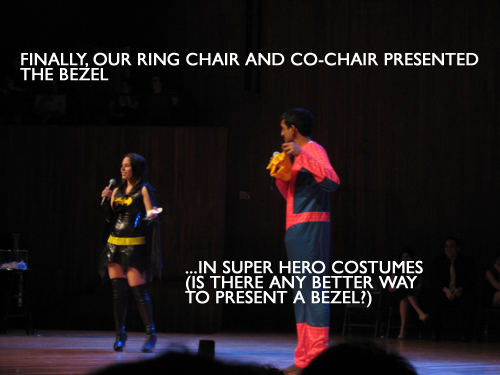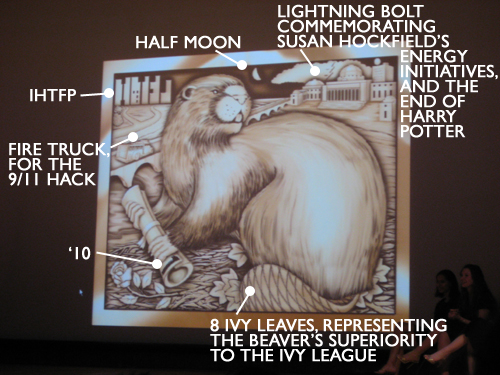 The half-moon, which I didn't have enough room to describe in the picture, is because the moon was in the half-moon phase when we first came to MIT in August 2006, and will be once again when we graduate in June 2010. (AAAWWW.) Also, another thing: there are 20 hidden 10s on the ring, 13 of which are on the bezel.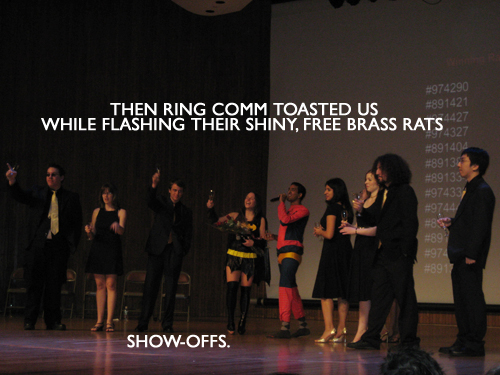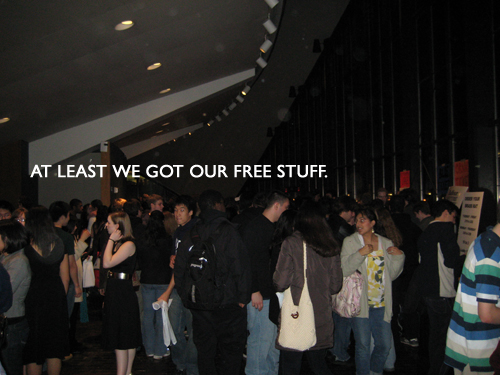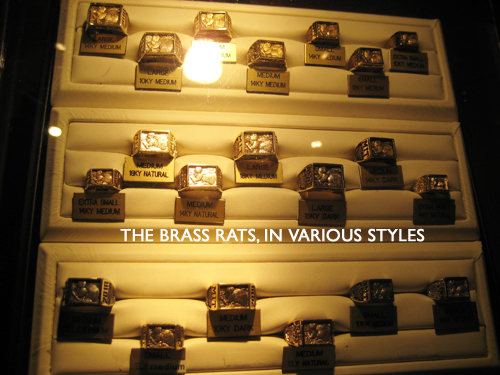 Regardless of the lack of controversy this year, though (it seems every year something comes up, from the woman, to a leaked design, to hidden cult symbols.. no, wait, that's Disney movies)… the Brass Rat remains one of the strongest Institute traditions that is recognized all over, from grad school professors noticing you went to MIT undergrad to a lady at a coat check. So getting your Brass Rat is a pretty amazing part of being an MIT student, especially since it's one of the few times that your entire class assembles on their own free will.
(Also, because Ring Comm was giving away a Wii.)
For more information about the Brass Rat:
The 2010 Ring Comm Website
Article in The Tech about the 2010 Brass Rat
Mollie's 2006 Brass Rat Entry (sorry, Mollie!)
Matt's 2007 Ring Premiere entry
Mitra's 2007 Ring Premiere entry
Melis's 2008 Ring Premiere entry
Article in the Tech about the 2008 Brass Rat
Laura's 2009 Ring Premiere entry
Article in the Tech about the 2009 Brass Rat
46 responses to "The Class of 2010 Ring Premiere"