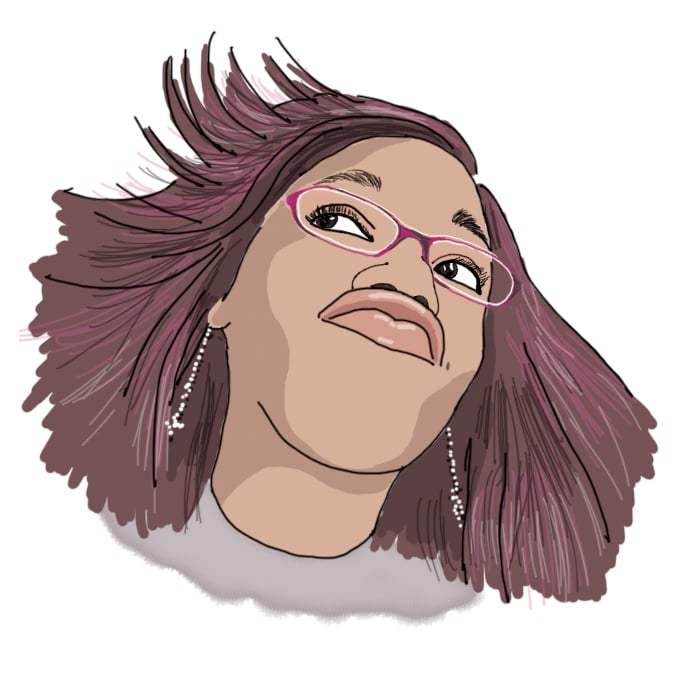 11 Reasons Why Senior Haus is Awesome

by Keri G. '10
Twelve, if you count me once living there. That's pretty awesome, right?
What up, y'all? I don't go to MIT anymore!
…okay, so I work here, and I'm actually on campus about as often as when I was still a student. Whatever. It ain't the same.
For those of you who don't remember me: hi! Nice to meet you! I'm Keri Garel, class of 2010, and in the blogger world, I am old and retired. I was Course 9, and now I'm a research assistant in a cognitive science lab (the very lab Lydia blogged about in her post on dyslexia!). As a student, I lived in Senior Haus. Matt once said that I was Senior Haus; I was president in 2008, ran Steer Roast in 2009, took all of the pictures of all of the things, and own so many variations of the Sport Death shirt that at this point it's probably cheaper to just turn myself into a giant skull.
Long story short, I loved living there. It was my home. And before moving into my temp dorm as a freshman (spoiler: I didn't stay) and checking out Senior Haus during REX, I'd never imagined that that it would be the place for me. If you're a prefrosh and practically wetting yourself with excitement over CPW, you should totally check out the SH Bouncy Ball Drop! It's really pretty. And don't sleep while you're here! There's way too much stuff to do, and it's not a true MIT experience if you aren't sleep-deprived.
But you don't have to take my word for it! Here's a stellar guest post from current resident Dan Parker '15, who, unlike me, is not totally out of touch with what the kids are doing nowadays. (Seriously – I don't know what goes on outside of my office. Is Reading Rainbow still a thing?) Check it out, 'k? 'k.
---
Hi! my name is Dan, I'm a freshman from Binghamton in upstate New York, interested in courses 24 (philosophy and linguistics), 17 (political science), and 8 (physics). I live in a dorm called Senior House, where I'm co-organizing CPW, and I would love to meet you, so please come visit while you're here! I'm a glassblower; a classical singer and pianist – I'm an Emerson Scholar in voice; a volunteer for MIT's Violence Prevention and Response as a peer educator about sexual assault; a UROP researcher with Professor Elizabeth Wood on Vladimir Putin's presidency and premiership; and an arts writer for MIT's student newspaper, The Tech. I took a gap year in Cairo, Egypt, before starting at MIT. This summer, I'm interning at RIA Novosti, a Russian state-owned news agency, through MISTI, an incredible program that funds all-expenses-paid internships abroad!
The Senior House: the oldest dormitory at MIT (1918) and one of the smallest (~150 residents), home of Steer Roast, home of "the artist community at MIT," a hop and a skip from the Kendall T (subway) stop, a cook-for-yourself dorm with kitchens, mostly single rooms, and so much more… why don't you walk through the gate…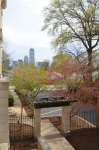 (click any image to enlarge)
Why should you visit us while you're here for CPW, class of 2016?! We have:
1. stunning views
we're three seconds from MIT's Sailing Pavilion. constant sight of the colorful fleet out on the Charles River.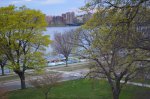 the mansion there that we overlook is The Gray House, where MIT's president lives. what other dorm gets to see Susan Hockfield eating dinner at night?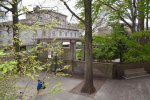 2. a spacious courtyard
we have a total of six floors,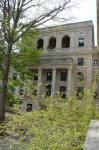 four stoic pillars, three or more friendly balconies,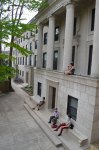 and a hammock.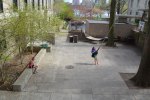 3. A RADIAL TIRESWING (come by during CPW and we'll teach you how!)
4. physics problems that confuse us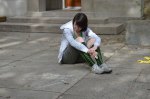 5. people who study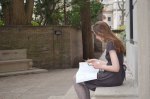 6. people who are friends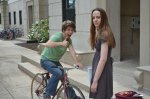 7. people who are hardcore athletes
8. AMAZING HOUSEMASTERS
9. cats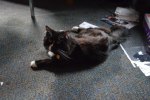 10. creativity
Katy is making a dodecahedral constellation projector from scratch. It's a modular design, with a total of 11 pentagonal faces, and an open top through which a light bulb will fit. material: black ink printed on transparency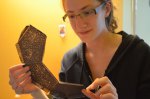 three hand-made hollow glass ornaments that I made this spring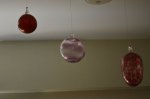 a charcoal portrait by Laura (the girl climbing high on the tireswing rope above)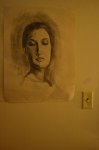 a rainbow ribbon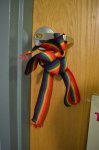 some random hallway foliage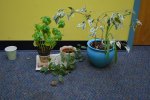 11. MURALS
The MORAL OF THE STORY is, check out our CPW events! Stop by if for no reason other than this five-pound bar of chocolate.