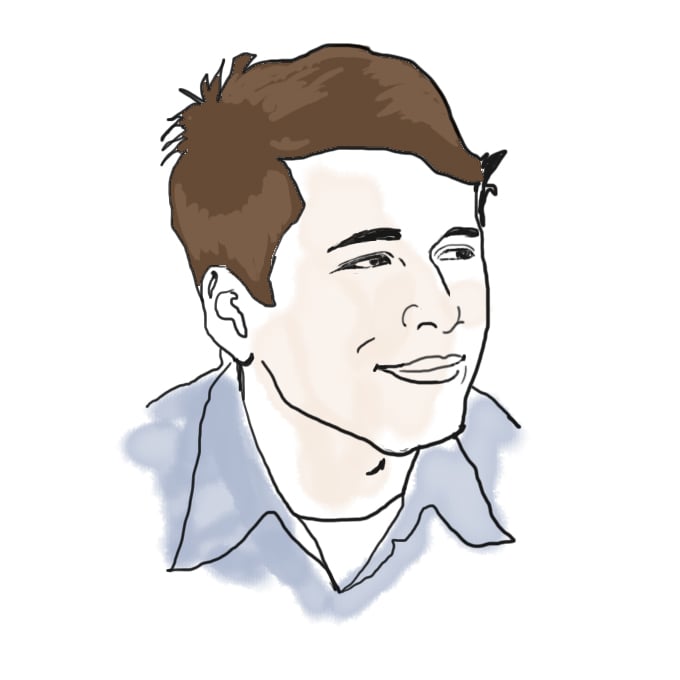 From the Bay Area to Boston, Seattle to the Florida Keys, Houston to Chicago, the Class of 2012 hits the theaters.
Before we get to scenes from the MIT Class of 2012 Movie Night, I'll share a few of my thoughts and observations after having seen 21 this weekend (now the #1 movie in the country):
Lots of folks have been interested in 4-145, the Blackjack Team practice room. For example, Chris wrote, "'4-145,' the blackjack team room, should be one of the first-floor rooms of Building 4 here at MIT. Although the movie producers got the numbering system right, the numbers of the rooms aren't stuck on the lower right of the glass panels of the rooms (especially not in Building 4 – they're affixed to a placard next to the door). Also, we have a lot of recitations in Building 4, and the classrooms are definitely not laid out anything like that classroom in the movie."

I actually thought the movie 4-145 was closer to the real thing than most of the rooms in the movie (I thought Ben's dorm room was much more soulless than any dorm room I've seen at MIT). But see for yourself. Below is the movie 4-145, then the real 4-145:




Anyway, see the room for yourself when you visit MIT. It's not hard to find.

I liked seeing Jeff Ma '94 (the "real" Ben Campbell) get more than a passing shot of screen time as Jeffrey, the blackjack dealer:

In the movie, Ben's major is "pre-med." Of course, there's no pre-med major — students interested in medicine major in lots of different departments. Giving MIT characters fake majors is nothing new, though: take, for example, 2003's "The Recruit," where Colin Farrell's CIA trainee character, James Clayton, majored in "non-linear cryptography."
The 2.09 competition? Well, as others have already noted, there is no class called 2.09 at MIT. The closest in number would probably be the awesome course 2.009: Product Engineering Processes. 2.009, like 2.09, is a team-based competition, but team size is 15-18 students rather than 2 for 2.09.

Near to 2.009 is 2.007: Design & Manufacturing I, MIT's famous robotics competition course (and the class that FIRST Robotics was based on). Unlike 2.09, though, 2.007 is an individual competition, and there's no judging — only robot battle — to determine the winner.

Both 2.009 and 2.007, like 2.09, are pretty big deals on campus, and have significant corporate sponsorship. The fictional 2.09 is sponsored by the MIT alum-founded company iRobot. Their CEO, Colin Angle '89 SM '91, makes a cameo in the movie (I believe as the 2.09 judge, but I'm not sure).

Zach '10, though, notes in the comments of Chris' entry that the course could be 2.12: Introduction to Robotics:

"Great post! my one comment is directed toward clarifying the course 2 part of the movie :). the 2.09 competition would be most analogous to 2.12, Introduction to Robotics. 2.007 is indeed a robot competition, BUT: 1) its an individual event 2) the robots are remote controlled, not programmed and 3) the materials and task are very limited. The robots in the movie seem too complicated, plus they all do their own thing, to be 2.007 bots. however, 2.12 is a team based competition, and the robots are programmed to be autonomous (although I think that course 2 and course 6 students team up and the 2s build while the 6ers program)"

Probably, we're all just over-analyzing this… it's just a movie, after all.
Okay, on to movie night…
---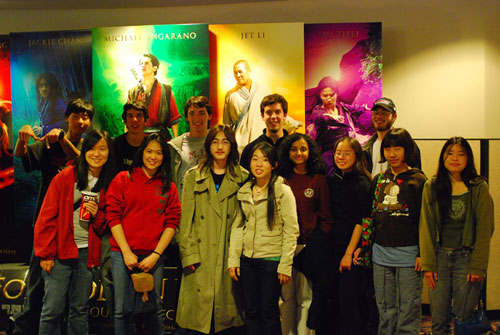 21: Bay Area
Back row: Jackie Chan, Peter'15, Alejandro'12, Mike'12, Drew'12, Michael
Front row: Yuanyu'12, Tiffany'11, Stephen'11, Rachel'12, Sareena'12, Katherine'12, Linda'12, Steffi
Rachel '12 writes, "Sorry, a few non-prefrosh sneaked into the picture. Hopefully we have enough real ones to make up for it. The Bay Area is pretty conducive to finding MIT people =)
"It might be noteworthy that 10 people in our group are FIRST Roboticsers, and I think 5 are/have been team captains (including the guy taking the picture, but he goes to Harvard). Coincidence?
"The movie was pretty fun, although a lot of scenes went like this:
21: [math joke/commentary about MIT students not having lives]
Us: [collective groan]
"Also, during the abrupt, exposition-free sex scene:
'Oh my god, where did the plot just go?'
'I lost it!'"
---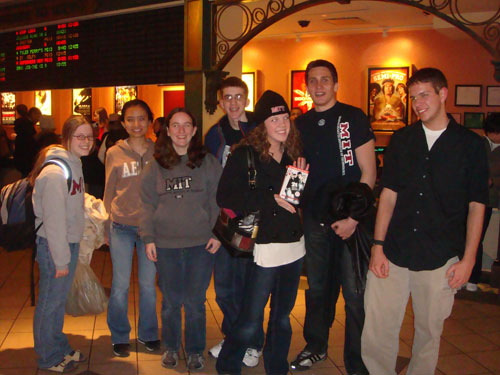 21: Boston
Lauren '12, Xiaoli '12, Kimberly '12, Kevin, Allison '12, Mario '12
---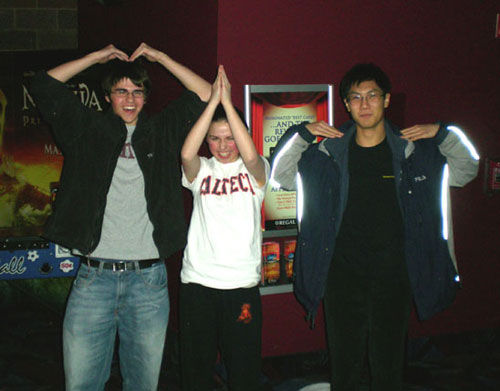 21: Seattle
Calvin '12, Darien (younger sister '12), Matthew
Says Calvin, "We attempt to spell MIT with three people, but as you can see, it didn't go very well. I guess our human positioning skills were a bit lacking.
"We had a great time, and I loved the opening panoramic shot of Boston along Harvard Bridge. I tried to spot some of the Smoots, but I think I ended up missing them."
---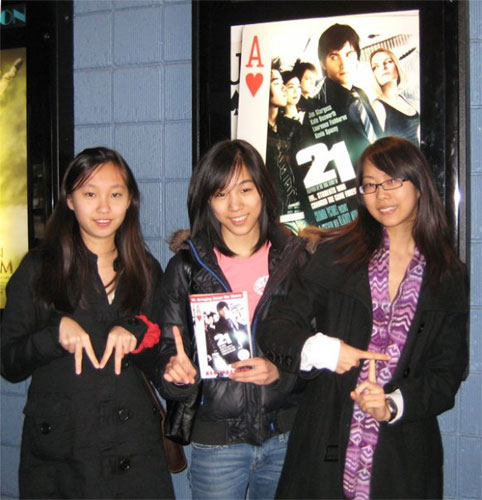 21: Chicago
Emily '12, Evelyn '12, Stephanie '12
Emily writes, "At the movies. We didn't have our MIT gear, but we spelled out MIT with our fingers and brought the book."
---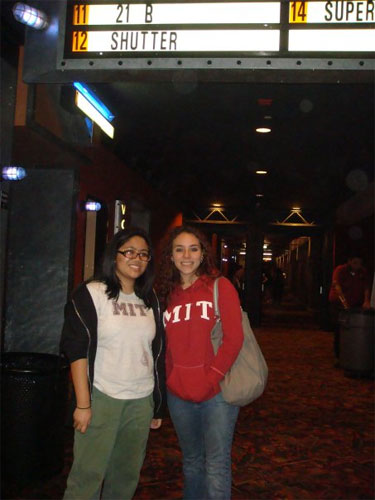 21: San Antonio
Kayla '12, Beatriz '12
Says Kayla, "Two MIT '12s in MIT gear. :D (no book though, sorry!~)"
---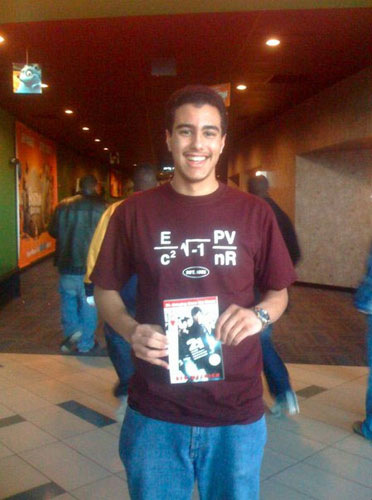 21: Kalamazoo
Omar '12
---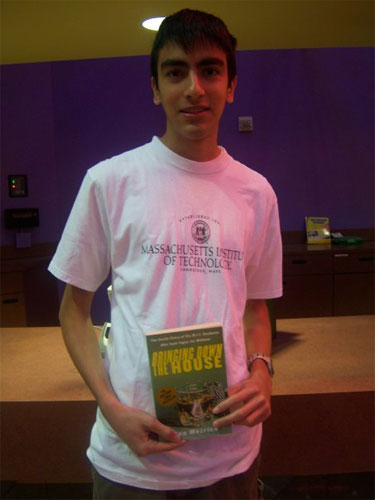 21: Houston
Ahmed '12
Ahmed writes, "I thought the movie was alright. The cheesy and cliche dialogue kind of killed it."
---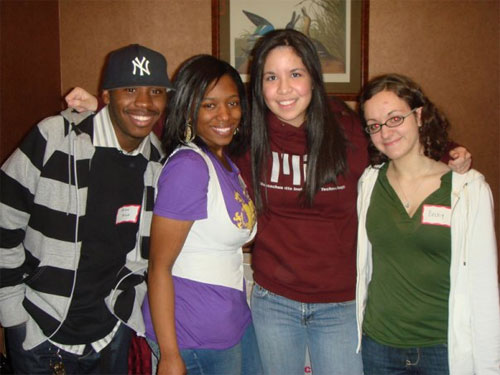 21: New York City
Akara '12, Evá '12, Lesley '12, Becky '12
Becky writes, "Lol, we forgot to take our picture when we were at the theatre, and the nearest bookstore didn't have the book. Oh, well."
---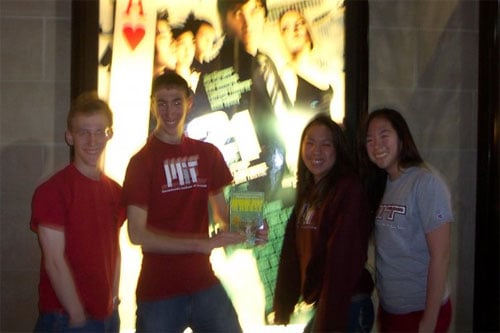 21: Howard County, Maryland
Phil '12, Danny '12, Jennifer '12, Samantha '12
Kayla '12 of San Antonio (above) says of this photo, "ah i think you guys get the most bonus points! despite the one guy not wearing MIT gear. unless i can't read that? haha whatev, props. :)"
---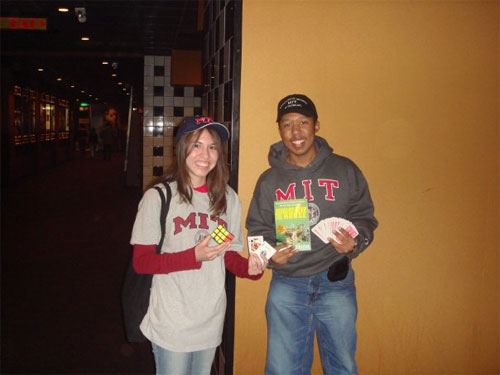 21: Atlanta
Heidi '12, Marcel '12
Not only did they see the movie, Marcel also wowed everyone with a card trick:
---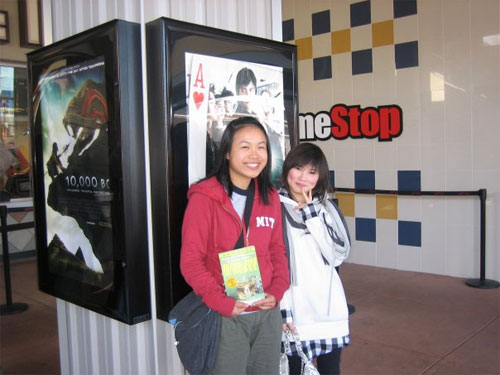 21: East Bay
Ivy '12, Celena '12
---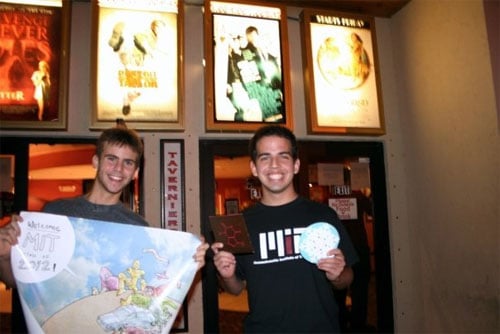 21: Florida Keys
Friend and Fausto '12
Fausto writes, "Me and a friend (non-prefrosh … sorry, I needed someone to hold the poster up) going to see 21. No book … but I brought MIT stuff!"
---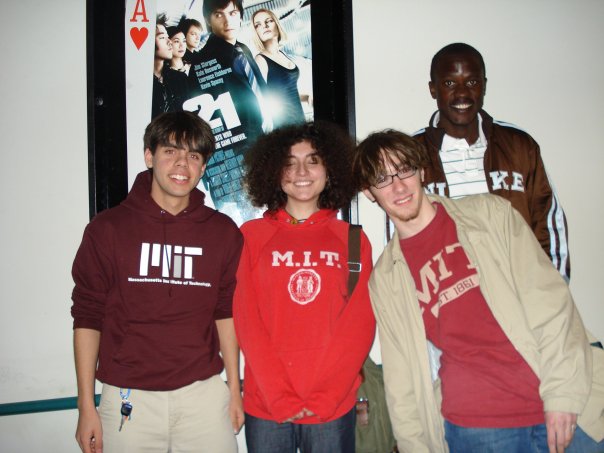 21: Cleveland
Matt '12, Alison '12, Steven '12, Beneah '12
After the blog entry was posted, Steven '12 wrote, "Nooooo!! I just came back from seeing 21, WITH 3 MIT PREFROSH!! AND TOOK PICTURES! (and even put them on the MIT Class of 2012 website SO if you wanted to put a picture up it would be really cool and I would love you forever) (and ever) (andevveerrrr…)"
30 responses to "21: The Movie Night"