tl;dr: CPW is awesome. Meet EVERYBODY. Don't you dare be shy. If you stop by Random Hall (and I happen to be home, and you recognize me) I'll give you a glitter fairy sticker and a sheet of bubble wrap.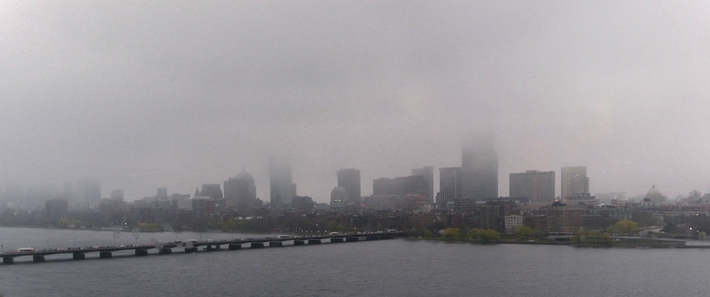 I experienced my CPW, two years ago, through a downpour. I was temped at MacGregor, which had a beautiful view of the rain pummeling the Charles River and Boston on the other bank, pictured above. It was windy. I was cold. My raincoat was useless. My umbrella was useless. I concluded from my puny sample size of four days that MIT's legendary firehose was actually somewhere in the sky, and when I got home I invested in a big, dark green, double-canopy umbrella. It was, according to Amazon, the BMW of umbrellas.
I spent most of my CPW at East Campus, because I was convinced I would live there (I don't). I gawked at nerdy shirts at the COOP, which I would buy a year later as post-exam consolation presents. I got a campus tour from a girl with green hair, who is now a close friend. I built things. I climbed things. I participated in a protest. I met amazing people. I rocked out to amazing music. I ate free food. I got Chris M. to autograph my arm: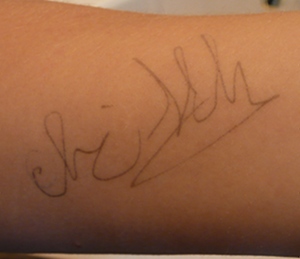 Your CPW will be less rainy, but I promise you it will be just as awesome. Here's a preview, from two years ago:
Things to bring
Your cell phone.
Your cell phone charger.
A digital camera.
A flashlight.
An umbrella.
Something warm that you can put on when it's cold and take off five minutes later when it's not cold, like an MIT hoodie.
A highlighter, so you can highlight all the events

with free food

you want to go to in your CPW booklet.
A sleeping bag, and a willingness to sleep in things that are not beds.
Not homework. I brought my homework. Don't bring your homework. If you're doing homework over CPW, you're doing CPW wrong.
Not food. You'll get a card with about $20 on it for food. If you actually need any of it, you are again doing it wrong. Let us feed you. I spent almost all my $20.14 on orange chocolate at La Verde's on the last day of CPW. I encourage you to do the same. Mmmm chocolate.
PooF To GO TO (Points for the Good of the Order)
When it comes to dorm events, pay more attention to the people than the event. Your goal over CPW is to meet everybody. EVERYBODY. You will not reach this goal, but I want to see you try. Visit every dorm at least once. If you stop by Random Hall (and I happen to be home, and you recognize me) I'll give you a glitter fairy sticker and a sheet of bubble wrap.
Please don't be shy. You're an excited prefrosh. The other prefrosh are also excited prefrosh. The upperclassmen are drained since last CPW, and need your excitement to revitalize them. Don't you dare contain your excitement.

Here are two events you should definitely go to, because I'll be there and I say they'll be awesome:
Meet the Bloggers
Friday at 9 pm
We exist in real life! Want proof? Come meet us! In real life! I hear there will be root beer floats and circular tables.
Battle of the Bands
Saturday at 8 pm
Rockin' music by amazing MIT bands. I'll be judging. Here's how it looked two years ago:

The other events I think you should definitely go to are Random Hall events. Random Hall traditionally has more events than any other living group, despite being the smallest dorm. You might notice that most events start 17 minutes after the hour (or half hour). That's because 17 is the most random number, according to random people polled by Randommites outside of Random Hall. Coincidentally, 17 also happens to be the number of prefrosh living at Random for CPW. You might also notice that events continue until 30:00. That's because Random Hall runs on the more realistic Random Standard Time, where the day rolls over not at midnight, but at 6 am.
Finally, you might notice that the events below are not the same as the events in your official CPW schedule. That's because this list is more right than your list. You can get the better, updated list with event descriptions by stopping by Random Hall or, later today, by clicking here.
Thursday

LN2 Ice Cream
12:47
CHEESE
14:17
Mafia
15:17
Randomized Algorithms
16:17
Computer Science and Juice
17:17
Nerdy Singalong
18:17
South West Chile: the parabol of delicious
19:17
Pillowfight of DOOM
19:47
Duct Tape Creations
21:47
Potential Energy and Protein Shakes
22:17
Psi Phi Short Stories!
23:17
Almost Life-Sized Settlers of Catan
24:17

Friday

Pancakes!
09:17
LN2 Ice Cream
11:47
Boffing on the Roofdeck
13:17
Waffles for LUNCH???
13:47
An Elegant Afternoon Tea
15:17
Painting Ceiling Tiles
16:17
Quesidilla Roulette
17:17
Creating Chain Mail
18:17
Deep Fried LN2 Ice Cream
18:47
Making an Edible World
19:17
PowerPoint Karaoke
19:47
Nerf Wars
20:47
Edible Katamari Damacy
21:17
Primer: Nerds Time Travel
22:17
Board Games!!
22:17
RHOP (Random House of Pancakes)
27:17

Saturday

Saturday Morning Cartoons
09:17
MOAR BREAKFAST
10:47
Random: the Gathering
12:17
Truffles!
13:17
Storytime with Cruft
14:17
Juggling in Enclosed Spaces
15:17
Kit-tea Party
16:17
Roofdeck BBQ
16:47
Ntris
19:47
Random Hallsmead
19:17
Pants Pants Revolution
20:47
Sweet Rave Party
21:47
Continuous Games Forevvverrrrrrr!!!!!!
27:17

Sunday

Frech Toast and Fruit
09:17
Poetry Readings
10:17
Competitive Cake
11:17

Leftovers Lunch

12:17

And finally…
CPW!
OMG OMG OMG! :D
Let's try that again.

CPW!
OMG OMG OMG! :D