Beginning tomorrow (Saturday), MIT alumni from around the world will host parties in their hometowns for students admitted to the Class of 2010. If there's one in your area, you should check it out — it's a great opportunity to meet some potential future classmates, as well as MIT students and alumni.
Here are a few highlighted events this coming week; see your MyMIT portal for the locations and times for these events, and for a list of all of the events.
Tomorrow (Saturday)
Bay Area, California. Meeting location: the beautiful home of an MIT alum.
Tuesday
Miami. With special musical guest: the Resonance of MIT.
Philadelphia. With special musical guest: the Chorallaries of MIT.
Southern New Hampshire. Meeting location: Segway Headquarters. Special guest speaker: J. Douglas Field '92, CTO and VP of Design and Engineering.
Wednesday
New York City. With special musical guest: the Chorallaries of MIT.
Seattle. Meeting location: Buca di Beppo Italian restaurant (yum).
…and four other events across North America.
Thursday
Denver. Colorado Admitted Students Party and the MIT Club of Colorado's 115th Anniversary Gala. Featured guest: President Susan Hockfield.
Los Angeles. Meeting host: Northrop Grumman Space Technologies.
Providence, RI. With special guest speaker Professor Alex Slocum (Mechanical Engineering).
…and six other events across North America.
Overall, there are dozens of alumni-hosted events going on; it should be pretty exciting.
If you go to one of these events, send me your review and some digital photos and I'll post them online. Here's a photo of Resonance performing at last year's New York City meeting, taken by Asli '09: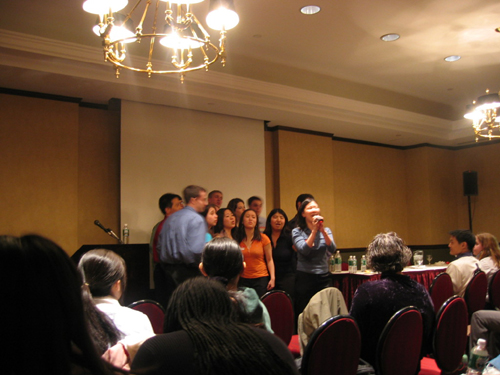 Enjoy, and I look forward to meeting you at the biggest admitted students party: Campus Preview Weekend, April 6-9 on MIT's campus!
12 responses to "Admitted Students Parties"