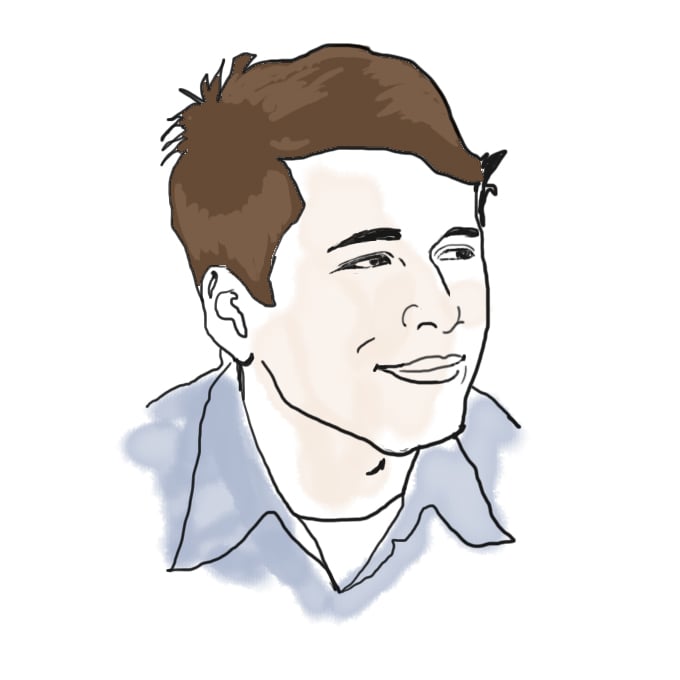 Always Moving Forward: An entry by Prof. Patrick Henry Winston

by Matt McGann '00
MIT has the nation's leading running back in Division III football?!? And he's a Computer Science major?!? His Artificial Intelligence professor reflects on DeRon Brown's final game.
I thought you might enjoy the below blog by Professor Patrick Henry Winston '65, SM '67, PhD '70, via Slice of MIT, reprinted with Prof. Winston's permission. Below that, I have also reprinted the USA Today article that Prof. Winston links to.
Enjoy!
---
Always Moving Forward
by Professor Patrick Henry Winston '65, SM '67, PhD '70
I went to the last football game of the season last night. I went because it wasn't just any last football game, it was DeRon Brown's last football game. I was drawn to it as if it were the last solar eclipse of the century.
Now priorities are such that our football team is a true Division III team, and the players play for the love of the game. So when one of our players reaches DeRon's level—rushing for 170 yards per game, attracting national attention—I just have to go see him play.
I had taught DeRon Artificial Intelligence in 6.034 when he was a junior. As soon as I saw him, I went to the web for a look at the MIT football roster, and as I expected, there he was, along with the emerging story of his amazing record. DeRon showed up regularly in class, looked interested, and did well.
So, I had to go, and I dragged my daugther, Sarah, also a senior, along on the trip to Endicott College. We quickly spotted DeRon's mom, Kim, and dad, Chris. Kim wore a jacket with a big number 20, her son's number; Chris looked just like his son. They had driven seven hours or so from their home in the small town of Galax, Virginia.
Alas, DeRon got a mild concussion early in the game, so it wasn't a night for his usual spectacular performance. But he was fun to watch anyway. He looked fast even when he was just standing still on the sidelines.
After the game, I ran into David Nackoul, a standout lineman who graduated with a course VI degree a year ago. I asked him why DeRon was so good. He explained that DeRon is unlike other backs who, when they get in trouble, run sideways, run backwards, or start stutter stepping. "When DeRon makes a cut," he said, "he always keeps moving forward."
What a motto that would make! Always moving forward. I must find someone who can translate that into Latin for me.
---
At MIT, running back Brown discovers a formula for success
By Kelly Whiteside, USA TODAY
CAMBRIDGE, Mass. — MIT is a school defined by numbers. Everything, from the buildings to the names of courses, is numbered.
Even one of the marching band's football cheers is a number. The members shout out the digits of pi. As in the ratio of the circumference of a circle to its diameter. But they don't stop at 3.14. This is MIT, after all. They go the distance, as in 3.14159265358979323846 and so on.
So perhaps it's fitting that MIT is home to the leading rusher in Division III: senior running back DeRon Brown, who is putting up big numbers again.
Playing for the struggling Engineers (1-7, not such a great number), Brown is averaging 170 yards a game and has run for 1,360 yards and 10 touchdowns.
It might come as a surprise that a running back from the nation's premier science and technology school is leading the division in rushing. Actually, it's probably a surprise to many that MIT has a football team. But Brown's season isn't some statistical fluke. Last year he was second in Division III with a 181.6 average and a school-record 1,816 yards along with 22 TDs.
"I keep up with it, but Mike knows my stats better than I do," says Brown, a computer science and engineering major. Wide receiver Mike Fitzgerald is Brown's best friend and a math major. Ask Fitzgerald about Brown's numbers, and he produces an Excel spreadsheet. Brown, a 5-8, 185-pound team captain, has rushed for more than 100 yards in 17 of his last 18 games and is responsible for 58% of the team's total offense this season.
"Week in and week out, teams put eight, nine, 10 guys in the box. But once he finds a little crack, he's busting for a long run," first-year coach Chad Martinovich says.
As Brown enters the final game of his career Saturday against Endicott College in Beverly, Mass., it's significant that he has run for huge numbers on a one-win team behind a new no-huddle offense and a line that lost two starters to injuries.
Beyond his ability, what also makes Brown, and his team, unique is the school where they juggle four-hour labs with two-hour practices, a place where there's no tug-of-war between football and academics. Schoolwork wins every time.
"He's not a Division I player saying, 'I need to get a job in the NFL.' He's a computer programmer who's saying, 'I need to get a job at Google,' " Fitzgerald says.
It's academic
Located along a stretch of the Charles River across from downtown Boston, MIT is not your typical football program, even by Division III standards. Surrounded by buildings designed by architectural masters such as I.M. Pei sits quaint Henry G. Steinbrenner '27 Stadium. Yes, that Steinbrenner. In Boston. George's father won a national title in the hurdles before competing in the 1928 Olympics. And yes, there's a number in the official name.
The bleachers hold 1,600, but usually a smattering of fans fills the seats on game day. The school mascot, a fierce-looking beaver, is painted on the field. Why a beaver? Because a beaver is nature's engineer, noted for remarkable mechanical skills and great industry.
At MIT, there are 33 varsity sports, the most in Division III, and football is certainly not the big dog. The school was nationally ranked in 12 sports last year. Football practice is every day between 5 and 7 p.m., a sacrosanct time on campus in which no classes or labs are scheduled, giving students a much-needed sanctioned recess. In the New England Football Conference, which is a combined 2-10 this decade in the Division III playoffs, road games are a bus ride away, so there's no overnight travel. The head coach teaches physical education classes, and the assistants are part time. The Engineers make do with 56 players on their roster.
"Here the coaches know it's academics first," says Brown (the school boasts it is the all-time D-III leader with 156 academic All-Americans). "We're football players from 5 to 7 Monday through Friday, and we play football games on Saturdays. Academics has to be your No. 1 goal here. If it's just football, you're going to fall behind."
At Michigan, the season began with a debate about the balance between sports and academics amid allegations the time football players spent on their sport greatly exceeded the NCAA's 20-hour limit. In an NCAA survey released in 2008, major-college players said they spent an average of 44.8 hours a week on football compared with a little less than 40 hours on academics. At MIT, football players clock under 20 hours a week on their sport and most every other waking hour on academics.
"I have former players who are fighter pilots, doctors, CEOs, and they all say how everything is easier after MIT. It prepares you for whatever you want to do," says former football coach Dwight Smith, the patriarch of the program. MIT had fielded a team from 1881 to 1901 before undergraduates voted to abolish the sport. Smith revived the program, building it from a club sport to varsity in 1988 before retiring last season.
Pride of Galax, Va.
Brown ended up at MIT by recruiting himself. In public high school in Galax, Va., he knew he wanted to be a computer engineer, so he figured he might as well go to the best engineering school.
"Once I found out they had a football team, it was a win-win situation," he says.
Class salutatorian, he applied to MIT and then sent Smith his high school tapes. Brown was also recruited by several Ivy League schools, which play a higher division of football, but his dream was MIT.
He'll be the first college grad in his family. His father, Chris, is a police sergeant, and his mother, Kim, a grant-writing consultant.
"I was a country boy coming here," Brown says. "Galax is a small town (pop: 6,837) where everyone knows everyone."
Located in southwestern Virginia, in the heart of the Blue Ridge Mountains, Galax is best known for the Old Fiddler's Convention it has hosted annually since 1935. The town's slogan: "The Best Pick in Virginia."
When he made his decision to attend MIT, his major concern wasn't about the academic workload. "When I first decided to come here, I was kind of scared," he says. "I was like, wow, there's going to be a lot of nerds there."
In truth, he found plenty of classmates just like his extroverted self. Still, the perception exists. "People will find out where I go and say, 'Deep down you're just a nerd.' Can't I be a smart athlete? With normal social skills? But I feel like other teams see us as nerds."
Nerd or not, there is revenge. It comes after graduation.
"Athletes often do very well because they have to learn how to manage their time, and DeRon is a perfect example," says Patrick Henry Winston, an artificial intelligence and computer science professor who taught Brown last year. "I see him as a successful kid. He was always engaged, just an extraordinarily well-rounded kid who you like to have in class because you know he's interested, intense, team-oriented and extremely likable."
Brown is getting ready for life after MIT. He has interviewed at Google, Microsoft and Amazon and is also interested in working for a start-up, perhaps designing mobile applications. But Fitzgerald has other plans for him.
His math major friend who wants to be the general manager of a sports team some day —Boston Celtics, are you listening? — thinks Brown deserves an invite to an NFL training camp.
On Fitzgerald's spreadsheet, Brown's stats and the conference rankings of the rushing defenses he's faced from the last two seasons are broken down. Fitzgerald's point: Brown's yards a carry have improved as the Engineers have faced better rushing defenses in the second half of both seasons. This is impressive because, as Fitzgerald says, "We're taking more and more of an academic pounding as the semester progresses, but the kid continues to produce and improve."
Last year Fitzgerald worked as an intern with the Celtics and helped with the team's draft analysis. The Celtics had one pick, 58th overall, and Fitzgerald had his mind set on Tennessee-Martin guard Lester Hudson, based on his statistical analysis. The Celtics drafted Hudson.
"When they called Lester Hudson's name, it was as though I was getting drafted," Fitzgerald says.
He has the same feeling about Brown. And the numbers to prove it.
****
Leading rushers by division in NCAA football
Division Player, school Carries Yards a game
Football Bowl Subdivision Ryan Mathews, Fresno State 179 164.5
Championship Subdivision (FCS) Pat Paschall, North Dakota State 164 141.0
Division II Joique Bell, Wayne State (Mich.) 307 201.0
Division III DeRon Brown, MIT 260 170.0
Source: NCAA
7 responses to "Always Moving Forward: An entry by Prof. Patrick Henry Winston"