We started our ju n i  o    r — wait wait wait … there must be some mistake here … someone pls correct us in the comments … we aren't juniors? … right?! … RIGHT?!
Well, while that's sorted out, what we can say for certain is that we started this fall semester again as counselors for a week-long, arts-focused, pre-orientation program for incoming freshman! It's appropriately called Freshman Arts Program and inappropriately abbreviated FAP.
Yep that is the acronym. But us counselors embrace it and make waayyyy too many FAP jokes and puns. And after going through this program a second time, we are now beyond desensitized to the word. It's both awful and great.
The week started off on August 18th when us counselors met up in our room on the fourth floor of the Student Center. The freshman arrived on the 21st, so that gave us around three days to do all the prep work, which included:
saran wrapping the windows (so the freshmen can paint on them guilt free)

looking over and updating our various activity sheets

making door signs for the freshman 

getting a LOT of cardboard and wood scraps for…reasons

making a, well, some may call it, an intro video. Others, a cringy atrocity. Continue reading to decide

picking up and sorting through our supplies and shirts

making our FAP sign (so that we can hold it for freshman to see as they come to our meeting location) Here is a picture: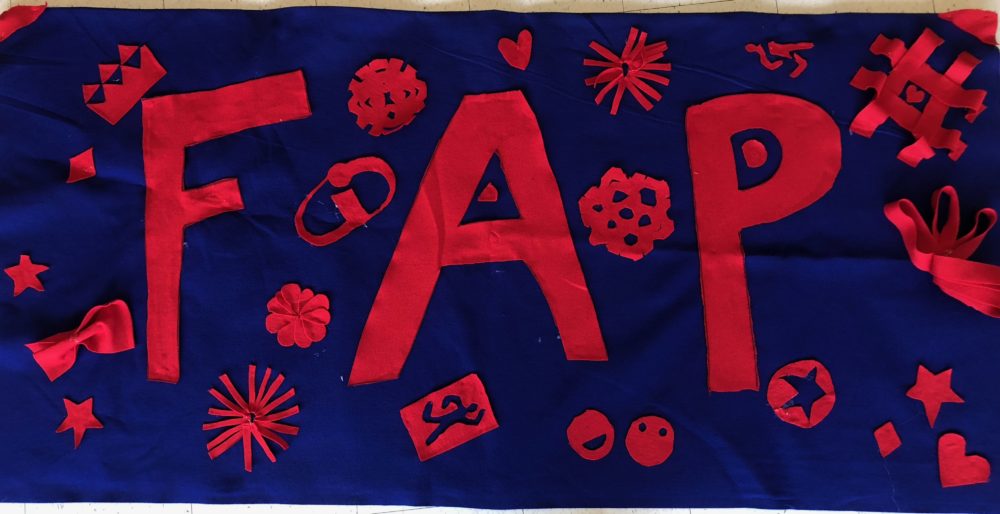 Once the froshlings arrived, who we referred to affectionatley as fappers, the week officially started! And just like last year, it was a week of jam packed fun, art, and bonding! Many events, per tradition, are kept as surprises during the week, so we cannot reveal *everything* here. Instead, here is a hodge podge of photos from the week!
We tried procrastinating this with the pictures, but we can only insert so many.  Here is … this … the counselor intro video … you've been warned:
Besides these random happenings throughout the week, the fappers worked on art projects of their choosing! This year, like last, the projects were interdisciplinary, and also decided by the fappers, to maximize their enjoyment of the program!
This year, we ended with four amazing groups that made four amazing projects!
The Game Design / Theater group made an interactive murder mystery puzzle hunt/show!
The Music group made and performed a wholesome rap about their week at FAP!
The Fiber Arts / Sculpture  group made and performed a multi media puppet show!
The Dance group choreographed and performed a fantastic dance with a comedic twist!
Just like last year, FAP really started our year out on the right foot! It was really revitalizing to interact with so many passionate and artistic and jazzed freshmen! From admiring their crazy earrings, to talking with them about anime, to listening in on a heated debate about the US education system, to learning about the nuanced social hierarchy in high school marching band, to watching them climb things (literally and figuratively), we are so happy to have met each and every one of them!
Thanks to all the awesome counselors and 2022s that made the beginning of our year awesome! On that note, here's to junior year and everything it brings!