Oh hai world!
Welcome to my very first official MIT blog entry! Please excuse the lolcat/EECS reference, it was a necessary evil.
Surprise and happy New Year! There's a new kid on the blogs, halfway through the year, because MIT is out there to switch things up and do things people aren't expecting. I plan on doing a bit of that myself actually, so hopefully you're up for it.
As you may or may not already know, it's kind of cold at MIT right now (13 degrees). What does cold mean? Cold means snow!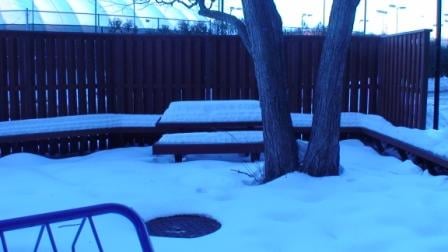 For hundreds of wide-eyed freshmen who have never seen significant amounts of snow, snow means fun! For all of the upper-classmen who see snow all the time, snow means fun! The only issue with having fun in the snow is that it's really too cold to go outside and play for any significant length of time. You end up bundling up so much that you can't actually discern a human form under the down. This makes building igloos, building snow angels, and having snowball fights much more trouble than they're worth. So, what do MIT students do when they can't properly enjoy the weather outside?
They enjoy it inside.
After a Burton-Conner house meeting the residents of Conner 2 (second floor of the Conner side of Burton-Conner dorm) decided it was time to declare war on Conner 4 (fourth floor). We began loading ammunition (snowballs) into our magazines (buckets) and discussed the tactical advantages to various attack strategies. We settled on "Run screaming into Conner 4, run down the hall, and throw snowballs at whoever you see."
Conner 2 is lucky to have a roof that's accessible from one of its kitchens so that's where we got the snow for the majority of our snowballs.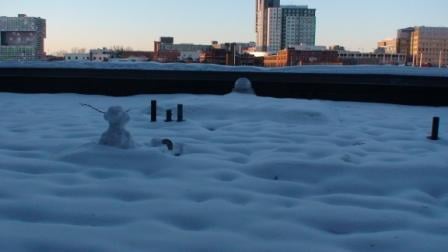 After the buckets were full and I'd grabbed my camera (I tried to place myself into the mindset of a war reporter, covering the battle from the front line) we began the charge. No less than 10 members of Conner 2 charged up the two flights of stairs and rammed the door into Conner 4, which was blocked. A small packet proceeded to the 5th floor to try to gain entry from above but all of a sudden the door opened and we flooded in. Some nice Conner 4-ian had opened the door for us. Think back to our attack strategy — "Throw snowballs at whoever you see" — so our nice door-opener was quickly pelted with snow as we ran down the hall where we found . . . another blocked door. After again gaining entry we were attacked maliciously by our initial foe in the brown jacket, who Laura quickly pursued.
The fight then spilled into the hallway where your courageous war reporter was struck by a snowball in a rather inconvenient location, prompting not sympathy but laughter from the warring troops. I was no longer a war reporter, I was a soldier, recording my battle against the opposition!
News that more Conner 4 residents were holed up in a suite reached us and we staged for another attack. After finding somebody with a key to the door I shoved it open and we breached their stronghold. Our first priority was to get out the window to replenish our ammunition. After opening the window and gaining access to the fire escape we were ambushed. I attempted to run back into the kitchen but just as I got in I was struck by a snowball from behind, finishing me off.
In the end, Conner 2 was victorious. Nothing remains to remember the battle by, save for memories and my war diary. Here it is, enjoy.
56 responses to "Attack!"