Stealing a page from Melis's book, check out this awesome article about a UROP that appeared in yesterday's Boston Globe, New England's major newspaper.
---
Figuring ways to go faster with the flow
By Phil McKenna, Globe Correspondent | April 10, 2006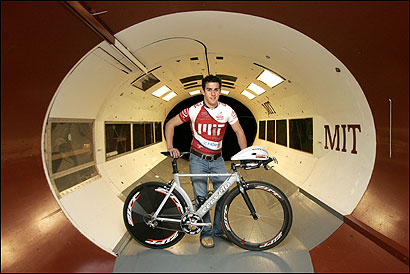 Undergraduate Mark Cote at MIT's Wright Brothers Wind Tunnel, where he tests cyclists' positions and new cycling equipment. (Globe Staff Photo / Bill Greene)
Mark Cote, a researcher at the MIT Center for Sports Innovation, has an impressive list of clients — from Tour de France stage winners to some of North America's leading bicycle manufacturers. Now the wind tunnel specialist plans to use his expertise in fluid dynamics to develop and, he hopes, patent his own advances in aerodynamic cycling gear.
Not bad, considering that Cote, 21, is still an undergraduate.
A competitive cyclist since eighth grade, Cote, who wears a yellow "Livestrong" bracelet — a nod to cycling superstar Lance Armstrong — came to MIT seeking an outlet for his passion.
"I didn't know if there was a wind tunnel at MIT, but if there was, I wanted to put bikes in it," Cote recalled. Two weeks after arriving on campus his freshman year, he became the bike specialist for the Center for Sports Innovation, whose mission is to involve undergraduates in the development of improved sports equipment.
Kim Blair, the center's director, said he was looking for a senior to fill the position but was won over by Cote's enthusiasm.
"Students that work for me who have a passion for sports — particularly the sport they are working on — tend to be far more productive," Blair, a former world-class triathlete and ex-NASA engineer, said.
Last fall, equipment designers from Specialized, one of the leading high-end bicycle manufacturers, brought their latest prototypes to the university's Wright Brothers Wind Tunnel for Cote to test. He hustled between the tunnel and a connecting monitoring room, blasting the company's latest prototypes with a constant 30-mile-per-hour gale while explaining the significance of each new data set to the Specialized team. One of the company's "aero" helmet prototypes yielded a whopping 13 percent reduction in the overall drag of bike and rider when compared with a rider wearing a regular helmet, Cote told them.
"In a 40 km time trial, that's two and half minutes and perhaps the difference between first place and fortieth place," he said. The company has since signed him on for an ongoing internship at their Morgan Hill, Calif., headquarters during winter and summer breaks.
While equipment is important, Cote spends as much time helping athletes fine-tune their position on the bike.
In the past three years, Cote has tested close to a dozen cyclists, including Ivan Basso, a favorite to win this year's Tour de France. Cote gave Basso the wind tunnel treatment in the spring of 2004 when the young Italian rider was, as Cote puts it, "just gaining his wings in the cycling world."
The tests helped Basso shave 18 percent off his overall drag by doing simple things like raising his saddle and bringing his elbows closer together. The improvements helped vault Basso to a third-place finish in that year's tour. Cote still wears a hat given to him by Basso's Computer Sciences Corp. cycling team.
A mechanical engineering major, Cote takes a full load of coursework, including classes in marketing that he hopes to put to use developing his own streamlined gear. Not all of Cote's work is for the business world. An avid cyclist, he also keeps himself and his peers on the MIT cycling team streamlined on race day.
His work appears to be paying off. Last year the team won the eastern collegiate conference title and dominated in time trial competitions — races against the clock where increased aerodynamics can yield huge advantages. This year they are a favorite to win next month's national championship.
"It's good to see that being a geek works out in the real world," Cote said.
FACT SHEET
Home: Born and raised in Sanford, Maine, now lives in MIT's Delta Tau Delta fraternity.
Family: Cote has two older brothers, Matt and Mike, who live in Bangor and Sanford, respectively. His parents also live in Sanford.
Would rather be: Riding his bike.
Latest challenge: Developing new aerodynamic biking gear and completing his senior thesis this semester, even though he's only a junior.
Plans after college: Hopes to find a job in sports engineering.
Most memorable wind tunnel experience: Nearly persuading professional cyclist Ivan Basso to shave his head bald to get rid of aerodynamic drag before the 2004 Tour de France.
Wind tunnel trivia: The Wright Brothers Tunnel at MIT was completed in 1939 for airplane testing and ran two shifts per day through World War II. Today, it is only used about 20 times per year as most aeronautics work has shifted to computer simulation. The changing fluid dynamics of humans and their sporting goods, however, remain difficult to simulate on computer.
---
MIT Links:
5 responses to ""…being a geek works out…""