Want a Warhol in your dorm room?
Today is the final exhibition day of the Student Loan Art Collection at MIT's List Visual Arts Center. The Student Loan Art Program allows MIT students (and only MIT students) to borrow for the entire academic year one of nearly 350 noted pieces of artwork from MIT's collection. Artists represented in the collection include:
Alexander Calder
Mark Chagall
Joan Miro
Nam June Paik
Andy Warhol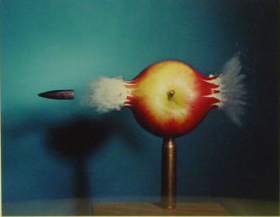 Each piece in the collection is framed and signed by a leading contemporary artist. Some are photographs, like the original by the late MIT Professor Harold "Doc" Edgerton at right. Others are more abstract works, like the Francesco Clemente below left. Unfortunately, the online collection (aside from these two and a few others) is only viewable within the MIT community, but the annual fall showing — before it is loaned out to students — is open to the general public.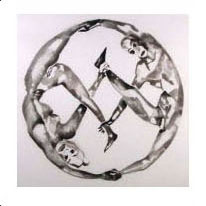 Students view the collection and enter their top choices into a lottery. Over 4 years, 70% of students should "win" at least one year. And the chances increase as time goes on, as we add pieces to the collection each year.
Selected students pick up their art beginning on Wednesday. Any winnings not collected by Friday are distributed on a first-come, first-served basis to any student who lost out in the lottery. The LVAC site writes about this plan B, "Each year, bleary-eyed students wake up early to be at the head of the line outside the gallery doors for a second chance to participate in this extraordinarily popular program."
The artwork is the student's to keep until the following May. What a way to decorate your room! Whoever said MIT students don't know fine art?
3 responses to "Better than a Ryan Cabrera poster"