Yesterday, I held a Central Meeting in South Miami, Florida. We were lucky enough to secure the Clark Educational Center at South Miami Hospital for the meeting, thanks to one of our Educational Counselors who works at the hospital. It's a great space, and the hospital served some very good cookies =) Unfortunately, the attendance exceeded what we had expected, meaning a number of folks had to stand. To those of you who stood throughout the meeting — thank you for sticking it out. I hope the meeting was helpful to you.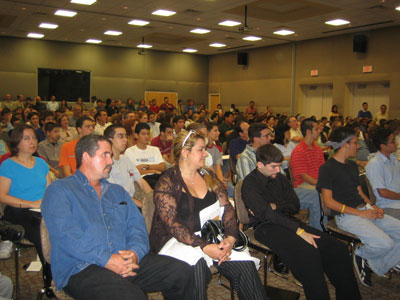 We had a great crowd in Miami.
The Miami meeting was one of two meetings the office held yesterday, the other being Stu's meeting in Kansas City. Yesterday was September 11, 2005, four years after the terrorist attacks on the US. It is often difficult to find good days and times to schedule meetings, and I was uneasy about having a meeting on this day. To acknowledge the day, I asked the Miami crowd for a moment of silence for the 9/11 victims as well as the Katrina victims. I have never wept in front of a crowd before, but yesterday I did get pretty emotional. To those of you who joined me in the moment of silence, thank you.
In the middle of each meeting, I introduce the local Educational Counselors. It is a good chance for students to get to meet some local MIT alumni and to connect with their interviewer. In Miami-Dade, the Regional Chair is Dr. Paul Gluck '68.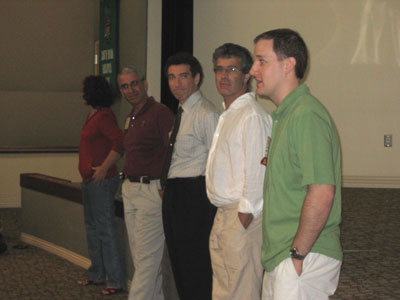 The ECs introduce themselves to the crowd.
Prior to the meeting, I had a chance to meet with the ECs over breakfast. The gathering was hosted by Dr. Gluck and his wife, also Dr. Gluck. Interestingly, the Doctors Gluck have an extensive collection of Native American art (recognized as one of the top private collections in the nation), including a beaver (go MIT!) carved for them.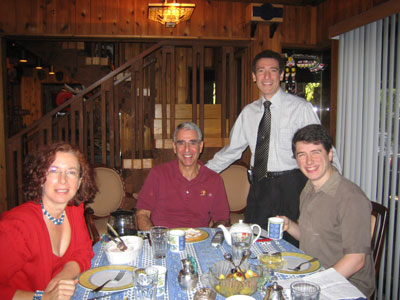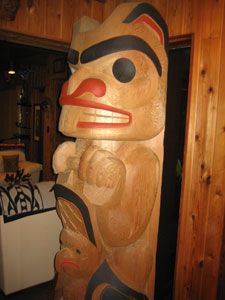 Left: The EC Breakfast in Miami. Right: the Gluck's Beaver/Eagle totem.
In my meetings here in Florida, I've gotten to meet some students in person that I've only talked to here on the blogs or on email. Miami was no exception, getting to chat with Davis, Neha, and Jill, among others, joining many others including Cinjon in West Palm Beach and Richard in Orlando. It was nice to meet you all, and I'm sorry I didn't have time to talk longer. It's been nice to see lots of new faces, too. Thanks to all of you who have stayed late to chat with me.
Tonight: Central Meetings by Stu in Omaha, Amy in Houston and Alia in Seattle. I'm working on a Questions Omnibus for this week, as well as a few other entries. More to come soon.
18 responses to "Bienvenidos a Miami"