Monday was the Collegeboard's 2008 New England Regional Forum. It took place in the Boston Sheraton hotel and MIT's admission's office (more specifically, Matt McGann and Ben Jones) were two of the speakers. Their presentation was titled "Students, Parents, Admissions, and the Internet." It was essentially a conference and over a hundred college and high school counselors signed up to listen to Matt's and Ben's presentation. They asked me to tag along as an example of somebody who's not only recently been through the application process but is now on the other side of it. I was really excited for the conference for a couple of reasons. For one, I've never heard Ben give an info session or speak before, and for another, I was actually interested in what they had to say. It's actually quite interesting to hear the thought behind the blogs and admissions as a whole.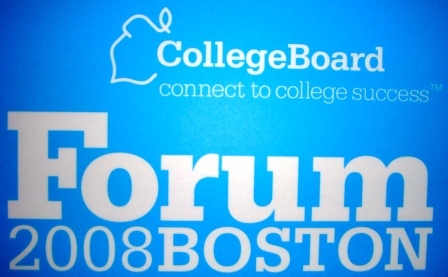 While we were there we saw something so, um, interesting, that I could probably do an entire entry about it alone, but I've decided to shove it into this one. Meet CAPTAIN FAFSA!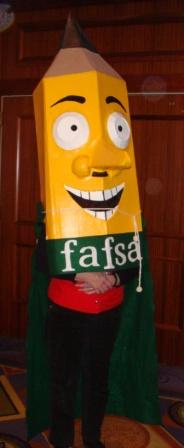 That's right, the FAFSA has a mascot and I met it. It's strange though, we wondered how comfortable a cape would be if it had to pass through your mouth. Probably not that comfy, but that's of no concern to CAPTAIN FAFSA! He's too good for you!
Let me get the quick-and-dirty out of the way now because I have something important to say at the end of this entry.
Here's a quick description of our presentation, courtesy of Ben's powerpoint.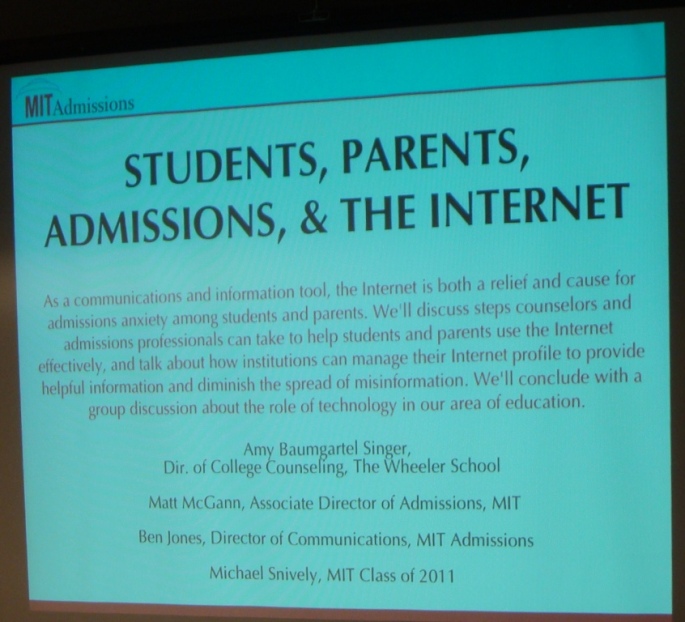 There I am there, at the bottom. I feel so official now! Before the presentation began we realized that all of the font was in Times New Roman which is ugly. Ben decided, in honor of Matt's birthday, to change it all to something more pleasing to the eye. He realized quite quickly that it wasn't as easy as changing a global setting, meaning he had to go through each slide individually and change the font. This is what Ben looks like after changing the fonts on all forty slides.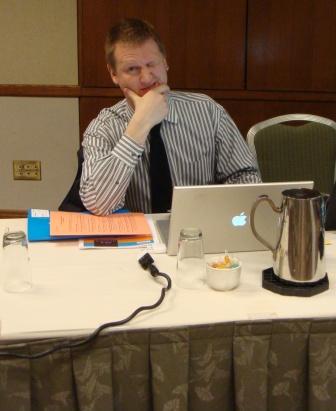 After speaking for an hour and a half we finished up talking about our blogs and answered some questions one on one.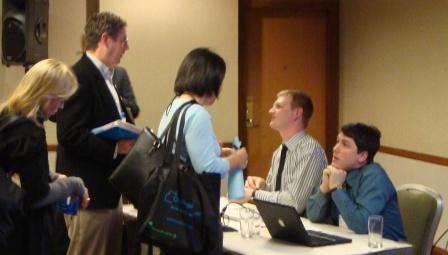 Everything we spoke about was really well received. We talked about how MIT likes to help all of its potential students know as much about the school as possible, how having a constantly changing website is interesting and raises the number of applicants, and how Web 2.0 is the way of the future. I can't even begin to talk about everything that was said, but I'd like to summarize it by saying that MIT admissions loves you guys. They constantly are worrying about how not to be unfair to you, how to make sure you are as comfortable as possible while applying, and to stay out of business that belongs to you and only you. This is why you won't find admissions officers hunting you out in Facebook and trying to recruit you. The internet is your space, they just want to help make it interesting and useful.
Let me tell you right now guys, the admissions office loves you. Don't ever believe that you aren't thought about, you are just a number, or you are an annoyance. I know admissions is scary but your applications are in the best hands possible, believe me. I won't name names, but I can chat about prefrosh I'm familiar with with Matt and Ben and they never have anything but nice things to say. Nothing they say on the blogs is a lie, they love all of you and will even have heated moments when they try to defend certain students.
I know waiting for decisions is difficult, I've done it too, but please don't worry about it being fair or not being considered as an individual. You are. I'm not sure what I can say in order to make you believe it more, other than to say that I learned a lot about how the admissions office works this weekend and I'm impressed by it even more.
32 responses to "Blogging About Blogging"