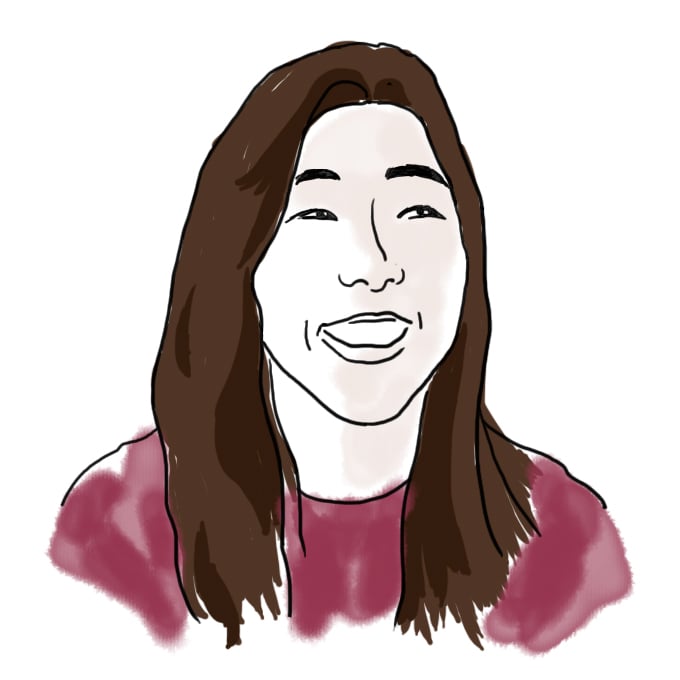 I'm a finalist for a blogging scholarship - now I need your help voting.
Recently Evan's mother, who is, for the record, so cool, sent the bloggers an email about a $10,000 scholarship for any bloggers who attend college. I happen to fit both of those descriptions, so I (who happened to be in New York with high school friends for the weekend; more on this later) scrambled to borrow a laptop and sent in an application. And – I'm a finalist.
A lot of the time I'm not very serious – but I'm serious when I say blogging has become one of the most important parts of my life at MIT. I became a blogger before I was even a student here, just before orientation – but it's not because I've been doing it for so long, it's the response from you guys. Getting your comments and immediate feedback about my writing is an incredible thing.
So I'm asking for just a little more response from you – I need your help voting. If you've enjoyed anything I've written thus far, or just like clicking on things, please vote for me: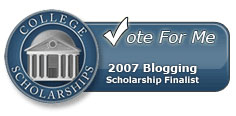 If you'd like to post the link yourself on your blog, or just spread it around to help me out, it's
http://www.collegescholarships.org/blog/2007/10/08/vote-for-the-winner-of-the-2007-blogging-scholarship/
.
And if you're curious about my application essay, that's fair game too:
Applying to college is a terrifying process. The applications are all filled with the same vague questions, such as, "where do you see yourself in ten years?" ("I'm supposed to know at 18?"), or "describe a hardship," ("this.") In essence, you're asked to squeeze your entire identity into a couple sheets of paper and turn it over to the judgment of complete strangers. And MIT's "nerd school" reputation, while appealing for those of us with flash drives sewn into our pants, doesn't make the process any less intimidating either.

To me, blogging is bridging this overwhelming chasm; blogging is dissolving the sterotype like a polar protic solute in dimethyl sulfoxide. Blogging is interrogating multiple professors in the humanities and psychology departments so I'll know how to fully answer an applicant's questions, or being painfully honest about the terror of flying to college for the first time. Blogging is being careful not to reveal how little I've slept this week so my mom won't yell about my poor time management, and why is it that she finds out more about my life from the internet than from actual phone calls?

I try to return what the admissions blogs gave me as a high school senior, when I followed them voraciously. Admissions-related questions remain the focus of my entries, but I also write about what I do besides problem sets – the CPR class I helped organize, hugging Judah Friedlander at Harvard, sleeping outside in Killian Court with my shoes off – because my primary goal is to convey that students at MIT are real people. I put myself out there not as a name, not as just an MIT student, but an identity squeezed into a few HTML pages. I try to give high school students the courage to do the same.
Your support means the world to me. Thanks for reading!
65 responses to "Blogging Scholarship"