Boston is a marvelous city! During the school year, I have regrettably failed to take advantage of its historical and culinary wonders, but when the post-finals laze took over, I devoted most of my time to local exploration. Armed with an all-powerful MBTA Pass (with unlimited trips for a week!), I discovered new favorite places and once again ascertained that MIT has the best possible college location.
On one side of campus, Central and Harvard Squares inspire with quaint shops and cafés and occasional art festivals. On the other, just beyond the Harvard Bridge, Downtown Boston splits into diverse districts, one for each type of adventure. This post is Part 1.0 of my favorite ways to burst the MIT bubble, dedicated to Downtown Boston.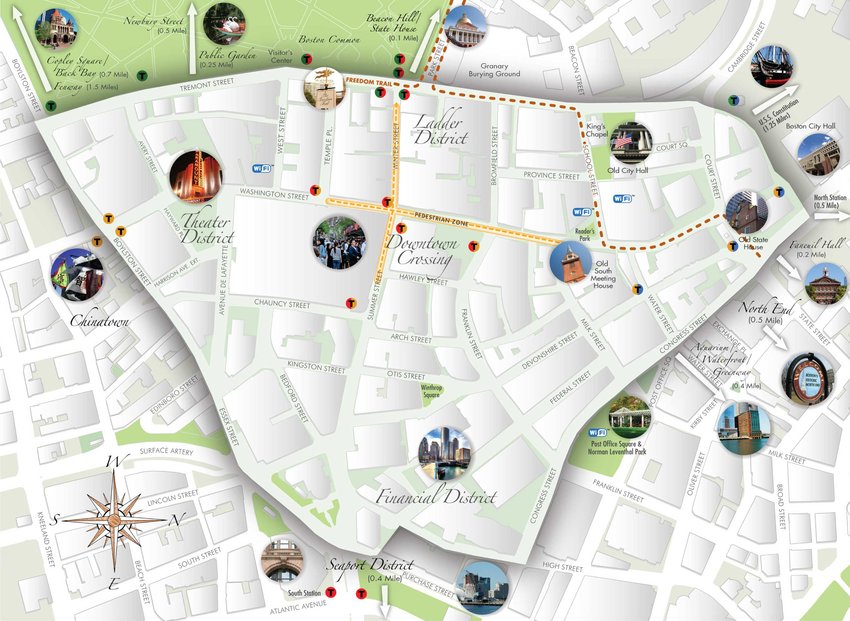 Boston Common
Located conveniently by the Park Street MBTA station, the Boston Common, oldest park in the country, is the best beginning for Downtown exploration. Marvelous for people-watching! There is plenty to look at besides passing humans as well, like the old and new, wide and narrow buildings all squeezed together. Surrounding the park in a glorious architectural mix are an AMC movie theatre, a Masonic Lodge, an alleyway towards Chinatown, a Starbucks, one of many ubiquitous local Dunkin Donuts, the Massachusetts State House, and the historical 1809 Park Street Church. On mild-weather days, my friends and I love sitting in the Common's green spaces with the freshest breeze teasing our hair, looking up and around and having the greatest time. We have gone to the Boston Common to watch movies, trace the American Revolution, continue onto other parts of Boston for modern entertainment, or simply grab a coffee at the Thinking Cup, an adorable coffee shop for the tired explorer.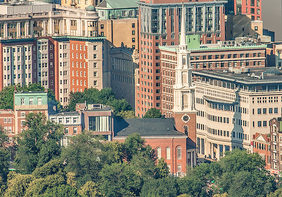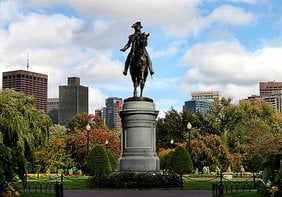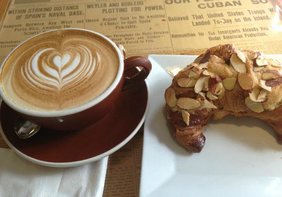 Chinatown
Love bubble tea? Prefer to share food with friends? I do, and Chinatown is awesome for that. My memories of the district's architecture are blurry, as the last time my friends and I went there, the air was brutally cold, and sightseeing was not desirable. I did, however, adore eating and drinking in the Chinatown indoors. There is an array of good-looking restaurants offering Asian foods in the area, with delectable green tea always available. Our soup, meat, and salad were served in giant dishes, enough to share among the merry group of four. And to complete the satisfactory outing, we had at least a dozen different bubble tea shops to choose from, with the best prices in town (although I still love the MIT Student Center bubble tea best!).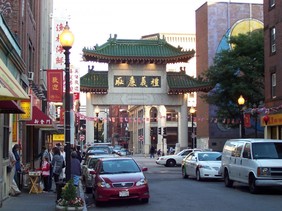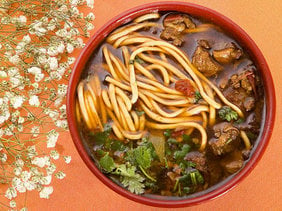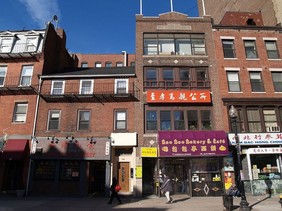 Faneuil Hall Marketplace (with Quincy Market)
Further down lies the 1742 "Cradle of Liberty," Faneuil Hall (with Quincy Market), Downtown Boston's prime location for a quick and satisfying meal along The Freedom Trail. There are 36 food vendors in the Quincy Market building alone, with additional historical Boston cuisine restaurants inside and around it. For toy lobsters and other Boston-related merchandise (like baby onesies that say "future Harvard freshman"), it's quite a convenient place, too. And for history lovers. And for shopping aficionados. For tourists, there's the Make Way for Ducklings toy store and a discount ticket kiosk. For pop culture geeks and music connoisseurs, Newbury Comics. For the no longer hungry but still craving a snack, a two-story Ghirardelli haven. Once, I also caught one of the daily performances. Ever seen a man in a kilt and superman underpants (with a special butt cape) riding a unicycle and playing bagpipes? That would be the world-famous Kilted Colin, entertaining by Faneuil Hall. For a festive mood, there's also Christmas lights and music shows by Faneuil Hall in the winter.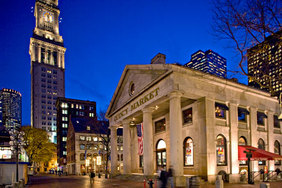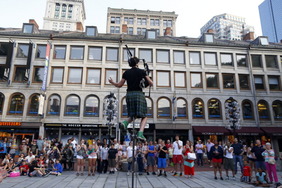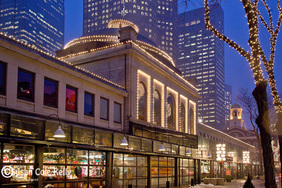 Boston Harbor
I saw the ocean for the first time this academic year, and loved it. The movies have an inspired way of depicting overjoyed protagonists, plunging into watery vastness. I had high expectations for my first oceanic viewing as well. When I first got to the Boston Harbor (for a really cool Freshman Pre-Orientation Program), I experienced quite the Hollywood-esque joy. Then I shivered through a Boston Harbor boat tour, loving every minute of it. Since, I've revealed a personal fascination for bodies of water (Charles River <3), and returning to the ocean for my second boat ride was even more inspiring. If a boat is not available, however, the edge of the Long Wharf is a perfect place to sit and dangle feet over mild waves, guess the destination of outgoing Logan Airport planes, watch the sky turn from blue to navy, and look back at the sparkling Boston skyline. For the prefrosh, the nearby New England Aquarium will also be the place to meet their best first-year friends (and look at adorable penguins).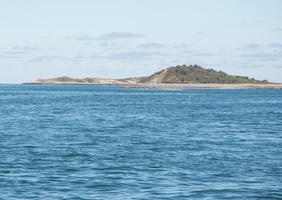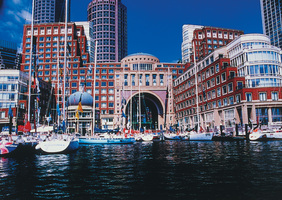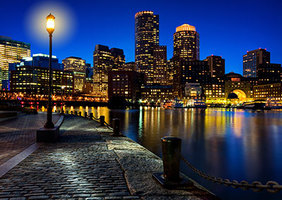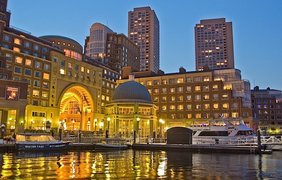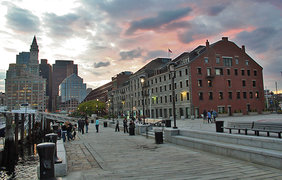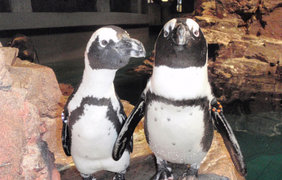 North End, Boston's Little Italy
Boston and Cambridge shut down early. By 9pm, most stores and restaurants lock their doors and streets fill with crowds looking for late night entertainment. At that time, it's most fun to walk over to the North End, Boston's Little Italy, for a chance to participate in the midnight hustle, grab a cup of the most delicious and well-decorated coffee, and indulge in Italian deserts. On warm days, the North End restaurants also open up their facades, and everything feels friendly and lively and free. Crowds roam the streets for cannoli, gelato, eclairs, and tiramisu. My friends and I have often mingled in those. At the Gelateria & Cannoli Factory, we have witnessed firsthand the assembly of beautiful cannolis, filled upon request with flavors like tiramisu, hazelnut, pistachio, or Nutella in an exquisite creation ritual. When most North End restaurants and bakeries lock up for the night, usually around midnight, students can still venture to the district for a snack at Bova's Bakery, where delicacies are available 24 hours a day, every day. I have been told that every student must try a 4am all nighter snack at Bova's. This tradition is quite commendable, as the choices at Bova's are vast and mouth-watering.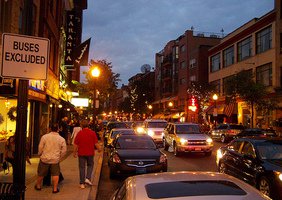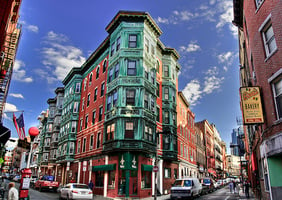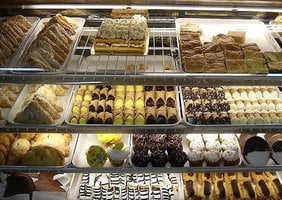 Haymarket
Haymarket is a not the most tourist-appropriate location. On Friday and Saturday, starting from about 6am, local vendors gather with ripe fruits and veggies, cheese, and fish. The sellers come from a variety of different backgrounds, and so do the customers. Some are friendly, and others grim. Regardless, Haymarket is the place for best grocery deals, ones a buyer can legitimately brag about at home. The shockingly low prices at a market in Downtown Boston are real because "much of the Haymarket produce is what the wholesalers haven't been able to sell during the week to the city's supermarkets" (more here). It's a trip worth taking for the struggling college students who own cash and are willing to navigate the occasionally tough (but never terrifying) crowds. Plus, the Haymarket is squeezed right between the North End and Faneuil Hall Marketplace, so it's the perfect destination for a sunny weekend. So much great produce and food all around!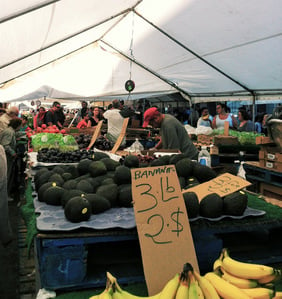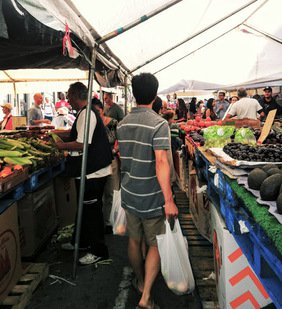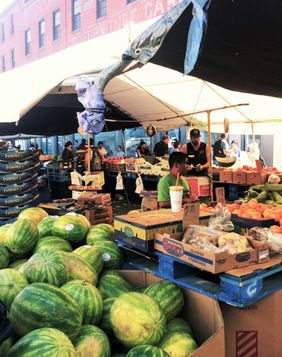 That's all for now! Come back later for adventures in art and science, including the Museum of Fine Arts, the Museum of Science, Boston's South End, and various Cambridge music festivals and art exhibitions.
P.S.: 24.118 Paradox and Infinity, a course that I raved about here, is now available on edX for public access and learning! If you love math and computer science, want something to learn over the summer and possibly get a verified certificate for it, or simply enjoy thinking about puzzles, paradoxes, logic, and the meaning of truth, make sure to check out Paradox and Infinity here: https://www.edx.org/course/paradox-infinity-mitx-24-118x. The class, taught by the man who currently holds the record for naming the largest finite number, left me mind-blown and even more enamored with math and MIT's uniquely technical approach to philosophy. For a preview of Professor Rayo's contagious enthusiasm, check out these videos on sizes of infinity and the Grandfather Paradox on Wi Phi: http://www.wi-phi.com/contributor/agustín-rayo.
P.P.S: Season 3 of MIT's own Science Out Loud YouTube series is now available online! Blogger Elizabeth C. '13 got us excited for it here and Ceri R. '16 here. In this season, MIT answers essential questions like "Why Do We Have Snot?" (hosted by Elizabeth C. '13), "Why Can We Regrow A Liver (But Not A Limb)?" (hosted by Ceri R. '16), "What Is A Fractal (And What Is It Good For)?" (hosted by me), and other awesome ones like "How Do Braces Work?" The complete Season 3 of Science Out Loud can be found here.