In Matt's recent entry about the movie 21, he mentioned that he found Ben's room "more soulless than any dorm room I've seen at MIT." I haven't seen the movie yet, but I would find it hard to believe that the producers behind 21 did their research (among other things – apparently, according to them, we don't date or have fun?), because rarely do MIT students forgo the opportunity to decorate their room – especially in dorms like Burton-Conner. Because Burton-Conner residents are permitted to paint their walls, they often take it a step further and use their rooms to truly express themselves.
Below you'll find accounts of six very different rooms on my floor, Burton 1, all decorated in such a way that creates a place that not only serves as home, but uniquely displays their personality. Each person was photographed in their room after being heavily prepped by a team of hair and makeup artists, as well as relaxing in their personal trailers parked outside of their rooms. No, actually I just ran frantically around the floor with David '08, aka DTemp, a photographer for the MIT yearbook Technique, who is a total pro as you're about to see. I hope you enjoy reading this entry as much as we enjoyed making it!
Dima '10 and Rich '10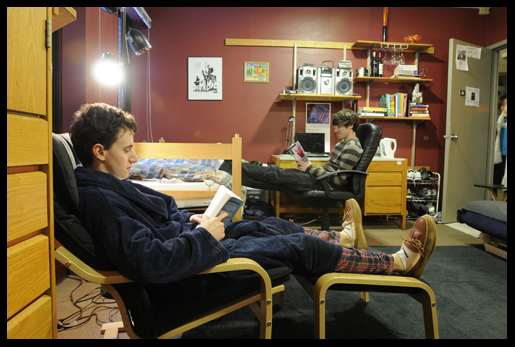 Dima and Rich's room is located in the opening of the biggest suite on the floor, so it's a pretty central location for people to hang out and drink tea. It is furnished both tastefully and practically, with a Picasso painting that Dima often tells people he painted himself amidst Ikea furniture. "We actually didn't initially know what we were going to do with our room," said Dima (pictured in the foreground). "But we did know we wanted a comfortable place to unwind after a challenging day of classes, a place to drink tea while discussing scholarly topics, and most importantly, get all the babes – or, at least, a large proportion of them."
"So with these goals in mind, we set out for the local Home Depot to buy paint. We ended up buying the paint "Royal Academy" by Ralph Lauren, which for those who don't know is a complex shade of burgundy, not unlike a French Merlot. So then we painted our room, and 5 trips to Ikea and a little guidance from Francisco, our interior decorator, later… you know the rest. Oh yeah, and we also had a feng shui fountain above our tea shelf last year but, due to a feng shui overload, it broke."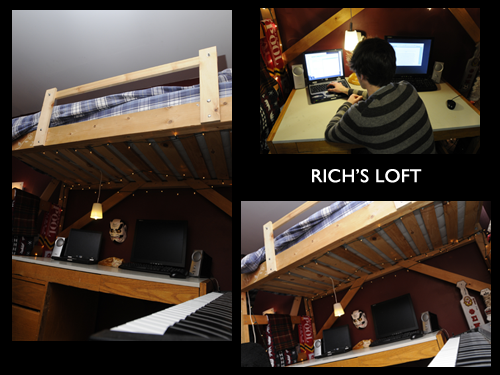 Rich's side of the room, opposite the feng shui tea shelf, contains his desk, futon, and handmade loft. "Basically, I had a huge space in my room, so I went to the Porter Room [a big room in Burton Conner with broken down lofts] and looked for spare wood, and one Saturday my dad came over and we built it. The ends were already made, and we made the top part. Then I put Christmas lights underneath the bed and it created a really cozy area. I thought it would really open the room up if we could put my desk or futon underneath. We wouldn't have space for a futon if I didn't build a loft, or at least the room wouldn't be as open."
It's fairly rare to find two sophomores in a double, as most move into singles, but Dima and Rich also have arguably the best room in Burton-Conner – the double is not only quite spacious but includes its own bathroom (not pictured here, although you can see it in the extra photos at the bottom).
Angela '10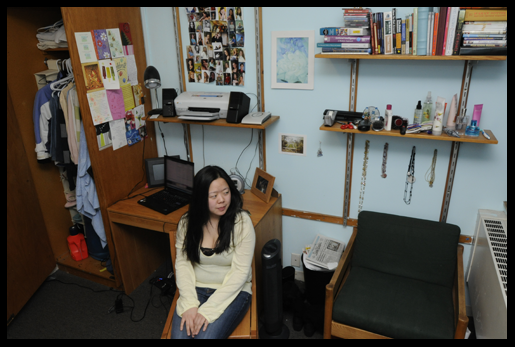 At the end of the year each floor in Burton-Conner holds rooming, in which each of the residents can either pick a new room or squat their current room. Often times, freshmen will move from doubles to singles at the end of their first year. "I picked my room because I thought it'd be nice to have a single, since our floor is already so awesomely social that it's pretty much impossible to feel lonely," said Angela. "So this way I could have some privacy without feeling isolated. Also, my room has a river view which is pretty, and it gets lots of sunlight in the morning!"
Cathy '10 and Anisha '11
Cathy and Anisha are one of the few pairs of roommates of different class years – but it definitely happens. "All the good rooms were taken, so I had the option of a coffin single or a double, and of course when given the option to have a double with a super-cool freshman, who wouldn't make good use of the opportunity?" said Cathy, the grinning girl on the right. Anisha, though standing stoically next to her, commented, "I think I was really lucky to be temped with a sophomore, 'cause it helped me meet so many more people more quickly."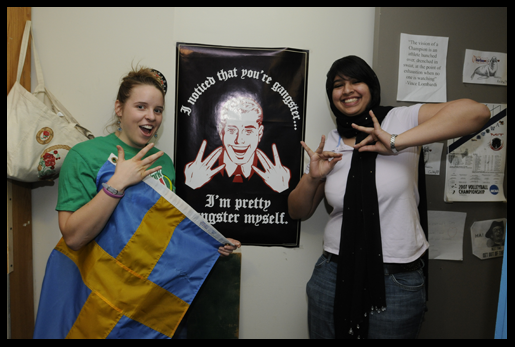 Though they're practically polar opposites, as Cathy hails from upstate New York and Anisha all the way from Malaysia, they can still agree about their favorite part of the room. "It's definitely the 'I hear you're gangster…' poster. I feel it represent the overall vibe of the room pretty well; I mean, I am pretty gangster," said Cathy, with a big smile. "It makes me laugh everytime is see it, and it also makes me laugh knowing that it is the first thing Anisha sees every morning when she wakes up!" Anisha agreed, "The gangster poster is a pretty good reminder that I'm definitely not in Malaysia anymore. As for Cathy being gangster… well…"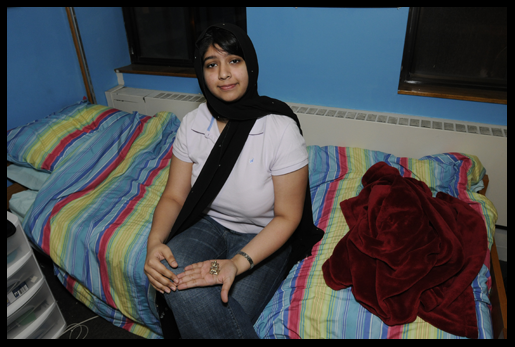 As for decorating, "we didn't really do much to our room cause I kinda like having lots of space," Anisha explained. "And so we focused all our creative powers on the paint job." Cathy nodded, "Aside from the painting, we created this strip of names around our room. We tell everybody who comes in to grab a sharpie and sign the wall. I LOVE it, the people sign in soo many different ways and it's so fun. Last year I always had people sign my wall in simmons and loved it, so I really wanted another signing sort of thing. So Anisha and I decided upon the strip of un-painted-ness to be signable and SHAZAM! It was. And I love it!"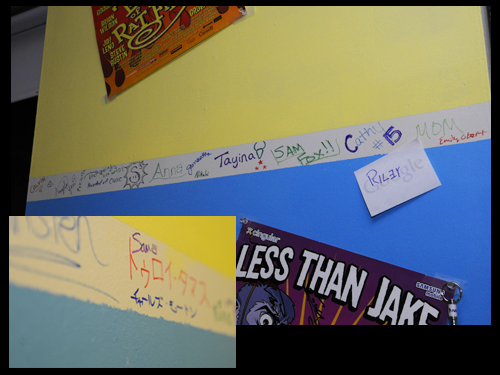 Garrett '11 and Matt '11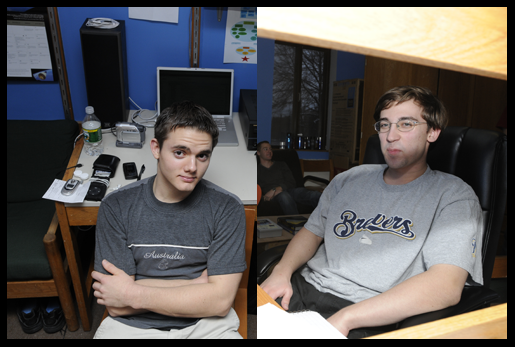 In the complex rooming algorithm of Burton-Conner, certain doubles are slightly larger and thus designated to take on a third resident, should the need arise. Garret and Matt's room is one of these, and thus during fall semester existed as a triple – until one of them moved out around Thanksgiving. "Our motivation to decorate the room came from when our third roommate moved out, not because of him, but because then we would have a lot of extra space," said Garrett (pictured first above). "Therefore, we could pimp it out and make it feel more like home. Also, some real motivation came from the fact that I was going to buy some speakers, so I wanted to paint as well – paint over the cables, and build shelves. I built all the shelves for the speakers and the coffee table, nothing extensive."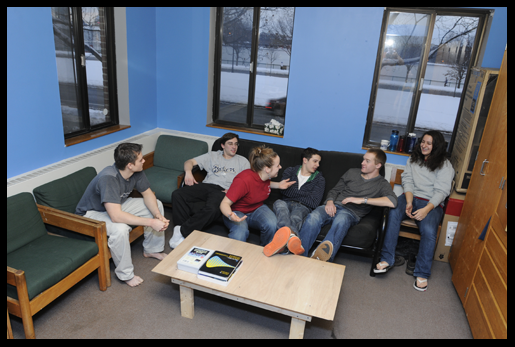 Garrett and Matt's huge double is now a great place for freshmen to convene and study for their exams, or just kick it. "When we moved in, it was quiet, white, and crowded; now it's blue, loud, and crowded – with guests, which is legit."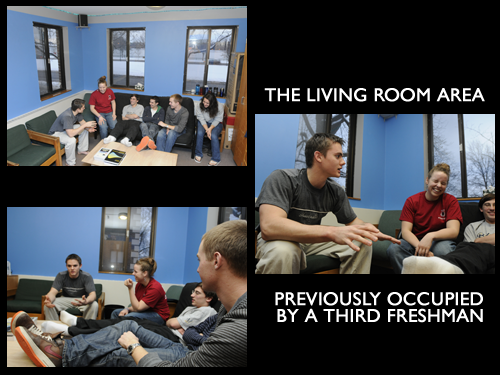 Simone '10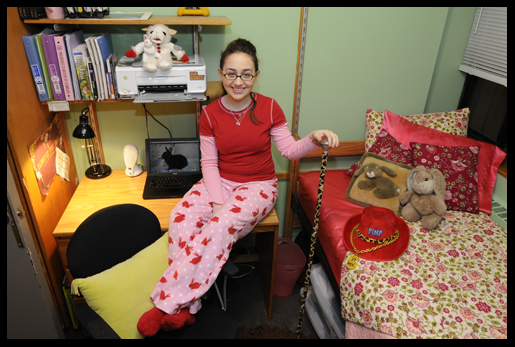 Simone, another sophomore in a single, mixed her fuzzy bunny loving side with her pimp side in designing her room. "We painted the walls a light green and the ceiling a light pink, all in hopes of complementing my beloved and well-known pink satin sheets," she noted. "I absolutely LOVE bunnies, and recently discovered during the B1 Halloween party that I love being a pimp. My room, therefore, reflects my love for both of these things. Whether you look on my shelves – a bunny finger puppet, on my window sill – stuffed animal bunnies, on top of my bookcase – two more bunny finger puppets and a bunny book, and probably on me – you can see for yourself- you will find bunnies! Similarly, if you look around, you will find pimpness – the satin sheets, the pimp stick, the pimp hat, and the pimp chain." Also of note – the "Big Daddy" sticker on her printer.
And lastly, but certainly not least (maybe the most?) –
Connie '11, Lauren '11, and Mahati '11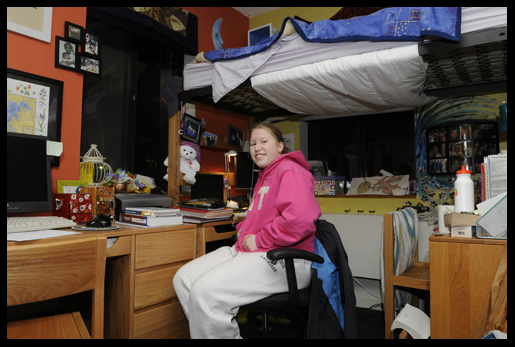 The triple girls, as they're known (as they are currently the only triple on the floor), weren't all home when we came by to photograph them, so only Lauren is pictured above. However, both Connie and Mahati contributed their thoughts on the decoration process. "Living in a triple means we have to be creative about finding place for all of us to put our stuff and our decorations," noted Mahati. "Our room is a perpetual disaster zone. We recently rearranged furnitutre, which took hours more of deliberation, drawing floorplans, etc., and then a few hours of implementation. We divided the space into two – one for hanging out and mess, and the other for studying, sleeping and less mess."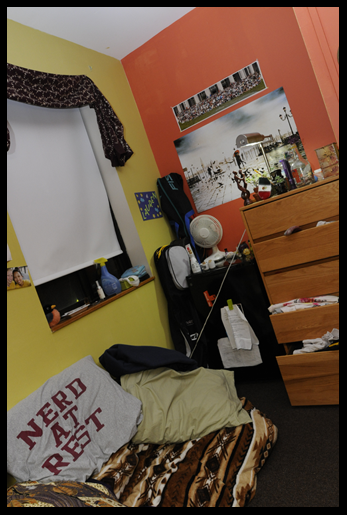 Although – there isn't much of the less mess section. "It's usually too messy for people to hang out here," Connie said. Mahati agreed, "We theoretically have a nest of pillows to accomodate guests, but often, my violin and music stuff it sprawled all over it, along with everyone's dirty laundry."
As for the look of the room, Mahati mentioned that they all like to paint their walls occasionally, especially when stressed. "We went for a artsy, earthy, color-saturated, cluttered, eclectic look," said Connie. "It's actually got a lot of Indian influence, which all of us really like. We started off choosing two really bright contrasting paint colors and we had a lot of hangings from China, India, and a random Tibetan store in Plymouth."
All three girls were given the option to move into singles at the beginning of the semester, but each turned it down. They all agreed that they loved their room, even if it was crowded and messy most of the time. "We can add whatever we want on a whim, and our room is just a way for us to be creative every once in a while," said Connie.
So those are the six cribs of Burton 1 we chose to highlight, although we have several more rooms on the floor, and we photographed twelve in total. The rest can be found here:





Anyway, we hope you enjoyed this (first?) installment of Burton 1 Cribs! Thanks for reading, and a big thanks to everyone who made this entry possible!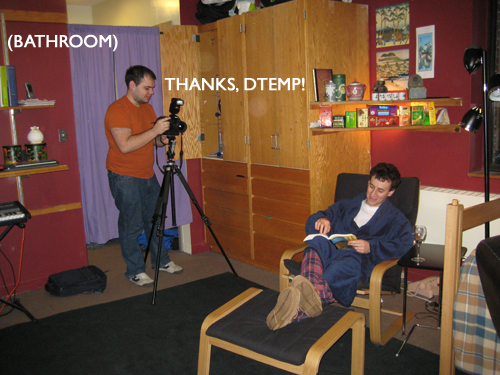 44 responses to "Burton 1 Cribs"