… a new version of you?
(Did anyone watch Felicity? These lyrics are from the theme song , which JJ Abrams, the creator of the show, wrote. Interestingly, Abrams is directing Mission: Impossible 3, in which Keri Russell stars. It's something with those ladies from the WB, isn't it, Tom?)
The second I de-planed, literally, I felt very much immersed in Boston. On the hallway thingy that connects the plane to the airport, I heard an airport employee reference his "Smaat Caad." (smart card, in the local accent)
Okay, anyway. I'm now at MIT! The first thing I did once I got back was go to Anna's Taqueria and get a burrito. I didn't even think about how much TechCash I had on my MIT Card, but it's a good thing I didn't get a super burrito, since after paying for the regular burrito, I had 81 cents left on my card. After dinner, I went to LaVerde's (grocery store in the student center) and bought a banana. At this point, I had 47 cents left on my card. You know me, living on the edge.
My room is great. I'm in the same suite as I was last year, but have moved to a larger room with more windows. Now I share a wall with Sam! Last year, I was two rooms away, so sometimes I would call his dorm phone when I wanted to talk to him (and he wasn't online). For some reason, he didn't understand this. Oh well. This year, I can accomplish secret life goal #22: create and use a personalized knocking code. I can't wait!!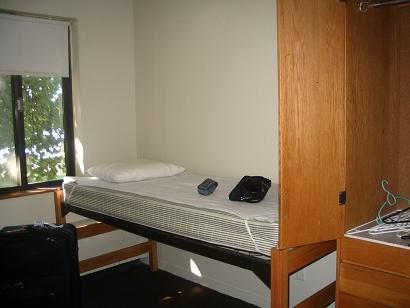 Notice the unpacking priorities: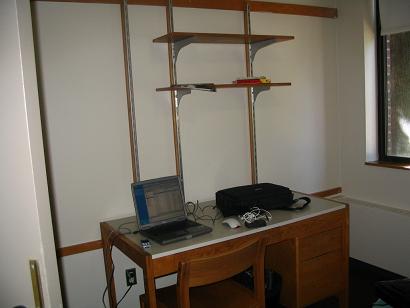 Look, a river view! I'm on the 2nd floor of my building, so you can't see the river well, but trust me, it's there.
Yesterday, I stopped by 10-100 to say hi to people in the admissions reception room. You may remember Mikey '05 and Alia '05 from Matt's blog. They invited me to lunch at the Kendall Food Court.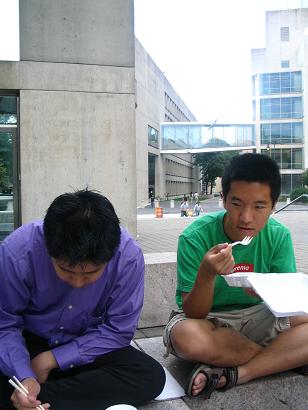 We got lunch with Stephen '05, who majored in Course 7: Biology and is off to Stanford in two weeks for a graduate program in bioengineering. This stud sang in the a cappella group Resonance while he was a student.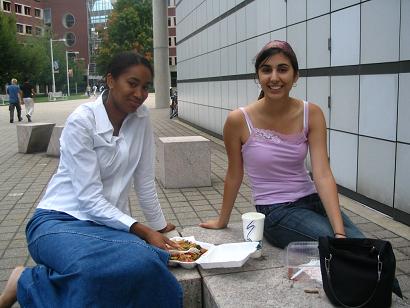 We're eating right outside of the MIT Media Lab, which is basically the coolest place in the world.
Last night, as part of Boston Restaurant Week 2005, I went 33 Restaurant with my friend Rose '05. Before dinner, we walked around Newbury Street, and passed the Boston Public Library and Hancock Tower on our way to the restaurant. This is such a nice walking area, and the evening weather is lovely.
I'm so excited for Orientation and all of the activities/events that occur in the next couple of weeks =) Also, my friends Spencer '07, Stella '07, and I are associate advisors for a freshman advising seminar. I'll talk more about this in a future entry, and hopefully I can even profile some of the 09s. If you're in the area on Sunday, check out Cambridge Carnival – A Caribbean Style Festival.
EDIT: I just found out I have Massachusetts jury duty during the first week of school. Stay tuned for an exciting update.
6 responses to "Can You Become"