By Celena Chan '12
So here I am, writing this, and it just hits me that it has been a week since I first arrived at MIT. I won't dwell on the sucky-ness of being home, but rather, I'll reminisce on the good times.
I guess I'll start off with an introduction.My name is Celena Chan. I'm 18 years old (although, I subconsciously still think I'm 13), a Californian (Nor Cal REPRESENT!), 5'2″, and a lover of all things food. I was one of the students that matriculated before coming to CPW; so I came to CPW with two needs: 1) To have fun and 2) To skip school. Needless to say, both of these desires were fulfilled.
I arrived at MIT around 8 AM, after taking a 6-hour red-eye. Even though I was running low on sleep, I was so excited that my body felt as if I had been resting all my life for this weekend. I received my CPW folder (which included the Bible (CPW activities booklet), 15% discount at the COOP, $20.12 worth of TechCash, and a bunch of other miscellaneous papers), from Bryan Nance, who asked me if I was from LA. Close, but not that close. Apparently, there had been an influx of Californians during that hour. I met up with my friend Ivy, and we dragged our luggage to Baker, which is where we would be staying. One of our hosts, Julia '09, greeted us with a quick tour of her cluttered (but cozy) room. We then set out for the CPW registration hall (in the student center) again, for we were hungry and there was free food. Ivy and I spent an hour circling the events we wanted to go to. We planned to go on a campus tour (which started every half hour), but missed two of them, because we were too engrossed in our Bible. After just missing the second tour, we noticed another girl who had just missed the tour.
Enter Kavita from Florida. The three of us decided to go to New House's Prefrosh Lounge for snacks, where we saw a junk food feast laid out for us.
I am realizing now that my words aren't as interesting as pictures, so I guess I'll start to "show, not tell." (Pwahaha. How many of you guys have heard your teachers say that?)
Thursday
New House Prefrosh Lounge (Despite the sign, I saw some students sneakily taking some snacks.)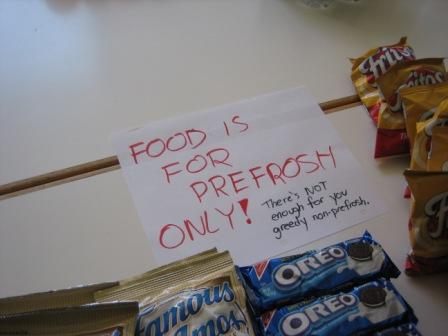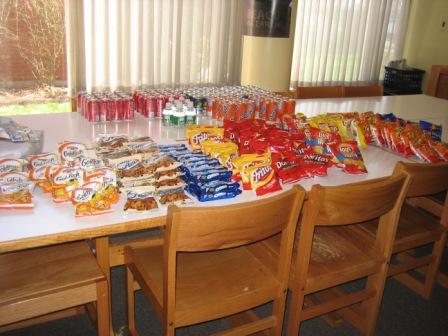 The ball pit @ Simmons Hall. It's surprising relaxing in there. The room was nice and cool (but not chilly!). The dimness of the room just screamed, "Take a nap. NOW!"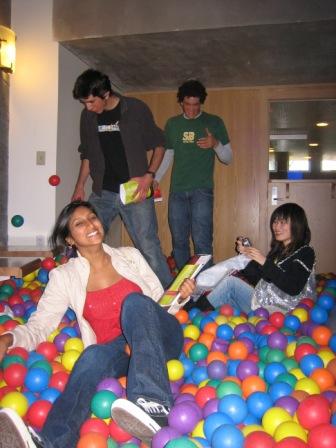 One thing I did notice in all the dorms is that there are a bunch of condoms around (Unopened ones, not used ones). W/ such great availability, there shouldn't be a need to sell them in the convenience stores.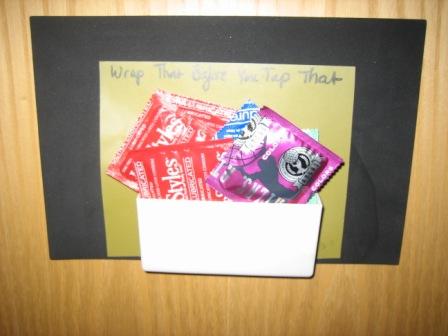 After dinner @ Epsilon Theta (A fraternity-sorority located across the river in Brookline), we took their handy van back to campus. We walked to Random Hall (which really wasn't as far as we thought it would be), for mitBEEF.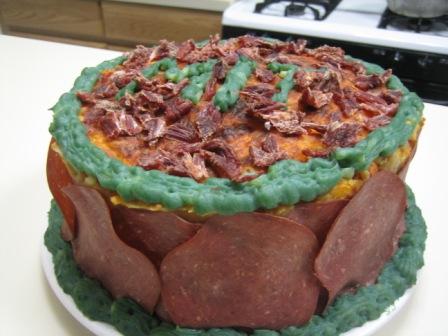 The food was definitely creative, to say the least. However, the highlight of mitBEEF was meeting Qichen, from Wisconsin:
*As we're standing around*
Qichen: Are you Celena?
Me: Uh¡­yes?
Qichen: It's Qichen, from facebook.
Me: OMG! The girl that also likes Asian music, right? HI!!!
And that was the start of a beautiful friendship.
She joined our group of 5, and together we walked back to 77 Mass. Ave. We were 30 minutes early for the CPW Student Welcome and Icebreaker, so we decided to walk across Harvard Bridge.
Curious to see how much a Smoot was, we had 5'8″ Qichen lie on the ground. Apparently, Smoot was about 5'6″ ­he is not the midget we thought he was.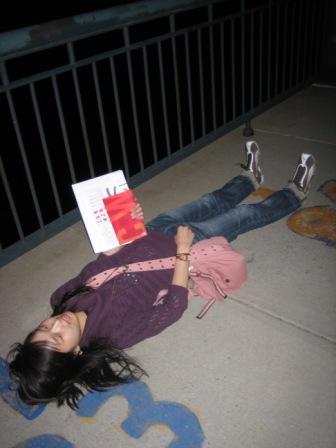 The night ended w/ the Baker House Rooftop Party (the view was most excellent) and across the river to the Skullhouse Monster Party. I got back to my dorm around 2 AM, and surprisingly, both my hosts were not asleep. I guess 2 AM is early on MIT terms.
Friday
We all agreed to meet for waffles at Next House at 8:15. I thought that we were pretty early, but apparently, many of the prefrosh are early risers. We had to wait a long time for waffles, but it was well worth it. The Next House Lounge is totally cozy, it's a pity that they don't serve breakfast. =(
Today we attended 8.02 (Physics II), which went way over me head within the first second because I'm just in Physics Honors. The room was pretty though.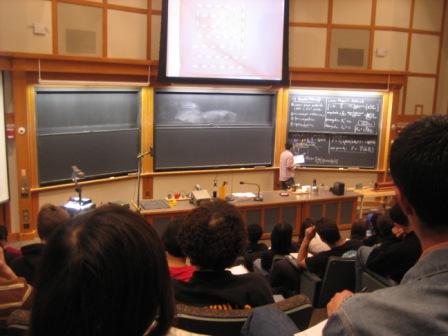 After 30 minutes, we left the class (through the back door of course!). As we were walking down the corridor, I looked through one of the doors and saw something colorful. I decided to explore. I don't know what kind of room/space that was. But it was sure pretty.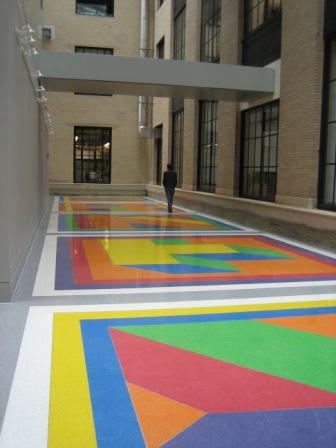 In the afternoon, when Kavita, Qichen, and I were on our way to the Kendall Station COOP, we walked past East Campus and decided that we wanted a tour. We invited ourselves into the dorm, where we proceeded to walk up the steps. There was a guy behind us, and he offered to have someone give us a tour of 5th East. SWEET.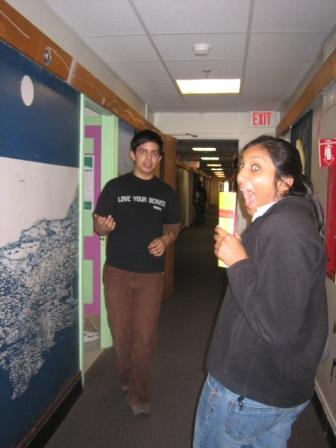 After shopping at the COOP, Kavita left for her Southeast Asian performances, and Qichen and I met up with Alex. We had some time to kill, so Qichen and Alex pretended to look at something in the sky, while I watched the reactions of the people around them. Unfortunately, no one paid attention. BOO.
For dinner, we headed to Phi Delta Theta for some Korean BBQ. During our wait for SafeRide, we saw this kickass (can I say that?) Mini Cooper and decided to take a picture with it. How prefrosh of us, right?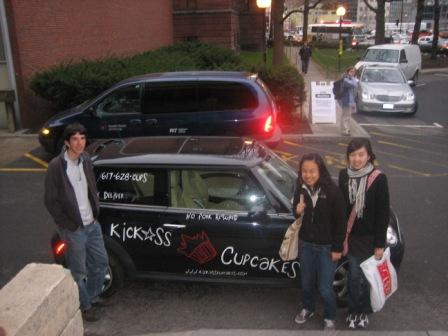 While walking back from dinner, I said:
Celena: "OMG, do you remember when we first met?"
Qichen: "We just met yesterday"
Great. I was getting nostalgic already.
Saturday (THE LAST FULL DAY!!!)
Saturday morning, our group decided to split up (for the most part) and branch out! I stayed with Qichen, and together we tackled some dorm tours. We visited McCormick and Burton-Conner, where we developed a system where we would follow the tour guide for the first 5 minutes, and then just wonder off. This method of touring turned out to be quick and efficient. At McCormick, we decided to go and grab some boba (bubble tea, pearl tea, whatever you call it). Amused by the human boba targets, we asked for a picture. I didn't know it, but it turns out that another guest blogger took our picture as well. We're looking pretty slick, aren't we?
I split from Qichen around 4, which is when I visited the MIT boathouse. I met up with some of my future teammates (Open-weight women YO!), current rowers, and my future coach Aaron Benson (the sweetest guy EVER!). The MIT boathouse reminds me of my boathouse; old, but ridiculously homey.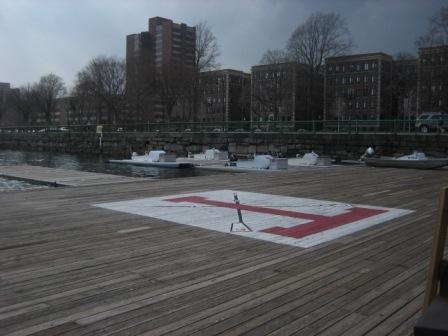 That night, Alex, Qichen and I met up again, and planned to go to Battle of the Bands. Before going to the 2nd floor, we decided to pick up some snacks. And low and behold, we see Paul the blogger! We had accidentally missed the Meet the Bloggers event and had been totally bummed. We weren't going to say hi at first, but then figured, "Why not?" So here we are (By the way, Paul is super cool!):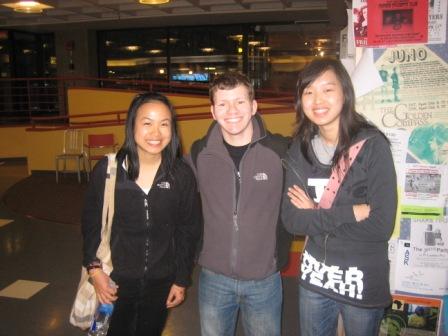 Qichen and I left Alex (who was completely entranced by the music) in the middle of Battle of the Bands to go to the dumpling eating contest. The winner was this dude from East Campus who completely ANNIALATED the whole friggin' plate in what seemed like less than a minute. The person who came in 2nd was this super small Asian girl who obviously had the metabolism of a madman. I was impressed.
Next on our list of things to do with the Graffiti Party at Phi Sigma Kappa; we met up with Qichen's friend from high school (who also happens to be a fraternity brother there), and he gave us a tour of the frat. The frat itself was really nice, lots of lofted beds, which resulted in a lot of space! Downstairs, there is a pool room, and the wall is lined with SNACKS. Frat life seems so convenient!
Sunday
Sunday was kind of slow. The fire alarm went off in Baker at around 3 AM (ARGHAGASH #@$#*@&$), just an hour after I had gone to sleep. Everyone had to file out and wait for the firefighters to scope the situation out.
When I woke up, everyone was gone from the room. I packed up my stuff, lugged it to Kresge and checked out. I spent the most cash today buying food at the airport. Nothing really happened until boarding time, when I saw Bus (a friend from school who also happens to be a prefrosh). After some negotiating we were able to arrange seats next to each other (Yeah, I know. We're good. That's why we're going to MIT).
So reflecting upon all this stuff, I'm feeling a bit strange. I miss MIT, and I miss CPW with all its overwhelming-ness. During CPW I met such a diverse array of people (By the way, did everyone start their conversations with: "Hey, my name is _______. I'm from _________. Do you plan on matriculating?", and I can't wait to meet some more. While I do understand that CPW is not exactly a picture-perfect descriptor of what MIT life will be, I've discovered that college will be what you make it to be. Call me cheesy, but it was the people I met at MIT combined with the community of the school that secures my decision to go to MIT.
12 responses to "Celena in CPW-Land (Guest Entry)"