In honor of some holiday, MIT's Laboratory for Chocolate Science hosted chocolate tasting last night. I went to a similar event in IAP 2004, but this one was much more organized. We had four "flights" of dark chocolate, and cleansed our pallets with bread and water. (Chocolate, bread, and water = the 3 food groups?)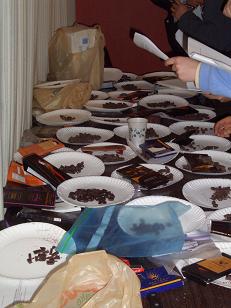 They encouraged us to rub and smell the chocolate, but I skipped that step. I did follow orders when it came to tasting, though; you're supposed to let the chocolate piece melt on your tongue instead of chewing it.
We started out with a piece of Dove dark chocolate, which apparently is less than 55% cocoa — wimpy! We stayed mostly in the range of 60-75% cocoa, and had two insanely concentrated (85% and 99%) pieces.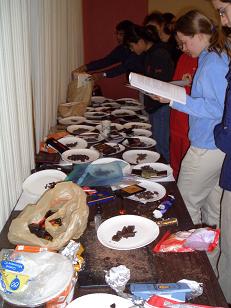 Organization is key.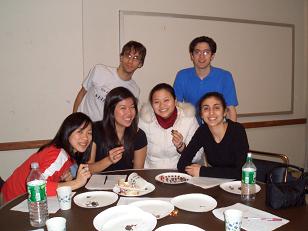 Like the characters in Sideways, we worked hard to find unusual flavors in the chocolate pieces. I found "seafood" in one piece that Sam thought tasted like "olives." Unfortunately, my taste buds aren't sophisticated enough to tell what kind of wood the chocolate was aged in, but maybe by next year…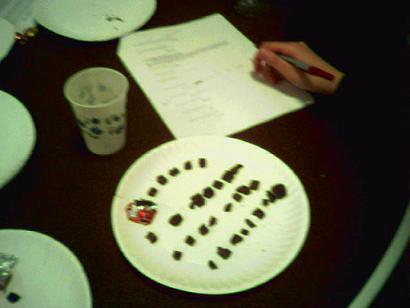 From an LCS email: "Every year, the Laboratory for Chocolate Science makes truffles to sell for Valentines Day. Naturally, this year is no different! Please stop by our booth in the Student Center, Valentines day from 10am-7pm in the Student Center. There are nine different varieties of truffles in white, milk, and dark chocolate. The truffles are three dollars for two; come pick up a pair for your friends, your sweetheart, or even yourself!"
P.S. Does anyone watch Grey's Anatomy? If so, do you think Meredith should wait around for McDreamy or move on with her life? And wasn't the bomb squad guy totally perfect for her until he got blown up?
9 responses to "Chocolate Tasting"