But first I'm going to talk about the Toons.
Some of you might recall that I'm in an a cappella group with a lot of really great people. Well, that a cappella group is having our last concert of the semester/calendar year at 8:00 in room 32-123 this Saturday, 12/7! We've been preparing like crazy to put together a kick-ass performance. There's a song by Vienna Teng with a glorious choral arrangement. There's dubstep piece with many wubs. There's a Red Hot Chili Peppers song with a guitar solo. In a cappella.
Of course, the concert's not limited to just singing, because who does a concert with just music? (Hint: it's not the Toons.) We've scrabbled together a series of skits in following with our concert theme, which is, for some reason, TOONS GO CAMPING.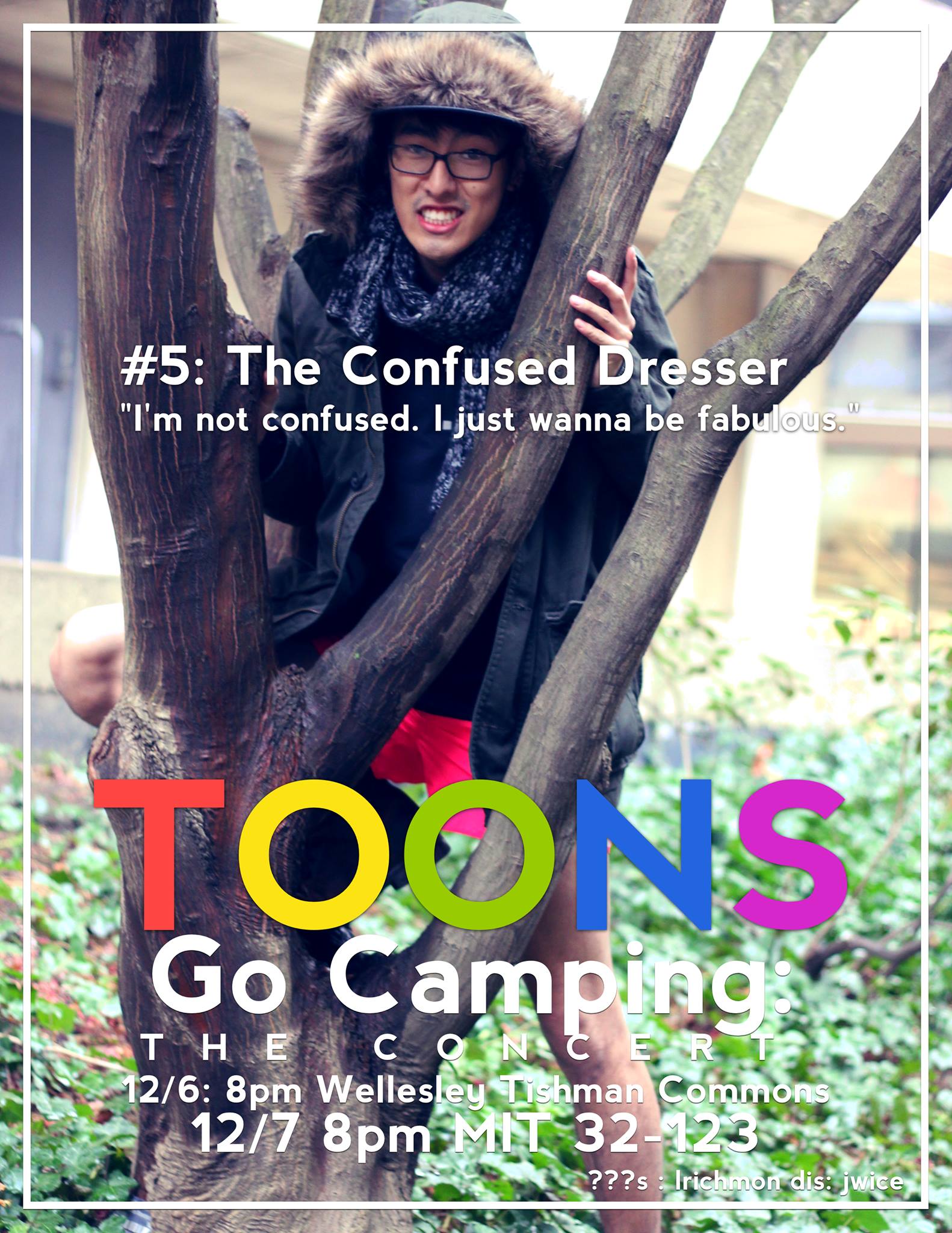 (We also, by the way, have hilarious flyers.)
It's been a little hectic preparing for this concert, between publicizing, preparing skits (we literally started learning them this Friday), and attempting to put together and remember choreography on top of memorizing all the music. Nevertheless–it should be a really good time and if you're anywhere vaguely in the vicinity of the Boston area you should come check it out. Details at our Facebook event here.
Preparing for Toons, however, means that I'm feeling particularly musical these couple of days. Combine those with almost-the-end-of-the-semester feelings (last day of classes in next Wednesday, and finals week follows, then it's time for break!) and you get the Christmas playlist I decided to put together on Spotify. Here it is:
Wrapped in Red by Kelly Clarkson: I haven't actually listened to this album yet but it's Kelly Clarkson, come on. I learned about this album from my brother so I expect it to be amazing.
Soundtrack to The Polar Express: This was one of my favorite movies as a kid and the soundtrack is pretty brilliant. Yes, it's that one movie about believing in Santa Claus and hearing the little sleigh bell ring, where Tom Hanks plays pretty much everybody. (I, by the way, still believe in Santa. I just can't find the fireplace in my dorm room to hang stockings on…)
My Only Wish (This Year) by Britney Spears and Last Christmas by (variously) Wham!, Cascada, and Jimmy Eat World: Two songs close to me because (1) they were the first pop Christmas songs I ever heard, and (2) my band in middle school covered both of them at our first (only) Christmas concert way back in 2009. Ah….adolescence.
Glee: The Music, The Christmas Album (Vol. 1 and 2): I'm a huge Gleek, if you didn't know that already. Featuring, by the way, the most adorable cover of the creepy Christmas classic, Baby It's Cold Outside, by Chris Colfer and Darren Criss (Kurt and Blaine).
A Family Christmas by The Piano Guys: This album is here because it reminds me of last weekend (Thanksgiving weekend) and all the warm fuzzy feelings associated. I included Angels We Have Heard On High in my last post.
I hope y'all enjoy the playlist. I'm also adding to it continuously, so I'd welcome any suggestions you have :)
Happy Holidays,
Allan