Here's what I'm taking this term:
21L.471: Major English Novels
Description: Studies important examples of the literary form that, between the beginning of the 18th century and the end of the 19th century, became an indispensable instrument for representing modern life, in the hands of such writers as Defoe, Richardson, Fielding, Sterne, Burney, Austen, Scott, Dickens, the Brontës, Eliot, Hardy, and Conrad. The class alternates between 18th and 19th century topics, and may be repeated for credit with instructor's permission.
Professor: Ina Lipkowitz
format: two 1.5 hour lectures a week (~20 people, discussion class)
fun fact: Professor Lipkowitz delayed her trip to the hospital to give birth because she was so engrossed in reading George Eliot (Mary Anne Evans)
reading list:
Moll Flanders by Daniel Defoe
Evelina by Frances Burney
Pride and Prejudice by Jane Austen
Mary Barton by Elizabeth Gaskell
Adam Bede by George Eliot
Lady Audley's Secret by Mary Elizabeth Braddon
Tess of the D'Urbervilles by Thomas Hardy
Mrs. Dalloway by Virginia Woolf
21W.755 Writing and Reading Short Stories
Description: Introduction to the short story. Students write stories and short descriptive sketches. Readings from European and American stories from the 18th, 19th, and 20th centuries. Class discussion of students' writing and of the assigned stories in their historical and social contexts.
Professor: Junot Diaz (wikipedia bio)
format: two 1.5 hour lectures a week (~20 people, workshopping class)
fun fact: "Diaz's 1996 book [Drown], a collection of coming-of-age short stories set both in Santo Domingo and New Jersey, caused a literary sensation. Twenty-seven-years-old when it was published, the young author was heralded as one of Newsweek's "New Faces of 1996" and has since garnered a PEN/Malamud Award for short fiction (2002), a Lila Wallace-Reader's Digest Writers Award (2000), the Pushcart Prize, and the MIT Eugene McDermott Award (1998), among others. The New Yorker, Paris Review, Glimmer Train, and Best American Fiction, 1996, 1997, 1999 and 2000 all have featured his stories." (Spectrum Fall 2003)
reading list: A mix of our own writing, our peers' writing, and published short stories. We began with "Girl" by Jamaica Kincaid, which first appeared in The New Yorker in 1978. You can read the 650-word story (which I LOVED) in its entirety here

21L.702 Studies in Fiction
Description: Intensive study of a range of texts by a single author or by a limited group of authors whose achievements are mutually illuminating. Some attention to narrative theory, and biographical and cultural backgrounds. Instruction and practice in oral and written communication. Previously taught topics include Stowe, Twain, and the Transformation of 19th century America.
Professor: James Buzard, head of the Lit Dept (MIT bio)
format: two 1.5 hour lectures a week (~15 people, discussion class)
fun fact: Professor Buzard is using parts of our class discussion as research for a follow-up to his 2005 book Disorienting Fiction: The Autoethnographic Work of Nineteenth-Century British Novels.
reading list:
Dubliners by James Joyce
A Portrait of the Artist as a Young Man by James Joyce
Ulysses by James Joyce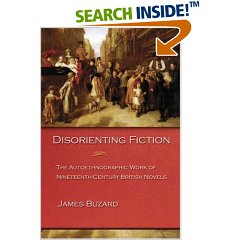 (Yeaahhh…. Image courtesy of amazon.com)
Besides my first semester freshman year, this is my only semester at MIT without any economics classes. This is both exciting and sad — I am head-over-heels in love with all 3 of the classes I am taking this term, but miss the thrill of constrained optimization. It's a nice change to be reading and writing so much, but we analyze these works in such depth that my homework is definitely as intense and rigorous as a problem set.
14 responses to "Classes – Spring 07"