8:55am: I arrive on campus to discover there's been a hack in Lobby 10! The hack is two giant "paper airplanes" made from Athena header pages [another use for header pages].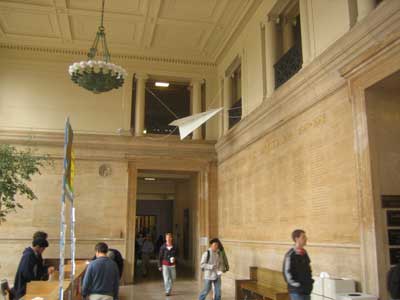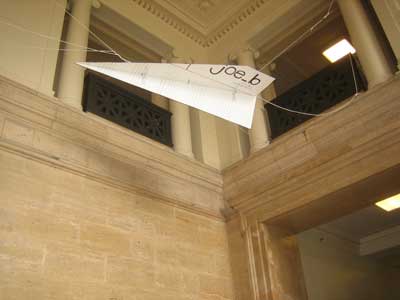 9:15am: I arrive at the President's Welcome just in time to see Marilee introduce President Susan Hockfield.
9:19am: Susan Hockfield: "Living and learning at MIT is not a spectator sport."
9:24am: President Hockfield is fielding audience questions. Question from prefrosh Sam M.: "What's your favorite part of your job?" President Hockfield: "You. The students." They talk back and forth about Sam's dream of becoming an astronaut and surgeon.
9:28am: A parent's question: "How important is it to choose a major by the freshman year, and what support do you give to help make that choice?" President Hockfield: "There is a huge amount of choice at MIT, and the hardest thing is which of them to explore. […] We do things in the freshman year to make it easier to make the choice of major. It is diffucult to choose, but almost all of our students choose a major and find sufficient room to explore other things."
9:33am: Marilee is introducing the keynote speaker, Prof. Catherine Drennan.
9:35am: Prof. Drennan is talking, giving her talk, "From Molecules To Medicine."
9:38am: She asks who in the room has done an acid-base titration as "research" in high school. Almost everyone in the room, 1000+ students and parents, raise their hands. "Wow." Prof. Drennan: "You will never do an acid-base titration at MIT." Goes on to give examples on MIT chemistry research. Prof. Tim Jamison's lab can make the molecule Amphidinolide, a natural product with anti-tumor properties. Prof. Alan Davison's lab designed Cardiolite, which is used in heart imaging. Prof. Tim Swager's lab designed senors that detect vapors of common bomb-making chemicals such as TNT. [this is really cool research!] This is currently being used in Iraq.
9:55am: Prof. Drennan has been talking about the research undergraduate UROPs do in her lab. Her students get so excited "they sometimes forget to eat!"
10:05am: Prof. Drennan tells an amazing story of her first UROP student. She gave this student, a freshman, a problem that other labs had been trying to solve for decades and had deemed impossible. This student, though, was fearless and did it! Her colleagues were incredulous. "'How did you do this? We've been trying for years!' 'Well, you didn't have an MIT freshman in your lab!'" This student was Gitrada Arjara '02. UROPs in the lab have continued to do great things.
10:38am: After grabbing a delicious breakfast burrito at Anna's Taqueria, I head on over to the UROP panel. There are probably 200 people in attendance at this panel.
10:49am: One student panelist, Robyn '07: "Our small goal is to fix global warming. Once we do that, we'll move on to our next goal." Read more about their "small goal" at the Vehicle Design Summit.
11:00am: More from the UROP panel… Mark '07: "I came into MIT as a professional triathlete… I said, I don't know if MIT has a wind tunnel, but if they do, I want to put bikes in there." "We look at athlete aerodynamics. Instead of athletes using drugs to win races, they can use technology. Well, I guess that's just a different type of technology." "I have a few product designs on the market now. I'll have my first bike in the Tour de France this year." Read more in this old blog post.
11:25am: Mark '07 is leading an ad hoc tour of the Wind Tunnel, but I can't go because I need to run the Gap Year panel. So, I'm heading across campus to do just that.
2:03pm: I'm back at Registration now, having finished with the Gap Year Panel. The Panel went even better than I had hoped! The room was full, and our panelists did an excellent job talking about the pluses and minuses of taking a year away between high school and MIT. I'm hopeful that after this successful panel, even more people will strongly considering taking a gap year. (I'll write another entry or two about this after CPW)
2:35pm: As you may have heard, Caltech students produced a "prank" issue of MIT's student newspaper, The Tech. I just finished chatting with an old friend, who, as it turns out, was responsible for the issue. I was glad that the prank wasn't mean-spirited, and was occasionally funny.
2:52pm: I should also note that the real issue of The Tech is out, and includes a story on CPW. It has some photos, as well.
Dean of Admissions Marilee Jones started off the weekend last evening at Rockwell Cage, encouraging students to enjoy the weekend and describing the mission of MIT.

"Every school has a different mission on Earth," she told the audience. "Other schools produce presidents … but we solve the problems of the world," Jones said.

Jones was interrupted by the MIT Logarhythms, who were hidden amidst a sea of prospective freshmen. After a performance by the Logarhythms, Jones led a round of "Happy Birthday" for students with birthdays over the weekend and introduced Director of Recruitment Jennifer Rifken, head of this year's CPW and part of the Admissions Office.

Rifken was excited about the "largest CPW ever" and encouraged students to enjoy all the activities on campus. "We're really excited," Rifken said.

After an icebreaker, the prospective freshmen were led to the CPW Festival by the MIT Marching Band. The festival showed off a handful of MIT's living groups and student activities, offering performances and games for prospective students.

Desiree Amadeo, a prospective freshman from New Hampshire, said she was excited to be at CPW and had already turned in her acceptance to MIT.

"I might try to battle someone with swords," said Amadeo, referring to a large boffing area set up by Random Hall.

Amadeo said she chose MIT "because of the impact" and the community's "diversity." MIT's preview weekend "is a lot different than taking tours at other campuses," said Amadeo.

This year's CPW offers more than 600 events, a substantial increase from last year's number, McGann said. [read more]
3:55pm: I'm getting ready for the second version of the MIT Abroad panel. Yay!
4:20pm: The Abroad Panel is once again going quite well. Sam once again did a great job talking about MISTI and the MIT-Germany program.
4:25pm: I'm learning a lot about the MIT-Madrid study abroad program.
4:30pm: I wish I could stay a little longer, but I need to head to yet another panel, this one about dorm life. (The Abroad Panel is talking about the Cambridge-MIT Exchange right now, and I do know a lot about it)
8:19pm: The Dorm Panel went well. Then, I ran to dinner with some students, and now I'm on m way to the Blogger Party =)
1:00am: Blogger party went well. More on that some other time. Afterwards, a bunch of folks from the office went out to relax and unwind a bit. And now, it's bedtime. A great CPW Friday.
12 responses to "CPW Friday liveblog"