6:36am: Alarm clock goes off. SNOOZE.
6:45am: I actually wake up. I look outside and see that the bad weather hasn't yet arrived. Hmm.
7:35am: Nance picks me up; we head in to campus together.
8:10am: I drop off the CPW Festival programs at CopyTech (the campus copy center) to be copied — 1000 doubled-sided, folded copies are on their way for tonight's event.
8:20am: Ben starts spreading the word about all of the airport delays and closings, including O'Hare in Chicago.
8:25am: CPW Registration opens; I take my post at the Help Desk.
8:50am: The first student I recognize arrives: Candice from Utah =)
9:42am: The 100th student arrives!
9:55am: Snively!
10:30am: It's starting to get windy, but still no precipitation.
10:55am: Dean Marilee Jones has arrived!
11:13am: It has started to rain. Lots of umbrellas on the campus tour.
11:30am: Kevin '11 quizzes me about his application. I say, "Did you design a pinball machine for a nursing home?" Kevin '11: "No! I designed an arcade machine for a hospital." D'oh! So close, yet so far.
11:45am: I talk to Steven's mom on the phone from Tennessee. Hi!
1:10pm: Edmund says, "You really are good at the 45 minute conversations, Matt." I'm tired from 90 straight minutes of talking, but it was great to talk to a family from Nebraska and our head Educational Counselor from South Korea. Now, my shift is over. Nearly half of the students have arrived. I have time for a quick break, then go talk to prospective members of the Classes of 2012 and 2013 (!).
3:31pm: I can't walk more than 10 feet without getting stopped in the halls. It's awesome, but I'm starting to lose my voice! I'm now getting ready for the Abroad Panel. It's always a fun panel, so I'm looking forward to it =)
3:46pm: Almost all set for the MIT Abroad Panel! The Powerpoint is running off of this laptop, so no more liveblogging for the next hour or so…
5:24pm: Abroad Panel is over. Sam was a panelist, and did an awesome job talking about MISTI and his experiences in Germany.
5:56pm: Quick rest in the office. The weather hasn't been quite as bad as I'd feared, but the rain is starting to pick up a bit now. At least there's no more sleet.
6:05pm: I get a chance to upload some pictures from earlier today.
Tim the Beaver made an appearance, welcoming and hugging students: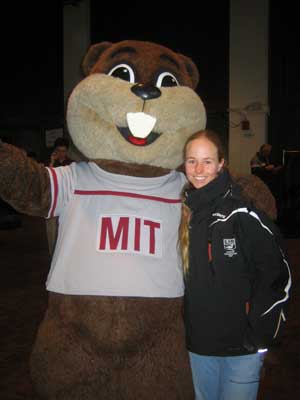 Kevin '11 shows off his nerd-tastic shirt: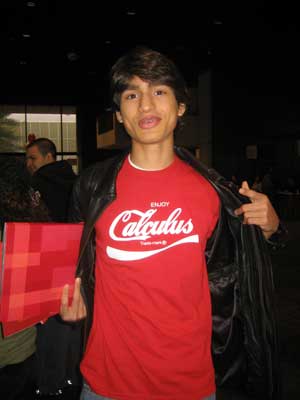 Ben and Mollie register a student: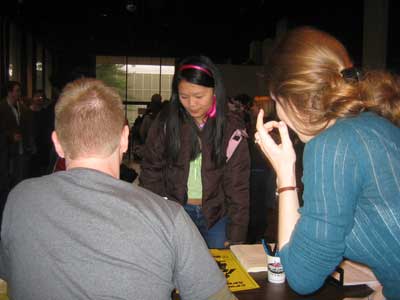 8:20pm: I've been running around getting the Student Welcome and the Festival all set. Now, with the Festival 10 minutes away, I'm taking time for a quick breather before things get started. The Welcome and Festival are two of my favorite CPW events, so I'm pretty excited. Students are filing into Rockwell Cage — the site of the Student Welcome — and I'm happy to see that most people are traveling in groups, having already made friends on campus. This is going to be a great way to cap off a great day.
12:59am: What a day! I have finally reached my bed. The Festival has ended, and I think people had a good time. The Welcome was awesome, too — I wish I could step like the A Phi As, and I wish I could sing like the Logs. My voice is shot now from talking so much, and while I'm exhausted, I fear I'm still too excited to sleep. Anyway, it's time to sign off for the night. Happy CPW Thursday!
12 responses to "CPW Thursday liveblog"