My Wednesday:
9:00 AM — Swim Test at the Zesiger (Z) Center.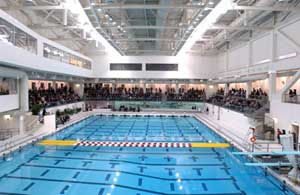 For some reason, I waited until senior year to take the mandatory swim test, but I miraculously passed and am now a teeny bit closer to graduating.
10:00 AM — Shower, eat, do homework (and write this)
1:00 PM — Attend 15.501: Corporate Accounting lecture
2:30 PM — Volunteer at the International Development Network (IDN) Crafts Fair in Lobby 10
Though today is the Crafts Fair, Friday is the International Development Fair itself, which gives "MIT students the opportunity to learn about ways that they can become engaged in international development through student groups, non-profit organizations, or academic course offerings in and around MIT campus. Groups and organizations of all types set up booths to display their development projects and enlist the interested students who pass through the fair grounds.
"The annual Fair is organized by the MIT International Development Network, a community network developed to promote and share information about activities, programs, events and formal academic offerings related to International Development. The Fair is also the flagship event of MIT's International Development Week."
3:30 PM — Attend Development Lab (D-Lab), whose trips to other countries in January (reread) are partially funded by the Crafts Fair, I believe
5:30 PM — Learn more about the MIT-France Program at an info session/reception

For undergrads, the MIT-France program offers both internships and study in France opportunities. There could be more programs I don't know about yet, but I will find out tonight!
7:00 PM — Attend associate advisor training to improve my advising skills
9:00 PM — Start to finish monster 14.05: Macroeconomics problem set
Who knows AM — Fall asleep dreaming of a Jim and Pam reunion
7:00 AM — PE Jogging class with Sam '07
And so the cycle begins again. There's so much that I want to do (especially now that I'm a senior and realize that my time is running out) and keeping up can be hard at times, but I love this place. *Sniff*
"Not a bad day."
P.S. 5 points if you can correctly guess what that quotation references
4 responses to "Crazy Day"