Several weeks ago MIT had their famous fall Career Fair where hundreds of companies come and court hundreds of students. It's a time when students update resumes, dry clean suits, get hair cuts, and start practicing their "talk to people not from MIT" routines.
It's funny, MIT is in a bubble in that, as an MIT student, you start to forget what the outside world is like. I remember during out field trip to Hasbro last year, we actually were given a 15 minute talk in the bus about how to behave while not at MIT. As students, we tend to forget that looking people in the eyes, not checking iPods and iPhones every 10 seconds, and acknowledging what people say is important. All of these skills are crucial when wooing the big corporations that you hope to work for in the summer.
Last year I went to the career fair for all of the free swag, and free swag was what I got.
This year it was all about the job. In my suit and with my fancy folder of resumes I spoke with a number of companies and handed out several resumes, topping the evening off with a nice networking dinner at the Hyatt hotel where I got some one-on-one time with some of the companies I was interested in. A job interview the next day and my career fair experience was concluded.
I could go into greater depth about the career fair experience and spin a yarn about the multitude of well-dressed and groggy college students, but instead I'd like to focus on one particular career fair attendee.
Emily Conn '11 wanted a job in the Media Lab and in order to get the attention of the representative. While maybe not as controversial as other "attention getters," seeing Emily pretty much made my day. This is what she was wearing: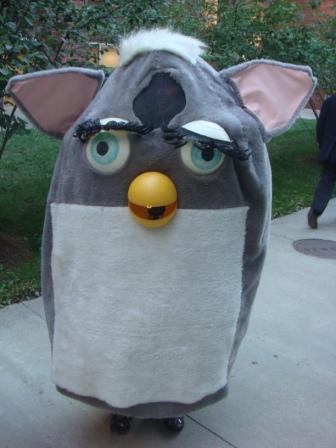 That's right, a giant home-made (albeit, not by her), Furby costume. And it talked!
Just sayin', hope she got the job. Any awesome costumes y'all have made before? I'm looking for ideas for Halloween this year.
21 responses to "Dah noo-loo"