This post is almost entirely devoid of content except to point out a particularly funny exchange in the comments of a recent post.
It's a constant struggle between bloggers and prefrosh over whether the "FIRST!" approach to commenting is acceptable behavior or not. I'm guilty of being one of those irritating prefrosh last year so I go easy on you guys, but some old fogies try to take that opportunity away from prefrosh. What they forget is that they are going up against some of the most dedicated individuals out there, which can lead to why I made this entry. Check out what happened this morning in the comments:
---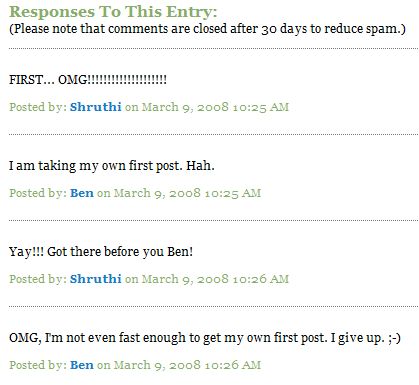 ---
If you didn't lol at that then there's something wrong with you (I'm probably not supposed to say that, but srsly, funny? YesIThink).
Have a great week playing Brawl (I know I will be) and waiting for decisions (I won't be, but I anxiously await hearing about who got in. Bloggers keep track of you guys too you know).
Ciao!
65 responses to "Devoid of Content"