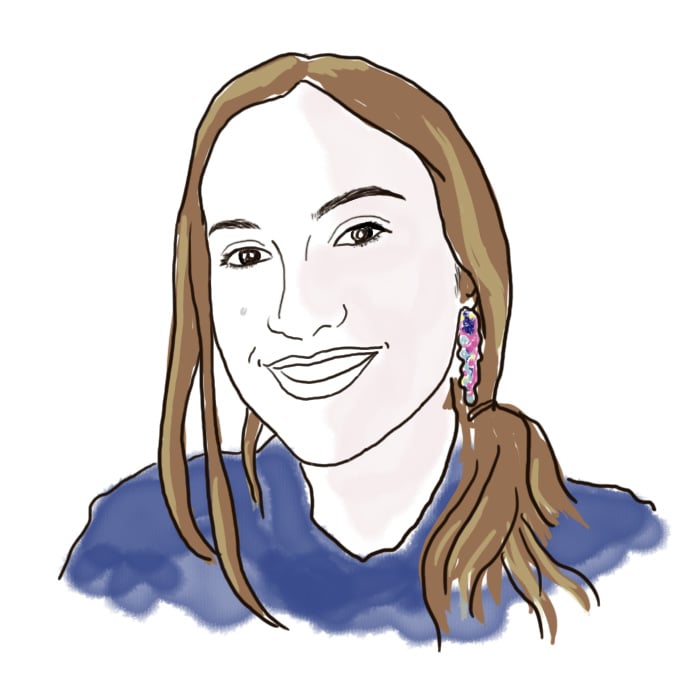 Donuts, used books, and some wonderful/terrible recipes you need not try.
Career Fair is a magical time: in addition to the opportunity and the stuff, the jobful and the seeking return to MIT and I get to see some of my scattered favorite graduated friends.
This year I spent Career Fair season with Alex S. '13, who was here to represent Boeing, Irina O. '15 and Cory R. '14, who were questing for employment, and Luisa B. '16, who actually goes to school here. Adventures!—
Union Square Donuts
Union Square Donuts is one of our favorite places in general: it is my and Cory's magical Sunday morning run destination (we try to avoid sugar but on Sundays we, um, don't). They are a half-hour walk from MIT, by 3 pm or before they run out of donuts. That day we got to get a lot of donuts to share bites of, because there were a lot of us and a lot of donuts still left in the shop.
Irina left a well-attired friendly octopus to guard the establishment and the post-its wall.
We imbibed, in order by presentation,
brown butter hazelnut crunch;
sea-salted bourbon caramel, my and Cory's favorite;
vanilla bean, my second-favorite (tied with maple bacon);
tomato basil, which is absolutely a donut because it has a hole in it; and
Belgian dark chocolate, which is kind of overwhelming if it's your third donut of the morning (we work hard).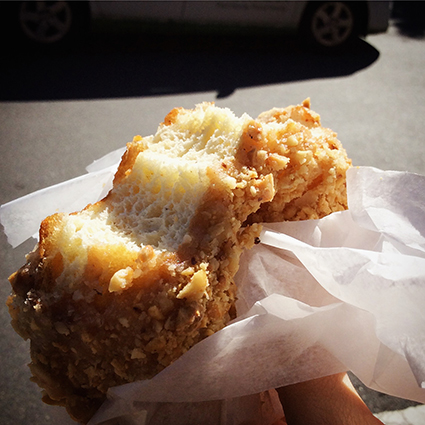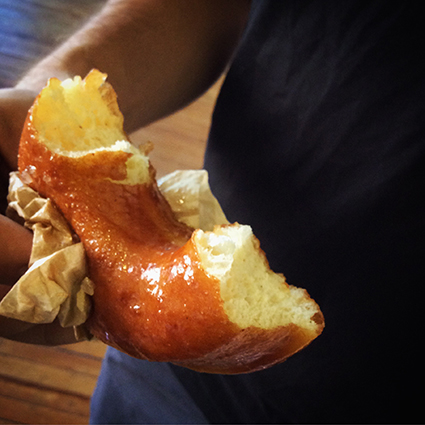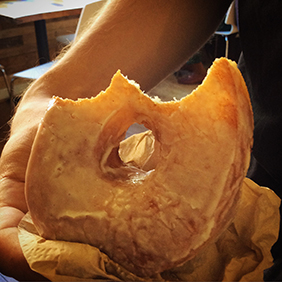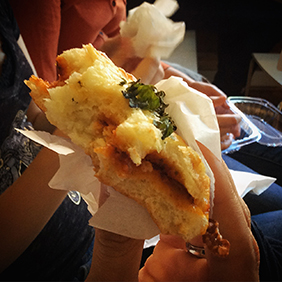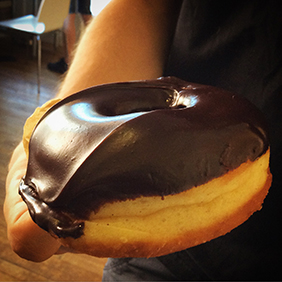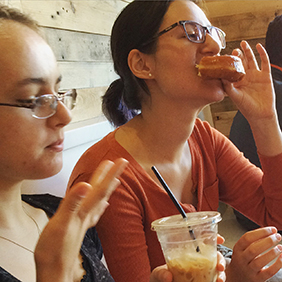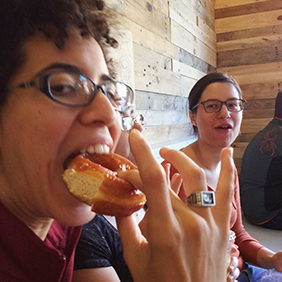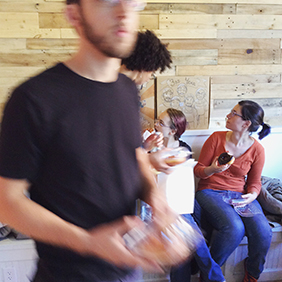 Union Square
Union Square in general feels like its own little town. You can see the Green Building and the Prudential Center in the not-so-distant horizon, and from that distance they don't look like they are separated by 0.3 miles of city, 0.4 miles of bridge, and just as much campus. Things that are far feel less far when you yourself are far away, and things that are scary seem more bearable on a full stomach. When you're on campus it can be hard to believe that all of this is all so close.
Harvard Book Store
Another favorite place is the Harvard Book Store, which is much closer to us now that we live closer to Harvard than to MIT (but still close to both of them). On the first floor the Harvard Book Store is a book store. In the basement, however, the Harvard Book Store is a used bookstore. The ceiling and walls are exposed brick and pipes. The stairs creak, the floor vibrating as trains pass by. The soundtrack is muffled voices from the main shop above.
Magical Banana-Reusing Banana Bread
Finally, while Irina was visiting she taught me this banana bread recipe she found online (but with chocolate sprinkles) after she noticed that in the banana department (as in life) I am unfortunately an equally enthusiastic and persnickety customer (I like them just slightly green (as in life)).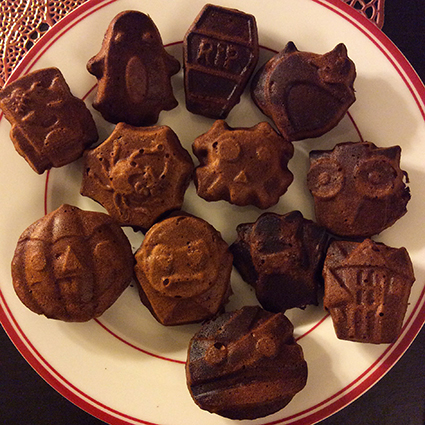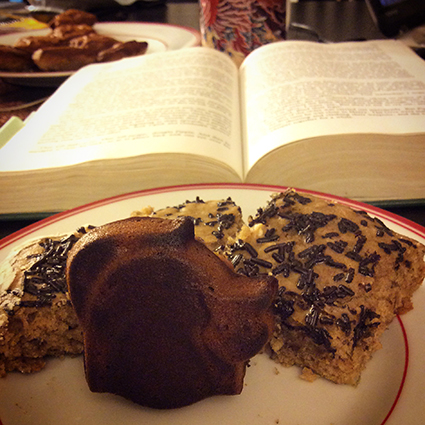 Cory R. '14 and I recreated the bread later, to bring to Paula J. '13's birthday/ANTM and Star vs. the Forces of Evil watching party (that goes: [[Paula J. '13's birthday]/[[[ANTM] and [Star vs. the Forces of Evil]] watching]] party). Here's our artistic process/artistic rendition of the artistic process/recipe (that goes: [artistic process]/[artistic rendition of the [artistic process/recipe]]).
Preheat your oven to 449.82 Kelvins (350 degrees Fahrenheit). In our case we preheated our oven to only approximately 449.82 Kelvins, because while we recently sharpied a dot under the dial we hadn't done it yet.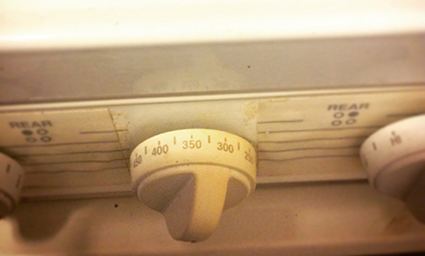 Peel three disgustingly ripe bananas and mash them with a fork until it feels like all your homework is done and you don't have any midterms next week (just kidding; that feeling is unattainable (kidding again; it totally is)).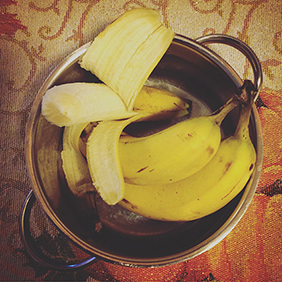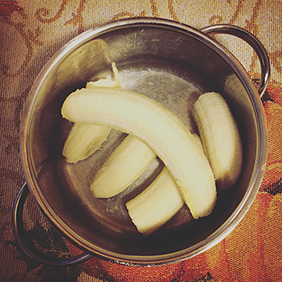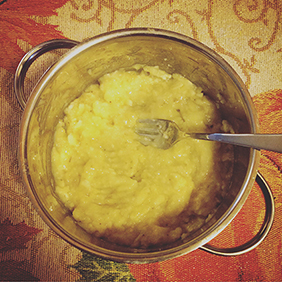 Measure out a third a cup of butter (apparently there are nice little lines on the packaging! who knew!) and melt it in a microwave. We don't usually use butter, but according to our more experienced baker friends, substituting olive oil for butter is not just wrong but noticeably wrong, so for this particular experience we followed the recipe. Stir the butter into what used to be bananas.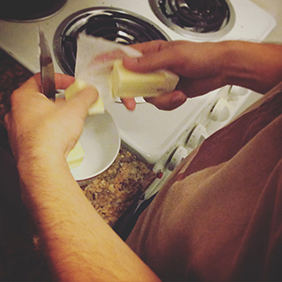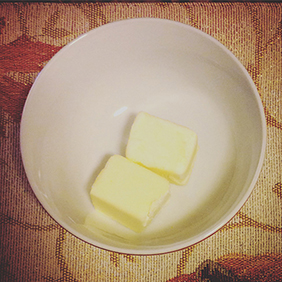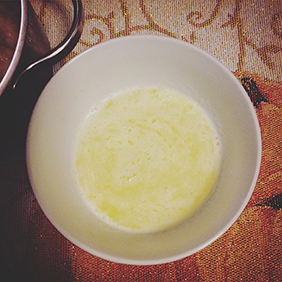 Mix in a teaspoon of baking soda, a "pinch" (what is that?) of salt, one beaten egg, half a cup of brown sugar, and a cup and a half of flour. Be careful!: if the butter is too hot, it will cook the egg. (I didn't know that could happen! Did you know that could happen? Irina knew that could happen.) We didn't have vanilla extract, but technically you should also add a teaspoon of vanilla extract. Irina showed us a neat trick: you can use the inside of the baking soda packaging to scrape off the extra baking soda on the top of the spoon.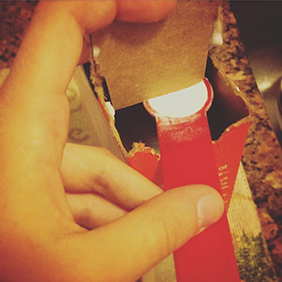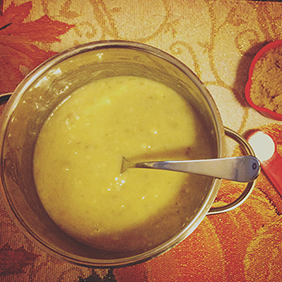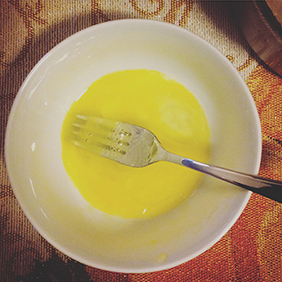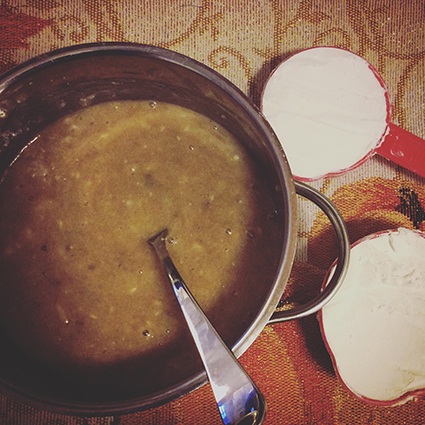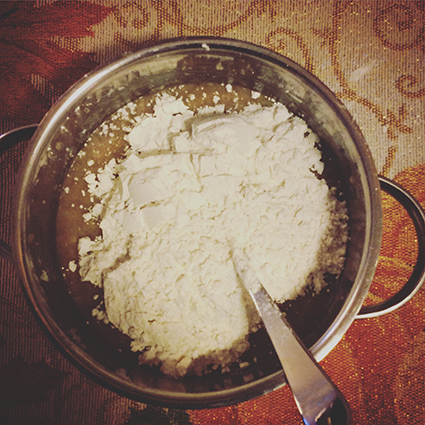 Now the fun part: eat add lots of walnuts and chocolate chips and distribute the batter onto a muffin or cookie pan. We used a cookie pan we found at Target, which if it still exists should now probably be on clearance (or reshaped to have tiny Santas). The recipe says to bake for an hour, but in cookie/tiny muffin form and in a very approximate oven the bread was ready in 13 minutes.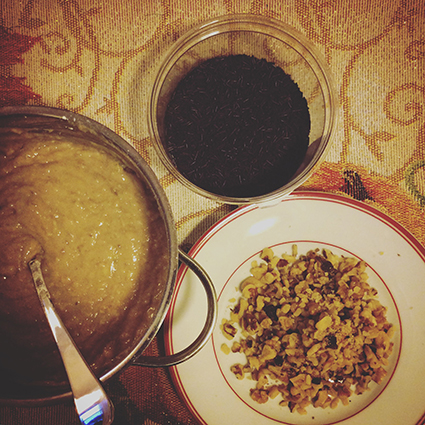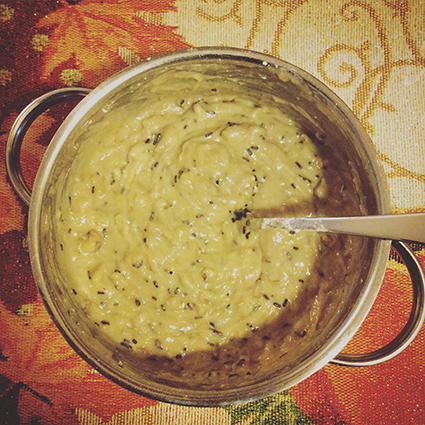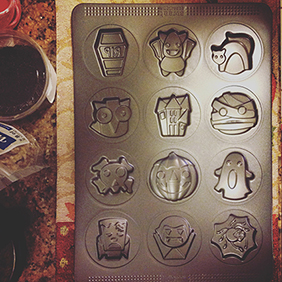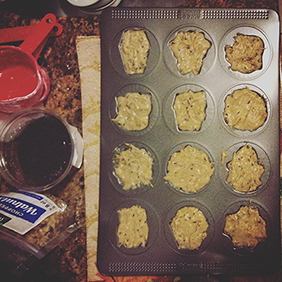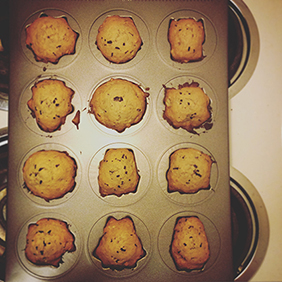 Chocolate Chip Cookie Dough Truffles
We also made chocolate chip cookie dough truffles that Paula had posted on tumblr that morning. You should not make them or God forbid eat them but just in case you are for whatever reason someday required to secretly make them and maybe even secretly God forbid eat them we documented that process, too.
Food process together a stick of butter (half a cup of butter) and three-fourth cups of packed brown sugar. I think you are supposed to use a mixer but we don't have a mixer so we used a food processor. (That probably makes a huge difference, but oh well.) Add two cups flour and a 14-ounce can of sweetened condensed milk. If you have vanilla (we didn't) you should add a teaspoon of it. Add half a cup of semi-sweet chocolate chips and half a cup of walnuts. Refrigerate until the batter is firm.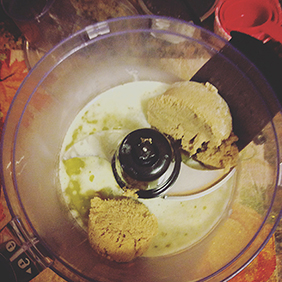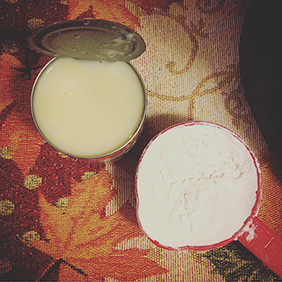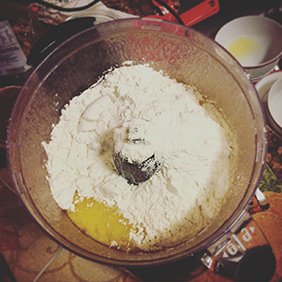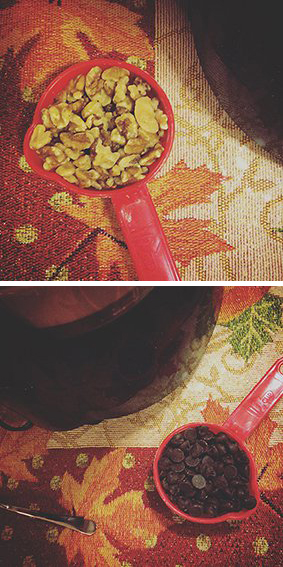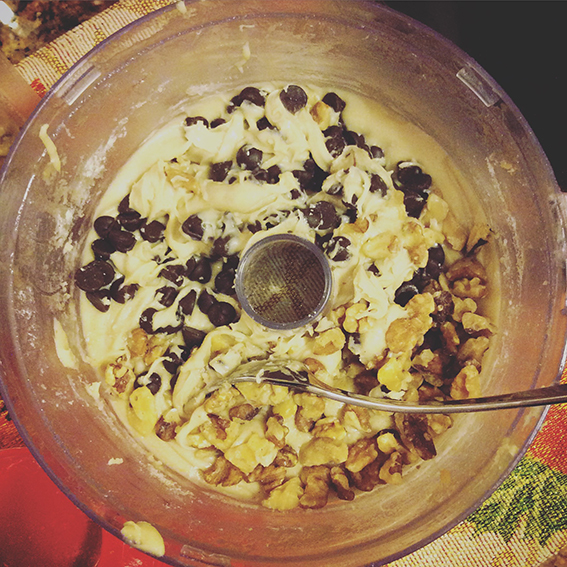 Roll the batter into little balls, using flour to make everything less sticky. We made the balls way too big. They should be tiny. If you have time and patience, refrigerate them again.
Melt a pound of dark chocolate candy coating (which is a thing, apparently). Dip the cookie balls in the melted chocolate and let them sit until the chocolate hardens. If you have special prowess you can artfully drizzle more melted chocolate on them to make them beautiful. Refrigerate or freeze until you are ready to eat them, slowly, with friends (like the new friends you'll make when you offer people desserts), over the next month.