Meet Edmund Jones, a member of the Admissions Office staff (and Sam's freshman year advisor)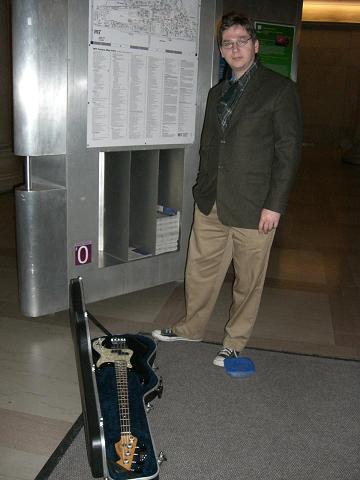 I ran into him yesterday in Lobby 7, snapped this photo (notice the tupperware! what a friend to the environment…), and ran away to a meeting. Here's what he emailed me today:
Mitra,
Where's the blog entry? I'm not seeing it. Are you busy or something?
When you do enter it please be sure to be clear about the bass so as not to confuse your audience. It is a 1998 Fender American Precision Deluxe, black with mother of pearl pickguard, ash body with maple neck and rosewood finger board. I got it on ebay from a really nice guy in Spendora Texas (who's exactly my age, by the way).
Fender also makes instruments in Japan (2nd best) and Mexico (3rd best). They also make student models called Squires. The Precision Bass is apparently the most popular style bass (I read that on the internet so it must be true!) The other style is Jazz (Ben has a Fender Jazz bass).
In addition to the standard split single-coil precision pickup the "Deluxe" version has an additional humbucking pickup by the bridge, along with a 3 band active EQ. I played it last night and it's awesome!
Congrats, Edmund!
5 responses to "Edmund's New Toy"