I can remember, back when I was applying to MIT, there were two huge perks I was looking forward to if I got accepted. The first was a Brass Rat. The second, an MIT e-mail address. There's just something about being able to write down "[email protected]." It's a right of passage, a treat you only get as a student, and there's something just downright cool about having an @mit.edu address.
Now, while I don't have a brass rat yet (this year though!) I did get my MIT e-mail address and happily use it every day. Coming into MIT I had no idea how students used their address. I used Gmail so I'd just go to Gmail.com and log in, but where did MIT students go to check their e-mail? What did it look like? Was it as nice as Gmail? It's time for some answers!
To check your MIT e-mail using just a web browser, just navigate to http://webmail.mit.edu. You'll see a screen that looks like this: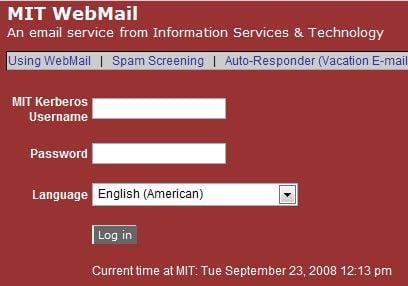 Click for 123K PDF
This is the *gasp* login screen. Simply type in your username and password (both of which you get in May after you matriculate) and you're taken to your e-mail.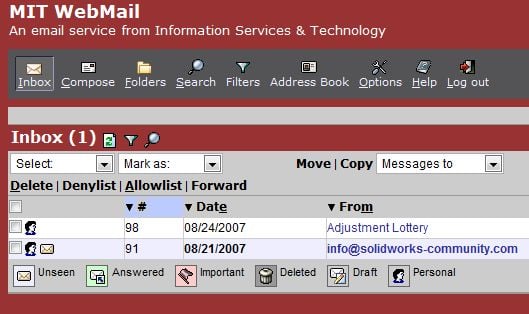 The service MIT uses, Webmail, is a fairly standard service used by a variety of colleges. It has all of the basic e-mail-related features you're used to, but a lot of people aren't big fans of webmail. Its interface is a little confusing, ugly, and bare-bones. The two main alternatives that students use are Thunderbird (or Outlook) and Gmail (what I do).
Setting up your MIT e-mail with Thunderbird is straightforward and MIT IS&T has step-by-step instructions here.
Lesser known is how to use Gmail to host your MIT mail. To do this you get to use a nifty little tool called "PuTTY," which lets you SSH into MIT's network. In non-tech-speak, you're basically pretending you're at an MIT computer even if you're not. Go ahead and download PuTTY here. Once you've downloaded it, sit back and enjoy this nice little video I've made showing you how to log on to MIT's Athena network.
Ok, so, instead of logging out, you're going to want to type a couple of commands, which I detail in the next video.
There you have it, now you're all done! After an hour or two (some updating of lists on MIT's end has to happen) you'll start getting your MIT e-mail in your Gmail inbox.
"But Snively, I still want to e-mail people using my MIT e-mail address, not my Gmail address!"
No worries recently accepted student, I will quell your fears. Go ahead and log in to Gmail, you'll see something like this (well, only if you have the awesome Firefox plugin that I do, making my e-mail look totally awesome):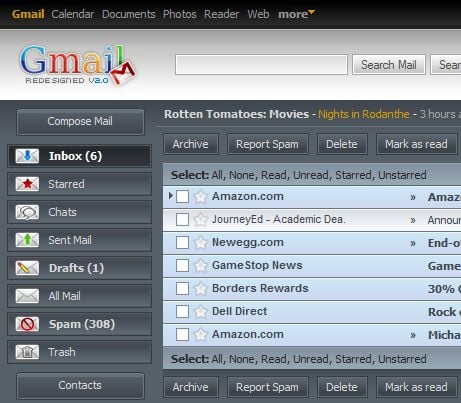 Click "Settings" in the upper right, and then click "Accounts" there underneath the search bar. Click "Add another email address" and then just follow the instructions.
Now, when you compose a Gmail message, you'll see an awesome drop down menu for the "From" field.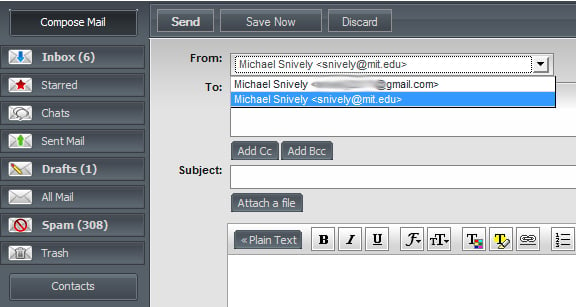 Now you can decide to either send from Gmail or MIT interchangeably, all from the comfort of your pre-existing Gmail account.
A word of warning, when you link your Gmail and MIT accounts, they are actually linked. This means that when you send an e-mail, normally the recipient will only see "From: [email protected]" but in the coding of the e-mail it does make note that Gmail was used as the actual service to send an e-mail. Recently a spambot got a hold of my Gmail account and started spamming various MIT addresses in my address book, which caused MIT spamscreens to start adding my Gmail address (and in effect, my MIT address) to spam filters. In short, people stopped getting e-mails from me. I had to switch Gmail accounts and transfer everything over, which was slightly nightmarish. I'm the only one I know of this happening to, but it can happen. I wouldn't let this stop you from making the switch, however, Gmail is wonderful.
Also, make sure you always send from your MIT address to MIT-related things. Oftentimes they'll only accept e-mails from MIT addresses. It's possible to set your MIT address as the default by exploring the Gmail settings.
There a bunch of other little tweaky things you can do by just experimenting with Gmail so have a good time. If you are confused or need help, just comment and we can help you out.
Thanks for reading this installment of "What does it look like!?" Please feel free to read my previous installment about blogging, and look forward to my next one, entitled "Posting files to your MIT Webspace." Until next time, happy highschooling