Mystery Hunt has begun!
Prof. Moriarty from the Evil Institute of Technology has plans for world domination through weather control. It is our job to stop him!
At 12:17pm today, hundreds of hunters gathered in Lobby 7 for the Hunt Kickoff: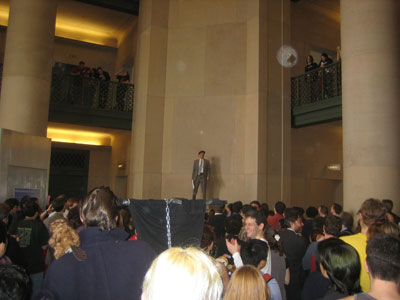 Our team Captain, Keith '02, holds up the sign to gather our team, the Rubber Duck Hunters: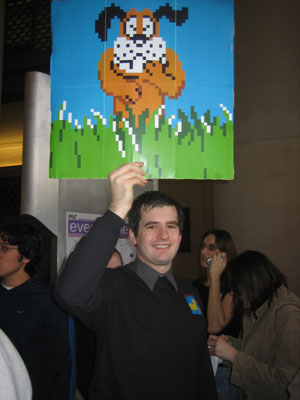 I saw lots of people at the kickoff, including Bryan, who's playing for team Too Much Clue: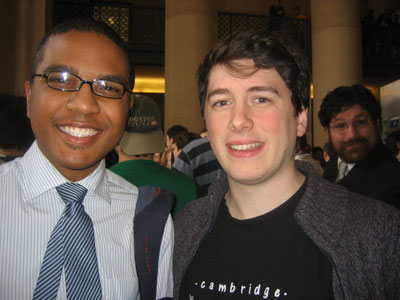 The kickoff was a swanky event (formal attire suggested), with "Champagne" being served (left). Hunt co-organizer Matt '02 (right) is dressed for the occasion.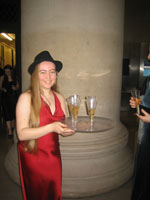 More swanky formalwear… at left, Dan '03, a team captain, dressed up for the occasion. At right, Chris Morse, a three-time Hunt-winning capatin, with teammate Prof. Kiran Kedlaya (right).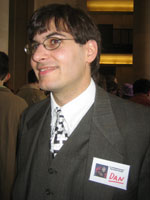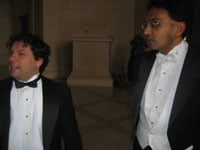 The Hunt is underway, and for our team, it's so far, so good… more updates throughout the weekend.
Finally, here's the answer to yesterday's puzzle… congrats to those who got it!
COOKIE MONSTER
by Marcy Levey, Brian Tivol, and Roger Barkan
First: Recognize the various cookies used to make the cookie monster.
Second: Count how many of each cookie is used in the picture.
Third: Turn the cookies at the bottom of the picture into letters. If a cookie appears N times in the monster, then replace it with its Nth letter to spell the message: CAN BE EATEN.
Fourth: Determine that CAN BE EATEN is a clue for EDIBLE.
These are the cookies:
(C)hessmen, Mil(a)no, Lorna Doo(n)e; Lis(b)on, Fudg(e) Stripe; Fig N(e)wton, Circus Anim(a)l, Nutter But(t)er, Or(e)o, Ge(n)eva.
12 responses to "Evil Institute of Technology"