It's over. Dear god, that was rough. Seriously. Freshman year I thought MIT was tough, and it was. But that's all it was, it was tough. It required some extra work, some time management, and it was different than I was used to. I complained about "drinking from the fire hose" since that's what everybody else was doing. "I'm doing it!" I thought, "I'm doing MIT! It's hard but totally doable! I could actually be ok in this place!"
I was wrong.
Well, not about doing ok, because MIT hasn't completely broken me yet, but this last semester was when I realized that MIT actually was hard. We're talking miserable hard. It was a test of will, to be sure. For example, on my first test of the year I got two standard deviations below average (7/20). That's bad. That's solid F territory. My second test wasn't much better (9/20) but was within a point of average. Third test? 10/30, 1.5 standard deviations below. Third test? 9.5/20, half a standard deviation below.
I didn't actually score average on a test until late November, my very last test of the semester. It's one thing to say that MIT is hard and that bad test scores will happen, but having to actually try to recover from bad test scores and working at it all semester actually wears on you. Really wears on you. Ask anybody who knows me, I came out of the summer all happy from working at Hasbro and building toys all summer and within a two weeks I was run ragged. Add compounded failed tests and you had a pretty rough semester.
My demon was 2.005, Thermal Fluids. That class is the most information intensive class I've ever seen in my life. Seriously, you can't imagine the amount of material they expect you to absorb, and not just that but also the extent to which they expect you to be able to use and manipulate it. It's one of the (if not the) most failed class in Course 2 (Mechanical Engineering). After my first test I was pretty screwed, it's hard to recover from two standard deviations below average. After that moment it was just a constant struggle for life.
That struggle for life culminated on Wednesday last week with a 3 hour, Katy bar the door, hold me tightly sweet Jesus, weep for me, *sob* final that could be equated to being repeatedly paddled in the face. Honestly, nobody walked out of that exam feeling good. I don't think anybody actually solved any of the questions on the last page. Honestly, it was bad.
It's not like I wasn't prepared, I worked my butt of studying for that final. I locked myself away for entire days to study, but there was just SO MUCH to study. Oh, wait, quick sidetrack. On the first day of finals (Monday) I was heading to a lecture hall early to study all day and lo' and behold, a hack! I didn't have my camera (I was going to study, no distractions) so the pictures here aren't actually ones I took, but check it out! Barrel of Monkeys hanging from the Lobby 7 skylight!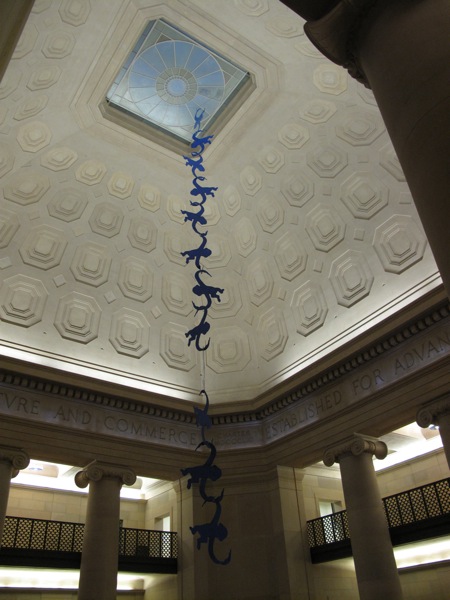 Complete with barrel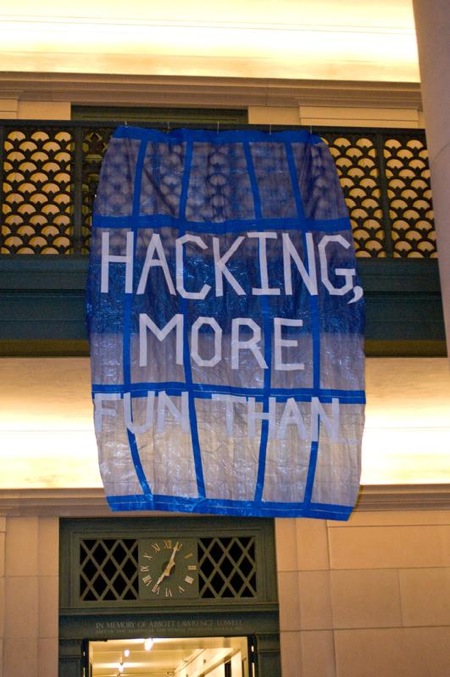 Apparently I was one of the lucky few who saw it because by 8 o'clock AM it had been taken down. This is one of my favorite pictures (as sad as it may be) of the monkeys. It's very foreboding.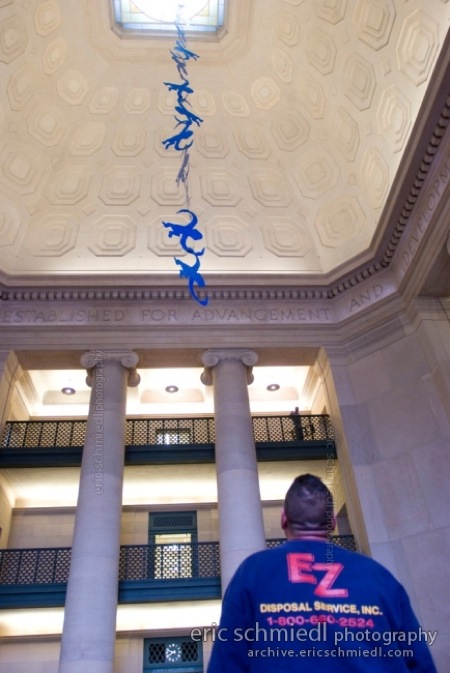 Anywho, 2.005. I walked out of the final at 4:30 PM on Wednesday and went straight back to the dorm for a nap. I slept until 8 o'clock and then packed up to study for my next final. You see, I had one more final and I hadn't even begun studying for it yet. I was so focused on 2.005 that I neglected almost everything else. The plan was to study from 9 PM all the way to 9 AM, which is when my next final (2.003) started. I threw up a quick blog entry at the start of the study marathon, and then set to work. I was actually very productive. 12 hours is a surprisingly useful chunk of time. NEVER do it, it's miserable, but I did learn a lot! The only issue was that at about 6:30 or 7:00 in the morning I was absolutely exhausted. We're talking tired. It was really miserable there towards the end, but I kept studying, and then it was time for my last final. I took it and felt quite good about it (not 100% definitely class average).
After that I was done. Done. Done with the hardest class of my life (unless I had to retake it, a very likely situation) and done with 2.003. I didn't quite know what to do, so my body just gave up, caved in, and I fell asleep. I woke up later, watched Flash Gordon, and then passed out on the couch. My body had simply given up, I had expended every ounce of everything (something that you will do if you go here).
Today some grades were published. I got A's in Digital Poetry and Advanced Toy Design. I got a B- in my HASS class, Forms of Western Narrative, which I'm totally cool with because I actually enjoyed the class. It was a lot of reading and a lot of writing, but it was good, I learned a lot. Then they published the 2.005 scores.
I got a B.
I freaked out. Honestly, getting B in that class was just about as exciting/unexpected as getting into MIT (I know what it feels like, I'm allowed to compare the two). I didn't fail, and not only didn't I fail but I also got a B! Oh my god! I did better in 2.005 than I did in my HASS class! That B has made the last, oh, 16 hours I've been spending in this airport TOTALLY worth it.
So now I'm waiting. My flight leaves at 6:00 AM (I've already been on two canceled flights, I'm hoping this one doesn't get canceled. If it does then I may be stuck in Boston for Christmas because the airport I'm trying to fly into is about to get buried in the worst snow since 2003. Here's hoping I make it back.
So that's it, I survived. I'm still waiting for my 2.003 grade, but I'm not nearly as scared of that class. Next semester I'll do it all over again and the year after that and the year after that. So, if you'll excuse me, I'm going to try to get a quick nap in before my flight. Ciao!
36 responses to "Finals Week, from my perspective"