I would love to take credit for the brilliant entry title, but unfortunately it was all Spam's idea. Thanks, Spam. Unfortunately, in the mean time, I've forgotten how to blog. So in true "first post" style.. there will be no extra content to this post.
Kidding, of course. I've been reading your comments on Stu's post and was going to write back but then realized this might be better, and I'd just like to say – it's been incredibly inspiring to read everything you have to say about Marilee Jones, the application process in general, and moving forward. All of your comments are so genuine and thoughtful, and it really makes a difference to hear what you have to say. I'm so proud (sniff).. the '11s are all grown up!
All jokes aside – you guys really are rad. We of all people understand the power of your words, and your encouraging comments have been very helpful during this difficult time.
Meanwhile, back at MIT, life has been blowing by at full pace. I have 16 more days until I'm no longer a freshman, which entails five exams, three papers, and a presentation, as well as two concerts (ARCADE FIRE and ANDREW BIRD.. if you're not coming to Boston for the world-reknowned universities or beautiful city skylines, come for the incredible music scene) and Randall Munroe of xkcd! It also probably entails me falling over at one point until I realize I only have x days left, and crawl back to my desk to attack aromatic molecules once again.
Which reminds me – I officially declared Course 5 (chemistry), because of my unnatural (dare I say.. inorganic?) love of organic chemistry!
Everything's been rushing by so quickly that I completely forgot to write about my CPW – which was awesome fun. Being silly during Next Act's production of Beauty and the Beast, catching random rock-paper-scissor tournaments, assaulting people to get them interested in working for MIT's ambulance – "HEY! RYAN! YOU WANT TO RIDE AN AMBULANCE?! YEAH, I KNOW YOU DO!" "Um… I don't know you.") – good times were had by all. Meet the Bloggers, of course, was a huge success, even if I was late – sorry guys! MIT time runs five minutes behind..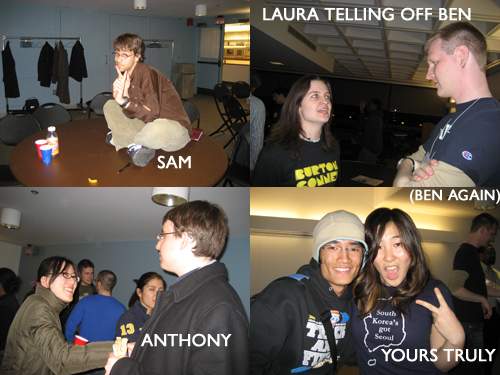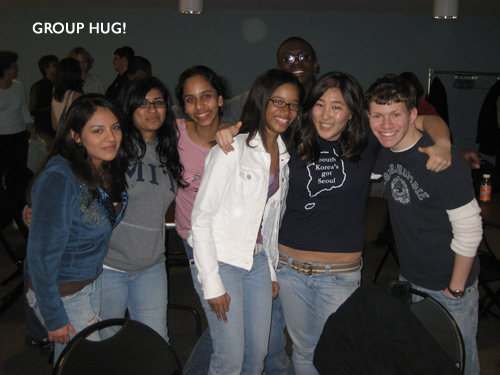 I got to meet some of my favorite commenters, and non-commenters (that means you, Jenny A.), and it was really cool to finally get to meet you guys. Minus that slight awkwardness factor. Sam and I got around that by evolving the Thanks-For-Reading-My-Blog Head Tilt. Observe:
Works every time.
Also, I don't know if you knew this, but I never got to go to my CPW. And this year, I actually had class during some of the crazy events – and so I never got to eat liquid nitrogen ice cream. This was remedied last Tuesday at ESG, when the Kitchen Chemistry seminar made all different flavors – not just vanilla and strawberry, but also brownie cookie dough and raspberry white chocolate, mango and chocolate chip cookie dough. My life changed forever that day.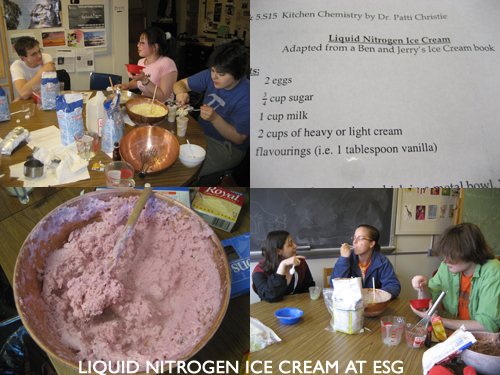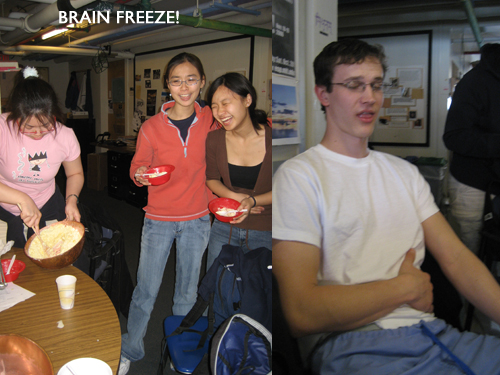 I have a whole file of your questions that I'll be answering next entry, but please keep them coming if you want your answer in next entry, or just email me (iamjkim at mit dot edu). Now, for the real test – who'll get first post?
36 responses to "FIRST POST!"