[see also: Melis and the AXO Chocolate Factory]
Last night, after a long Saturday of working to select the class, I hopped on the SafeRide shuttle to attend the Alpha Chi Omega (usually abbreviated as AXO, and usually said "A-Kai-Oh") sorority's annual Fondue party.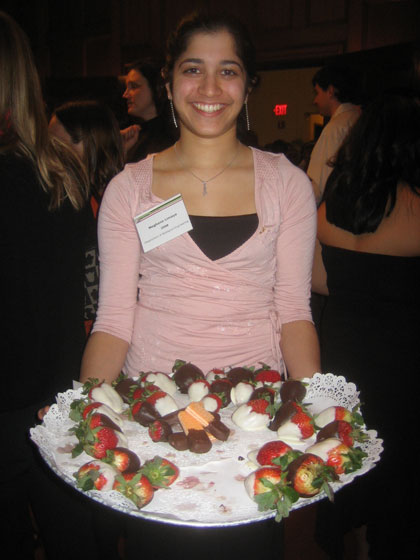 AXO Fondue is one of the most anticipated parties of the year, a great MIT tradition. This year, for the first time, the party was preceded by a special faculty hour, with many luminaries in attendance, including President Susan Hockfield: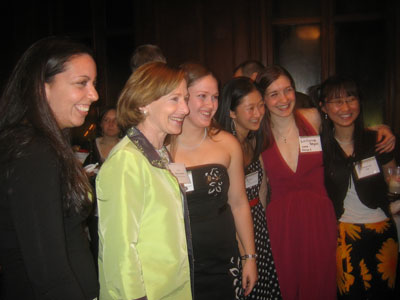 Other attendees (according to my handy RSVP list; it was too crowded to get to see everyone!) included professors Les Norford, Esther Duflo, Douglas Hart, Joel Dawson, Susan Slyomovics, Rosalind Williams, Eric Klopfer, and Margery Resnick.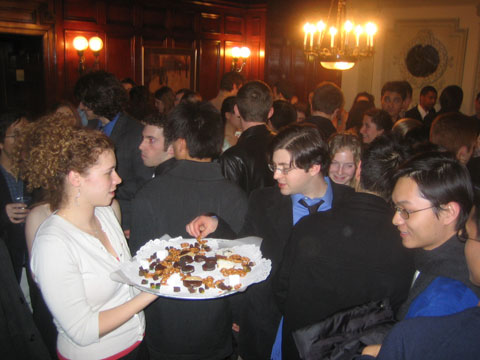 One of the big appeals of the party is, of course, chocolate. Lots of it. Including a yummy chocolate fountain. And, to add a little more class, they also had an awesome jazz band.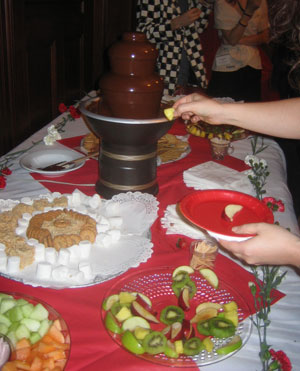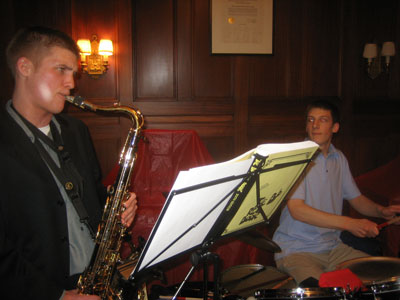 This year's party also was in celebration of the competition of the renovation of AXO's beautiful brownstone house in the Kenmore Square neighborhood of Boston (take a virtual tour of their gorgeous house).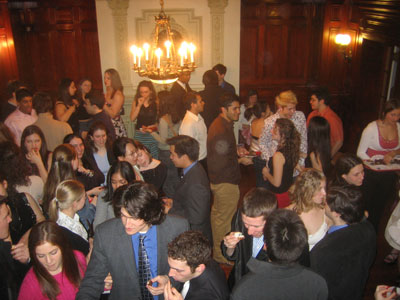 A nice thing about Fondue was seeing lots of friends (including some AXO alumnae, Becca '01 and Jojo '03) and colleagues from around MIT (including Cynthia Skier and Barbara Baker).
And any party with 5 of the bloggers there must be something special. Melis (an AXO sister), myself, and Bryan are pictured below; later, I caught up with Sam and Mitra enjoying the festivities.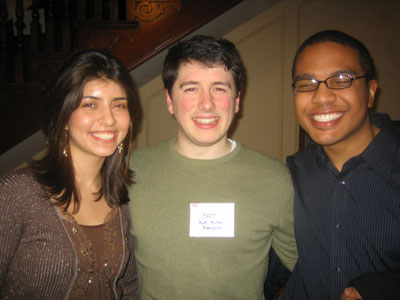 All that chocolate has given me great energy to continue admitting the Class of 2010!
33 responses to "Fondue: fun and done"