Every once in a while something so noteworthy comes along that it warrants two blog entries. This is not because I want to hog the MITAdmissions home page or because I just like seeing my own face, it's simply because this particular episode flows better and will work nicely when separated into two distinct entries.
If you'll kindly remember, I have this awesome little class that I like to call Toy Design. Also, if you can wrack your brains enough, you'll remember that I mentioned we were going to take a trip to Hasbro's world headquarters, conveniently located in nearby Rhode Island (which is about a 1 hour drive from MIT). Thursday came, we all packed into the charter bus (and by packed I mean sat comfortably in a bus designed for twice as many people as we had) and chatted jovially all the way there. When we arrived we were greeted by a giant fiberglass Mr. Potato Head.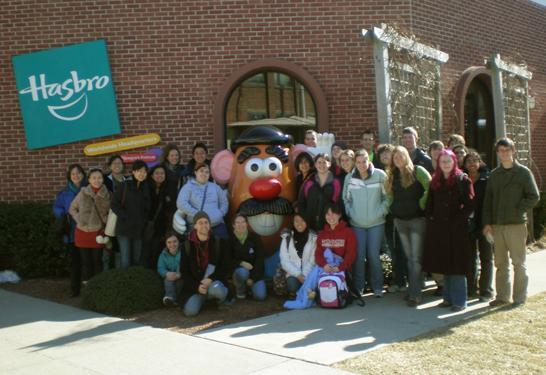 Things only got better from there as we noticed that the reserved parking spots were marked with large Monopoly cards, the glass on the front of the factory was laser etched with Mr. Potato Head, and immediately inside we were met by My Little Pony, more Mr. Potato Head, and Transformers toys everywhere! Unfortunately, that's where my coverage of the Hasbro world headquarters ends because we weren't allowed to take pictures of anything. We were taken down "Main Street" and got to see the really old, original versions of most of the Hasbro toys including the original Monopoly board, the original Mr. Potato Head pieces, a 4 foot tall light bright, an $8,000 Mr. Potato Head (diamonds, rubies, etc.) and a life sized version of the Monopoly car game piece.
After main street we went into the cafeteria and were spoken to by many members of the Hasbro staff about what goes into the design process. We saw old toys, current toys, and even prototypes of toys yet to be released. After 2 hours of listening to stories we were allowed to ask questions and chat with the staff on an individual basis, which was very insightful. Hasbro is awesome, they care a lot about what they do, and it was fun to get a glimpse into the workings of a toy factory!
The real story begins when I got home from Hasbro. I was surfing Engadget and found this article. This was the line that struck me:
Hasbro will be showing off the Blaster Controller at Toy Fair 2008 next week, so hopefully we'll get some more release info then.
Keep in mind, I was in a very toy-oriented mood and now all of a sudden there was talk of some magical thing called "Toy Fair 2008." WHAT'S TOY FAIR!? I quickly did some Google searches I found this Wikipedia article:
The American International Toy Fair (the trademarked name uses all capitals for TOY FAIR) is one of a few major toy industry trade shows held around the world. It is held annually in late winter (mid February) in New York City's Toy District (Broadway and 5th Avenue in the mid 20s) and at the Jacob K. Javits Convention Center, and is open to the toy trade only. It is staged by the Toy Industry Association.

The show is claimed by the promoters to be the largest toy trade show in the Western Hemisphere. In 2006, more than 1,500 manufacturers, distributors, importers and sales agents from 30 countries exhibited their toy and entertainment products in over 300,000 square feet of exhibit space
Oh. My. God. *Frantically searches for a date*
Exhibit Dates & Hours
Sunday, February 17, 10:00 am – 6:00 pm
Monday, February 18, 9:00 am – 6:00 pm
Tuesday, February 19, 9:00 am – 6:00 pm
Wednesday, February 20, 9:00 am – 4:00 pm
This Weekend!? New York!? Toys!?!?!? Brains have this really cool way of thinking of about a million things at once, have you ever noticed that? Here's what flashed through my brain in the span of about 2 seconds:
1) New York City is close by!
2) This would be great for Toy Design!
3) Monday is a holiday, I could go then!
4) I need a friend, no way I'm going alone . . .
5) Maddie!
6) Ooo, "open to the toy trade only," bummer
7) HASBRO!
8) How much $$$
9) MIT could pay!
10) Awesome Awesome Awesome!
I dug around the Toy Fair Website and found the registration form. I read it very carefully. One way to get into the Toy Fair was to be a member of the TIA (Toy Industry Association). I wasn't. The other way involved a bunch of paperwork. The skinny of it is that I needed a minimum of two of the following:
• Tax Resale Certificate or Business License
• Recent Invoices showing purchase of youth industry related products
• Yellow Pages listing
• Printed materials (brochures, catalogs, sell sheets, etc.) illustrating industry related products
• Letter of Intent from a lawyer or bank on official letterhead stating your intent to start a business (For new retailers only)
• Company Credit Card or Company Paycheck stub
• Letter from a toy industry client on their letterhead confirming your business relationship
• Letter of Referral from an exhibiting youth product manufacturer or agent with whom you do business (Mandatory for Inventors)
• Business Card listing job title, company and address
• List of Lines you currently represent (For Manufacturer's Reps only)
Some of these were like "Psh, sure, like THAT's gonna happen." Tax Resale Certificate or Business License? Yellow Pages listing? *scans listings some more*
Wait, what about these two?
• Letter from a toy industry client on their letterhead confirming your business relationship
• Letter of Referral from an exhibiting youth product manufacturer or agent with whom you do business (Mandatory for Inventors)
You know, in movies , how memories and flashbacks will float above the character's head, all hazy and watered down, and reveal the answer to some complicated problem? That's what happened to me, here's my flashback:
[The scene: Sitting at Hasbro, listening to the Project Engineering Manager Kevin speaking]
"I hope you enjoyed hearing about Hasbro today. Here's my card, if you ever need anything, just let me know. We'd be happy to help . . . to help . . .to hel-" [fade to black]
I went to find Maddie and pitch the idea to her. On Monday morning at 2:00 AM we would take the bus from South Station to Chinatown in New York City ($15 normally, $25 at 2 AM. If you're an MIT student you should know about this bus!). We would arrive in NYC at around 6 AM and kill four hours before heading to Toy Fair. We'd stay at Toy Fair until 6 PM, eat some dinner, and then catch the 7 or 8 o'clock bus back to Boston, making it back to MIT around 11 or 12 o'clock, just in time for class on Tuesday. There were a couple of issues, one being that we would need letters from Hasbro to get us in. Remember, it's Thursday and Toy Fair is on Monday, that's not a lot of time to scramble stuff together. Also, the $100 entrance fee was too much for either of us, so it would have to be subsidized by MIT or we couldn't go. I sent this e-mail to my Toy Design professor:
Prof. Kudrowitz,

Thanks for the awesome trip to Hasbro today, it was extremely fun, definitely a good way to spend a Thursday. I have a fairly intricate proposal for you, which would be awesome if it could work out.

Would it be naive to think that you weren't aware of Toy Fair 2008 happening in NYC this weekend? I just discovered this this afternoon after our trip and started looking in to how I could attend. Maddie Hickman is interested as well, and fortunately for us we meet the initial criteria (not an infant, over 18 years old). The next bit is a little tricky . . .

We need two of the following forms:

[forms listed]

We would attend as "inventors" (because that's what we are now). Hasbro is really supportive of our class, do you think they would be willing to provide these forms for the two of us? Ken did say to call if there was anything we needed, and Maddie and I think that going to the Toy Fair would, in all seriousness, be really helpful for our topic-reveal on Tuesday and for our design process in general.

With these two forms there would be only one more hurdle. It's $100 per person, which is a little hard for us to pay for. Would 2.00b be able to subsidize it at all? It's curriculum related and we would do whatever you would like us to while there (take notes, interview people etc).

Maddie and I are really excited about the prospect of doing this, can you give us a thumbs up or snap us out of our fantasy? We'd probably have to contact Hasbro tomorrow (Friday) to get the forms. We'd be willing to front the entrance fee so just as long as we know some financial help would be available, there would be no hurry to actually get us the money. Thanks for the help, and thanks again for the trip today!

-Michael Snively and Maddie Hickman
Now we wait.
10 minutes later (people here are really good about checking e-mail . . . .) we get this:
Michael,

I think it is possible. I was planning on attending myself, but I am very sick and I also have to build the 2.00b shop this weekend. I ccEd Lief Askeland (Hasbro VP) to see if he could provide letters, but it is quite short notice.

I will also have to ask David about the funding.

Let's see what happens

Barry
Oh. My. God. (I know, it's the second time I've used it, but it fits!) This could actually happen! AAAAHHHH!!!! The next two days were fairly frantic and full of a lot of e-mails. I'll try to summarize it the best I can.
Lief Askeland e-mailed his secretary and told her the details. Then he sent her the official letter to be typed on company letterhead with our names on it , instructing her to overnight it to us. We provided our official names and expressed concern about overnighting. Faxing was considered, but in the end the letters were given to a man named Jonathan Pale who would meet us at Toy Fair and deliver them there. Here is the final e-mail of the string:
Ok,
Just to be clear…..Jonathan Pale will meet the students at 10 at the Jarvits centre. If they take the train …please let them know that there is a free bus from Pen station to Jarvits.
Please contact Jonathan at [phone number] to agree to meeting destination. He will pick up the entrance charges.

Leif
and just like that, it was done. Maddie and I were to head to New York City to attend Toy Fair 2008 as official inventors for Hasbro with Hasbro picking up the tab.
We were a bit excited . . .

10 responses to "Fun in NYC Part 1"