Each year of elementary school, in late November, one could walk into any of the classrooms and see hordes of hyperactive chillin's running around. Half of them would be wearing paper bag vests, construction paper headdresses, and wielding construction paper bows and arrows, chasing around the other half who had to dress up as pilgrims instead of indians. That was elementary school. In middle school there was much less Thanksgiving festivity, likewise with high school.
This blog isn't about elementary, middle, or high schools, this blog entry is about big kid school, MIT, the best school in the country, the school that makes all those other school cower in fear. No, it's not MIT's outstanding academics, its research opportunities, its philanthropy, its architecture, or its tuition that strikes fear into the hearts of state schools around the country. What really frightens, what really concerns, all of the other schools is our pistol team.
"Pistol?"
Pistol, as in guns. That's right, you may not know it, but buried deep underneath a basketball court, behind several locked doors, and hidden in the bowels of MIT are two shooting ranges, cases upon cases of ammunition, and more guns than you can (or would want to) shake a stick at. A not so well known fact about MIT is the plentitude of sports opportunities available. You've got your typical sports (basketball, football, lacrosse, soccer), your specialty sports (fencing, rowing, pistol), your club sports (curling, taekwondo, rugby), and your intramural (IM) sports (dodgeball, flag football, air pistol). Not a lot is said about these, I guess we bloggers are trying so hard to talk about all the things that people assume are tied to MIT (academics, research, campus life, food, etc) that we forget about the parts of MIT that are surprisingly like other schools, sports included.
We've gotten e-mails and comments saying "You never blog about varsity sports, why?" or "You try to hire bloggers from a wide variety of backgrounds but you never hire any varsity athletes, why?" This makes the varsity athlete bloggers sad because we realize that we don't ever blog about what we do. Laura did field hockey, I'm in pistol, Lulu and Mollie cheer (not technically varsity, but w/e), Shannon sails, and I'm sorry if I missed any of the bloggers, but the point is, admissions definitely does have blogger athletes.
Anyway, back to pistol and Thanksgiving. The MIT pistol team has a reputation for not only being very good but also having a lot of fun. This means that, even though we shoot little black circles day after day, week after week, we like to mix things up one day out of the year. Each year, the day before Thanksgiving, the MIT pistol team has its very own turkey shoot!
No, we don't shoot real turkeys, how could you possibly think that!? That'd be horrible! Instead we all make hand turkeys, draw turkeys, or photoshop turkeys to shoot at. No no, this doesn't make us terrible people, we promise! If anything, our turkeys are made out of endearment and love. Don't think of it as shooting the turkeys, think of it as an opportunity to focus all of your concentration on one beautifully hand made piece of artwork, an opportunity to bless it with a single perfect shot. That's love for ya right there, pistol-themed love.
We shoot our turkeys with air pistols, meaning there's no actual combustion happening. Everything is compressed air and we use little lead pellets as ammunition.
My pellets sitting on top of my freshly photoshopped hand turkey (courtesy of my awesome new pen and my tablet)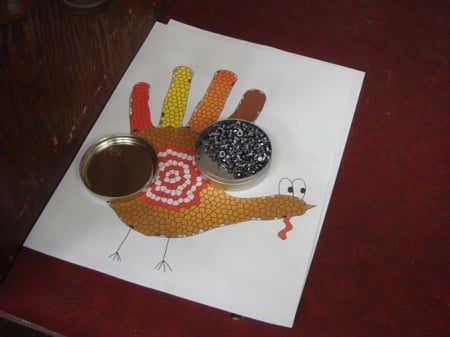 My gun, chilling with two more turkeys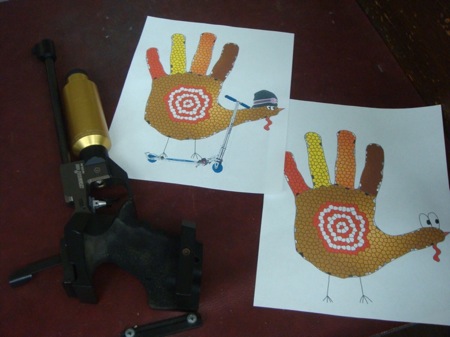 Andrew '11, Michelle '10, and I decided to celebrate the turkey shoot occasion by showing a little school spirit. We drew out the letters "MIT" on three separate targets and decided to shoot them out. Try to ignore the cluster of shots in the lower right corner of my "I," they grouped there for some reason.
Haven't you wanted your name shot out before?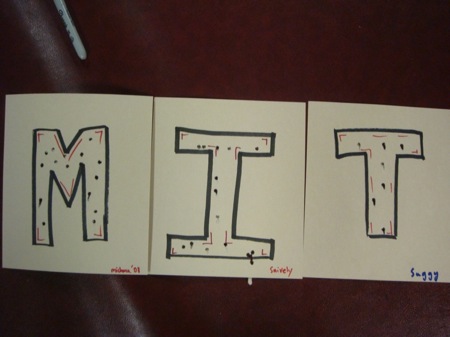 After shooting out some letters it was time to work on the turkeys. I went for my photoshopped hand turkey first, promptly filling him with little holes.
In between turkeys I watched some of the action down at the duck-shooting area. You see, we have this little set up of steel ducks that get knocked down if you shoot them (like at carnivals with the air rifles) and we would go 1 on 1 with each other to see who could shoot down their ducks first. It's a lot of fun, especially since everybody not shooting takes pride in harassing the shooter and trying to get them to miss.
I see your hand shaking! I SEE IT! DON'T MISS!!!!!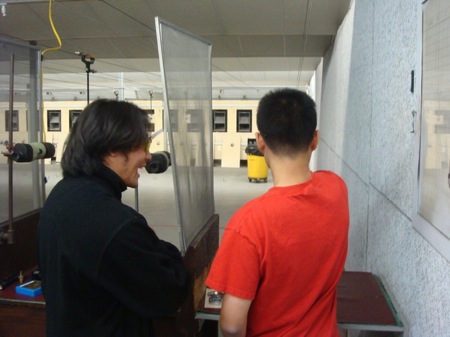 Then it was back to shooting turkeys. I went for the 2.005 turkey next (for those of you who don't know, 2.005 is one of the hardest classes I've ever taken in my entire life and it's kicking my butt). Here he is before I sent him down range . . .
*taps plays in the background*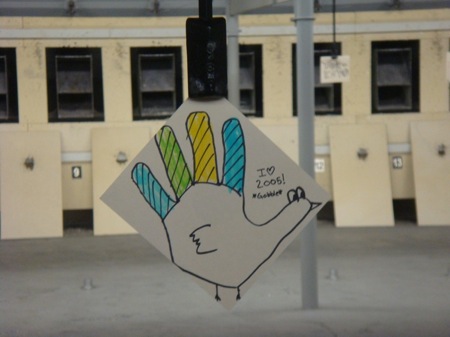 And this is how he came back to me.
Holy Turkey Batman!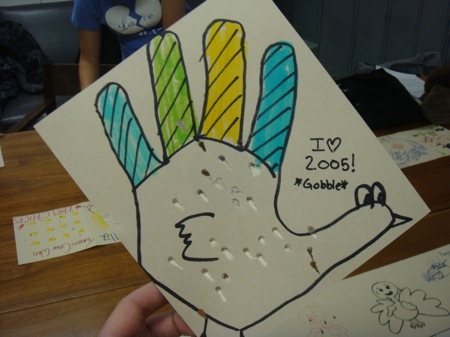 I looked around and saw everybody else taking aim at their turkeys.
Andrew '11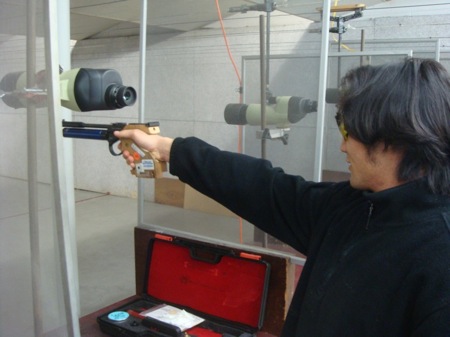 Michelle '10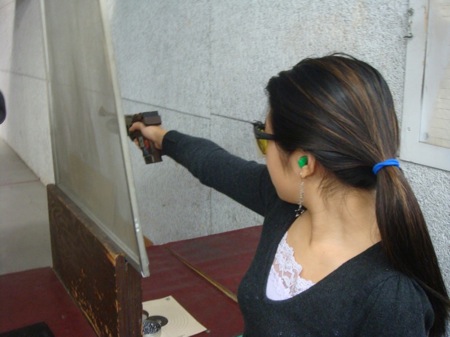 Fu '09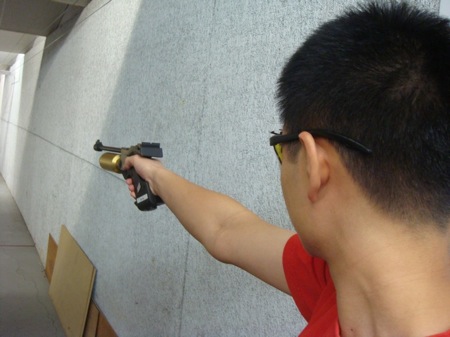 Next it was time for the beanie/scooter turkey.
See? One shot, just down from center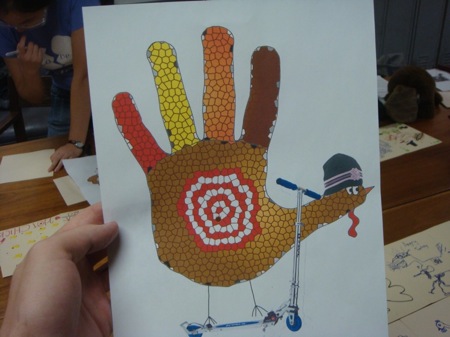 My final turkey wasn't really a turkey, it was actually my chance to defend PacMan from his ghostly foes. You see, he was being chased by three ghosts who all needed to be stopped.
I stopped them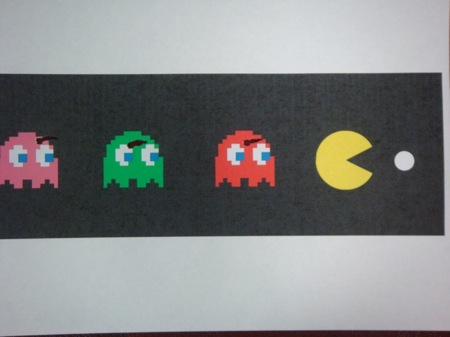 You will live to see another day PacMan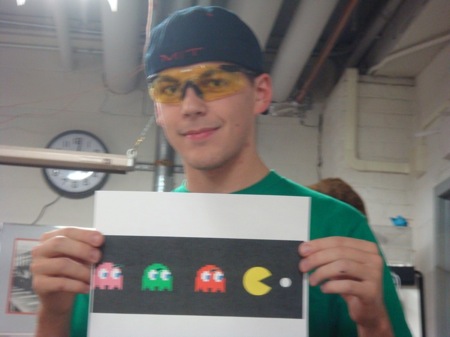 In the end, I went back to my dorm with a backpack full of turkey targets, a full stomach (chips, soda, cake, dip, and ham), and lots of silly pictures of teammates.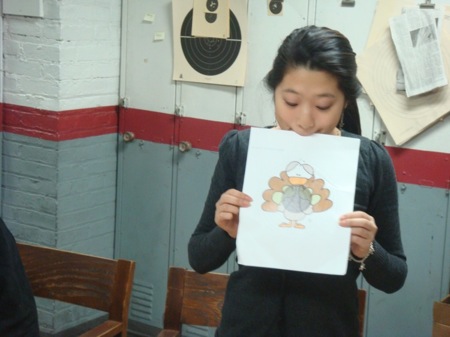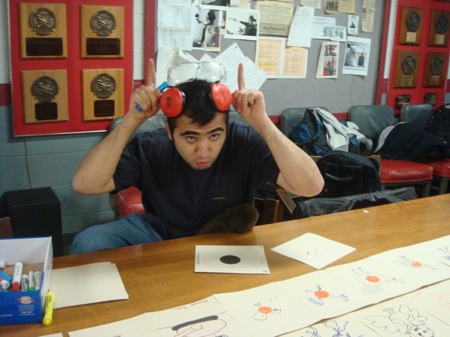 Consider joining the pistol team if you come to MIT. No shooting experience required/expected/desired, you can start right off on Varsity as a freshman. Everybody is really nice, the atmosphere is very relaxed, and once a year we stray from our plain and boring circular targets and have some fun with turkeys. It's not to be missed.
*For more information, please visit the MIT pistol homepage*
29 responses to "Gobble Gobble"