A few nights ago, I was walking down the Infinite Corridor with two of my hall's freshmen, when one of them noticed something odd in the Guide to Facilities for Individuals with Disabilities campus map psoted on the wall.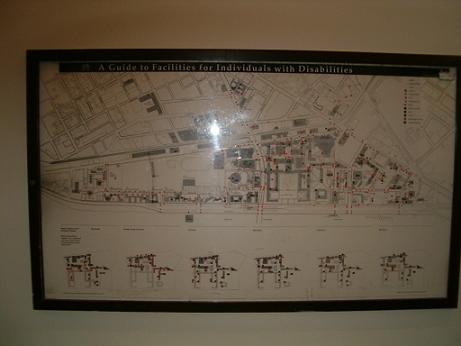 You can't really see anything in that picture. But what my friend had noticed was that several of the buildings had tiny stickers on them, picturing hacks that had happened on those buildings in the last few years. I was really entertained by this clever and subtle hack, so I took pictures. I'll also summarize the pictured hacks for you. It's been a while since the Hack Gallery was updated, and only a couple of these hacks have been put in it. Most of the hacks, you'll notice, are cross-group, and the team working on the hack often included members of such groups as Jack Florey, James Tetazoo, the Order of Random Knights, the Western Hacking Organization, and/or no group at all.
Picture 1: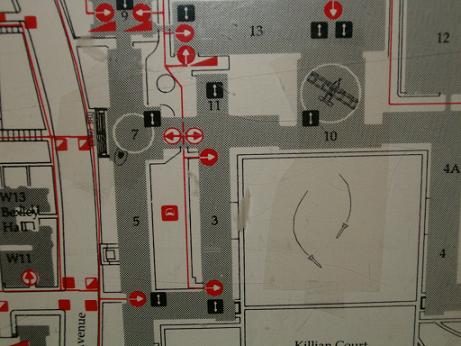 Location: Killian Court
Hack: Model rockets distribute fliers over freshman photo
Date: Orientation 2003, 2004
Group: Western Hacking Organization (WHO)
Location: Great Dome
Hack: Wright Flyer
Date: December 17, 2003 (the 100th anniversary of airplane flight)
Group: None/cross-group
Comments: If any of you guys actually read my blog…you were my heroes when I was a frosh!
Location: Building 7
Hack: Banner bearing the words "The Only" put over "Massachusetts" in "Massachusetts Institute of Technology", replacing banner put up by Caltech that said "That Other".
Date: Campus Preview Weekend 2005
Group: None/cross-group
Comments: This was part of the CPW 2005 Caltech vs. MIT "hacking war". I remember eating dinner in the 4th West diner at two in the morning with some of the Caltech hackers.
Picture 2: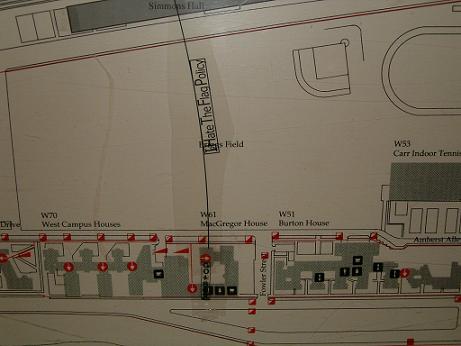 Location: MacGregor House
Hack: "Go Sox" banner
Date: Either the last playoffs or last World Series, I forget
Group: Presumably people from MacGregor, but maybe WHO
Location: Strung over Briggs Field between MacGregor and Simmons
Hack: "I Hate The Flag Policy" protest banner
Date: February 17, 2004
Group: None/cross-group
Comments: Some explanation of the Flag Policy controversy
Picture 3: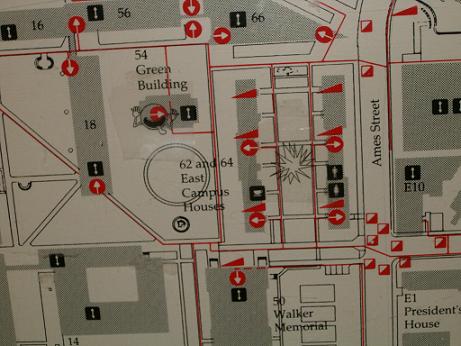 Location: East Campus courtyard
Hack: Coffeemate explosion (not really a hack but whatever)
Date: Every year during Orientation, occasionally other times
Group: Various residents of East Campus
Location: Radome of Green Building
Hack: Radome turned into weird smiley thing from "Hitchhiker's Guide" series
Date: May(?) 2005 (opening day of "Hitchhiker's Guide" movie
Group: James Tetazoo, I think
Picture 4: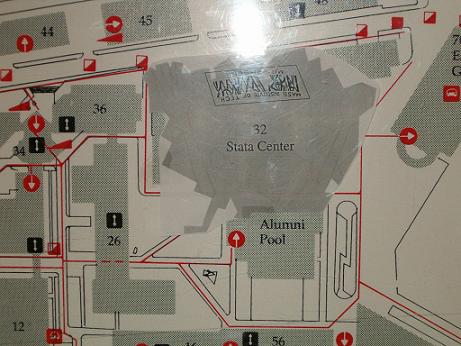 Location: Stata Center (side facing Vassar Street)
Hack: Giant property of MIT bar code with bars shaped to resemble Stata Center
Date: May 2004 (the day Stata was dedicated)
Group: None/cross-group
Comments: If you look you can find "IHTFP" in the bars. And the serial number on the banner is the cost of building Stata in scientific notation.
Picture 5: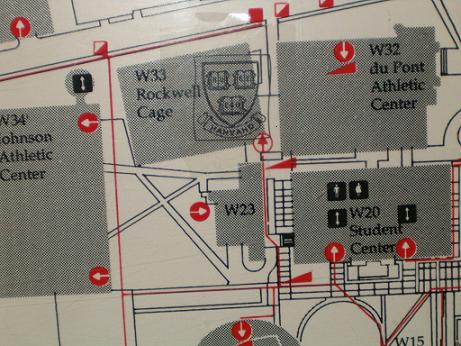 Location: Inside of Rockwell Cage
Hack: Harvard banner sporting the words "Huge Ego" on Harvard logo in place of whatever Harvard's motto is
Date: Campus Preview Weekend 2003
Group: Either WHO or cross-group, I'm not sure
So yeah, that's nine hacks. The tenth, I suppose, is the meta-hack itself – the map.
Location: Infinite Corridor
Hack: Stickers representing hacks put on campus map
Date: September 2005
Group: I have no idea
9 responses to "Hacks and meta-hacks"