Every year, the campus is engulfed by frenetic activity in the week leading up to Rush/Orientation. So I decided to bring you a few pictures of the activity in my neck of the woods.
But first, a pic of my hallmate, Deirdre '08, that I took a while back for an entry that never happened. One stereotype that has always bothered me is that MIT girls are unattractive. I think this picture effectively shatters that.
Deirdre '08 is hot, confounding stereotypes not only of MIT women but of Course 6 majors.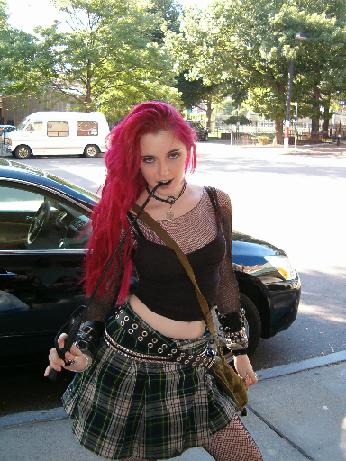 Anyway, back to the point of this entry. Every year on 5th East, we repaint Black Bemis black. It has to be repainted because all through the year we chalk it up, as in this message left by Phife '04 when I was a freshman: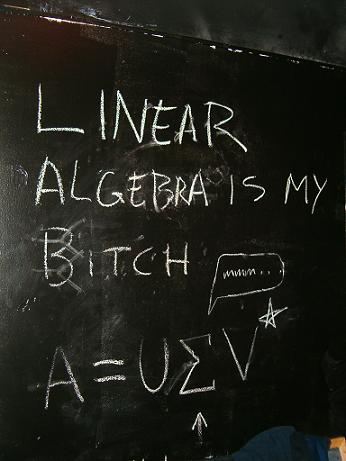 Last night, we made it all black and shiny again! In a bizarre effect probably caused by how long the shutter was open on my camera, Diandra '06 looks transparent as she and Clayton '08 paint: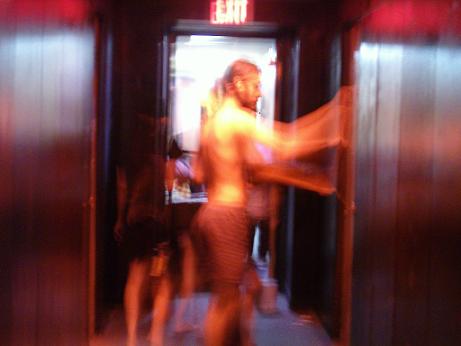 In the meantime, the East Campus courtyard has become the site of interesting happenings. For example, the other night, I finally met Laura '09 in person, discovering her in a group of Burton-Conner temp-frosh that Alex '08 of Burton 3rd was showing around the courtyard.
What I really mean, though, is that there's lot's of interesting construction.
Hmm, I wonder what this will be?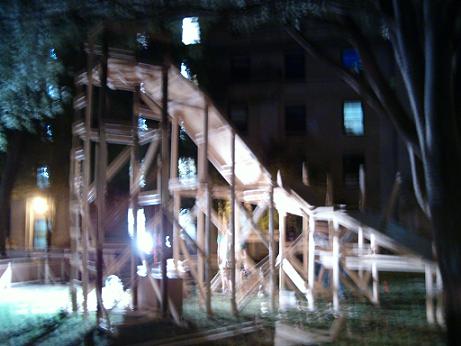 Lit by a glaring light so that students can continue to work at one in the morning, we see the beginnings of a furniture stadium surrounded by…I think that's going to be a homemade moat/river.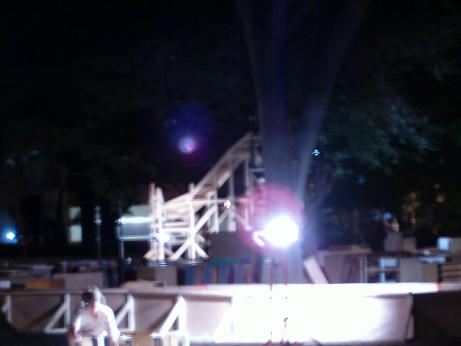 And here we get a more up-close look at the stadium and moat.

If you're a new freshman and on campus, you should come see in person, instead of relying on the dubious quality of my pictures. You can find the courtyard during much of the day by the music being blasted to entertain the working residents.
3 responses to "Images of Rush preparation"