*Update as of 2015: Early action is available to both domestic and international students.
One of my goals for keeping this blog is to demystify what admissions officers do. I think that for many students, the college admissions process is spooky and mystical, presided over by mysterious super-humans. Hopefully, these blogs are helping you realize that admissions officers are just people, people who deeply care about education.
So, I'm often asked, what do you do when you're not reading applications? Do you get the summer off? Actually, it is a busy (though certainly less hectic) season, but it allows some time for deep thinking about what we do in admissions, and what we can do to improve our process.
One way that we learn about admissions from a more global perspective and are challenged to think more broadly about what we do is to attend professional conferences. As you've read, Ben and I have done a couple already this summer (1, 2), and I have just returned from a great, thought-provoking conference.
Thursday through Sunday, I was in St. Louis for the annual conference of the Overseas Association of College Admissions Counseling (OACAC). The conference was held at Washington University (where former MIT Provost Mark Wrighton serves as Chancellor).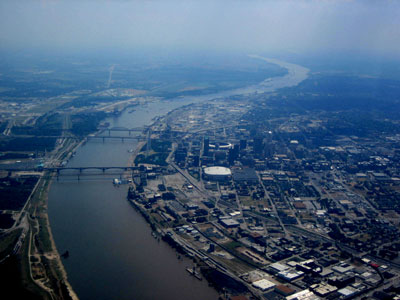 An aerial view (from the plane) of the city of St. Louis, Missouri.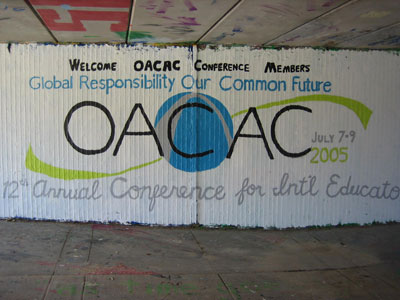 A mural painted by our kind hosts at WashU.
The conference was attended by nearly 400 US university international admissions officers and college guidance counselors from schools abroad, as well as some international student advisors at universities and independent college admissions counselors.
It was a great opportunity for me to meet many different college counselors from schools across the world, from five continents (sorry, Australia). Interacting with the counselors was quite helpful, and it certainly increased mutual understanding. For me, I got to learn about many different schools worldwide, schools that I'll probably never have the opportunity to visit. For the counselors, they got to "visit" MIT and have some misperceptions corrected — for example, I think a lot of schools abroad don't realize that MIT is a university with many more offerings than just science and engineering, and that some people here even major in fields like Political Science, Music, Architecture, Literature, etc.
It was also good to interact with my colleagues from other universities who also do international admissions. Thanks to collegial idea-sharing, I've returned with some thoughts on how to improve our international admissions process and have our messages better reach students. Job #1: improving the international student information on the MIT Admissions page. For those of you who are international students, what are some things you would improve about our site? Are there any other schools' web sites that you think do an excellent job?
At times, I felt a little out of place at the conference, since MIT is different than many other universities (including most of the Ivies) with the way international students are considered in our admissions process. MIT is lucky enough to not have to face some of the major issues that many universities encounter. For example, I attended a session about ethical admissions practices, and one topic was admitting "needed" international students (those that require financial aid) versus "no need" international students. I feel fortunate that MIT has the financial resources to be a need blind institution, with the students being admitted without regard to their ability to pay. I wish there were ways that our society could find a way to enable more schools to be need blind. I also wish MIT could admit more international students.
Because MIT's policies are different from many of the other schools at the conference, for the Counselor's College Fair (where the college counselors visits booths staffed by the different universities), I made an FAQ about international admissions at our school: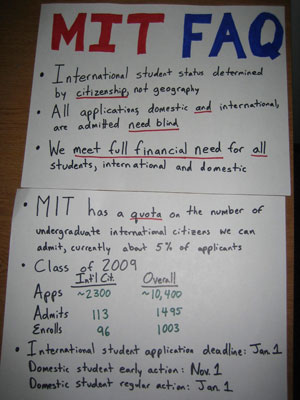 Obviously, I wasn't an Art major, and I didn't have MIT's computer graphics resources with me, so I went to Office Depot and improvised. Anyway, the bullet points of the FAQ read:
International student status determined by citizenship, not geography
All applications, domestic and international, are considered in a need blind process
We meet full financial need for all students, international and domestic
MIT has a quota on the number of international citizens we can admit, currently about 5% of international applicants
Class of 2009:


| | | |
| --- | --- | --- |
| | Int'l citizen | Overall |
| Applications | ~2300 | ~10,400 |
| Admits | 113 | 1495 |
| Enrolls | 96 | 1003 |

International student application deadline: January 1
Domestic student early action: November 1
Domestic student regular action: January 1
We're pretty up front about all of these things, good and bad. I'm telling you and the guidance counselors the same things. I'm pretty excited about our international applicants, and I want all of you and your counselors to understand the benefits and challenges of applying to MIT.
This is the first conference I've attended where the participants are housed in dormitories. I was placed in Nemerov House, a suite-style dorm. My suitemates include Holly, an international student counselor at Valparaiso University, Paul, the Dean of Admission at Knox College, and John, an admissions officer at the College of Wooster. This is the first time for me in a dorm in a long time, but it did make the conference a little more interesting.
The Friday night conference dinner was hosted by another local university, Webster University. One of the things that makes Webster very unique is its mascot, the Gorlok.
The Gorlok is Webster University's school mascot. It is a mythical creature that was designed by Webster staff and students through a school contest. It is reported to have the paws of a speeding cheetah, horns of a fierce buffalo, and the face of a dependable Saint Bernard.
I decided that I needed a picture of myself with the Gorlok.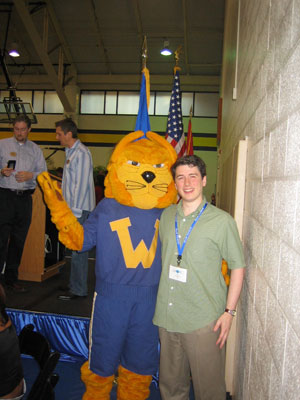 The Saturday night conference event was at the incredible City Museum, which alone was worth the trip to the Central Time Zone. If you go to St. Louis, you simply must go check this place out.
Of course, I couldn't go to St. Louis without seeing the famous Gateway Arch.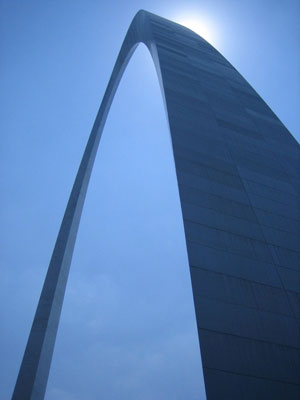 The arch was designed by noted architect Eero Saarinen. Today's trivia: can you name the two buildings on MIT's campus designed by Saarinen?
8 responses to "International Admissions Conference"